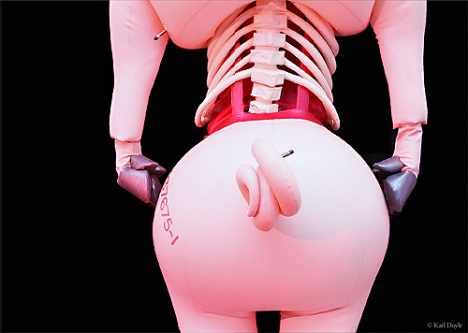 Saeborg installation
What do you think of the rubber (latex) scene in Tokyo as of today in 2016?
Interesting question because now I notice in Tokyo that more and more people are trying to make rubber suits by themselves. This is very exciting to see as they experiment with their ideas and designs. The future is looking very creative.
How often do you dress up in rubber and what is your favorite outfit?
In the past I used to wear rubber more often but recently due to the complexity of the suits and the stage performers needed for my show I have had to concentrate more with directing them. However, maybe once a month I will get into one of my suits. They are all I feel a part of me so the rubber itself is what I enjoy the most, but if I were to pick one, then it would have to be the pig. Also, when the performers wear my characters I feel at that point that they have become part of me.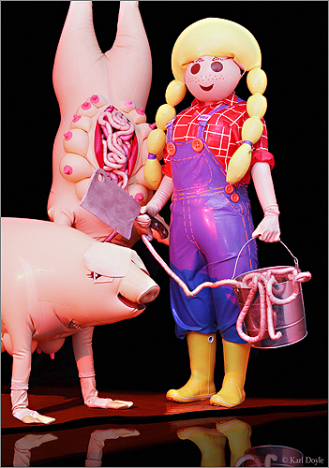 Pig made from Rubber, Models: Yuzuko & Popo
Who designs and makes your outfits?
I design and make everything by myself.
Are you in a relationship right now and if so what does your partner think of your fetish?
Ah, "Superstars" never talk about their private life. Next question, please?
What do you consider to be extreme?
Mnn, it's got to be "Hell". I think that living is hell and that death is heaven. Everyday is extreme for me.
How does wearing rubber (kigurumi) make you feel?
I feel complete and free. I sometimes don't feel happy within myself but when I wear rubber I forget what gender I am , who I am and become something else. This is the best feeling.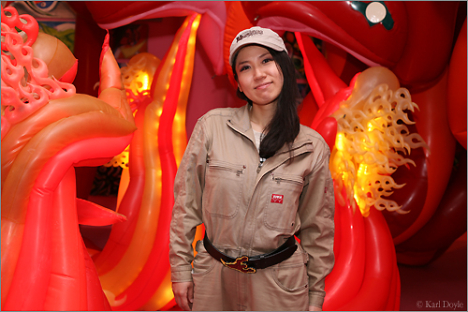 Portrait of Saeborg and her installation "Hisss" special exhibition at Taro Okamoto Memorial Museum in Aoyama, Tokyo, 2015, Photo: Karl Doyle
Have you ever slept in Rubber?
Yes, but not intentionally. After one of my performances I was so exhausted and by accident fell asleep. When I woke up my skin did not look too good. Definitely don't recommend this.
Finally, can we ask you if you sell your rubber pieces and if so, where?
Basically I am a fine artist and I make these characters for my performances so I don't mass produce the pieces. If a collector is interested in my work then I would be interested in talking further.
Text: Karl Doyle
Special thanks to Keroppy Maeda & Shinjukuza Gallery


1
2
[Help wanted]
Inviting volunteer staff / pro bono for contribution and translation. Please
e-mail
to us.