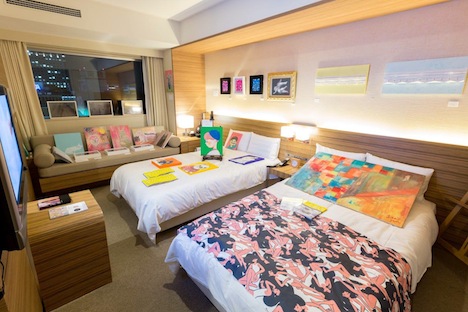 Room 1312, Hanaagura (Sapporo), Photo: Erika Kusumi
Hanaagura from Sapporo is a very unique gallery that local insiders know. Regardless of age and career, discovering new artists with his own eyes is the owner's life work. Among all the displayed art, veteran artist Makoto Iga's new geometrical formative art was a popular one. Along with this work, unique art was packed in one room but was well coordinated. Some of the art were the following: photo works by Yuuki Uryu, half 3D-styled textile work by Masayuki Shinoki, video work by Rina Naganuma and colourful paintings by Takuya Yonezawa, Saori Kobayashi, Marie Noda and Miyu Kakuta and other young artists. Also, though it is small, a monochrome doll work by Kiko Takahashi added an accent to the space with its strong existence.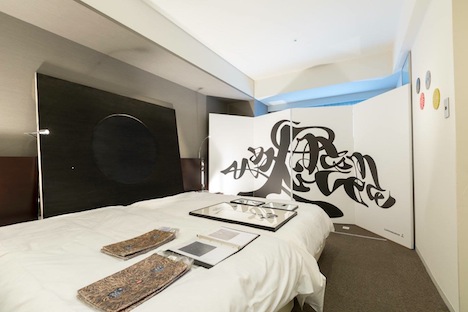 Room 1309, Clark Gallery + SHIFT (Sapporo), Photo: Erika Kusumi
Clark Gallery + SHIFT is a commercial contemporary art gallery that opened in Sapporo in 2011 by SHIFT production, an organizer of this website. This year, a 3,600mm wide folding screen "Luminescence", which is a contemporary arrangement of a Japanese traditional autograph "Kaou" by design duo Wabisabi, had a stylish and unique existence. Near the bed pillow, "Holes" by Hiroaki Suetsugu was displayed. This work expresses the current condition in Japan after the Tohoku Earthquake, with face paints based on sumi ink. On the other side of the wall, Shuun, who also had a solo exhibit "Animals" on the second floor of the hotel, displayed his new work "Roundy thing". It is part of his "Mojamoja" series which was introduced in Taipei promotion.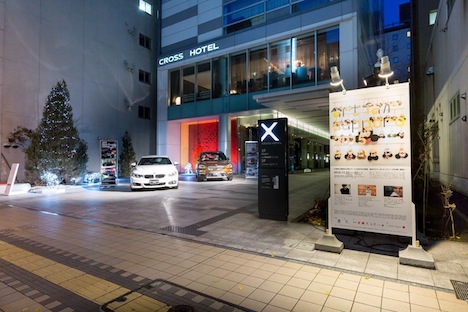 "Art Fair Sapporo 2015 Special Cooperation", "BMW X1 & 420i Gran Coupe" exhibition / "Special exhibition" Rie Kawakami, "Trace", Photo: Erika Kusumi
Since the first event in Hokkaido 2013, Art Fair Sapporo has always planned and managed with a style of having a private executive committee with Cross Hotel Sapporo and Clark Gallery+SHIFT but without any public funding support. At the entrance, where "Trace" by Rie Kawakami was exhibited as a winter special lighting art, there was a special cooperation between "Bmw X1 & 420i Gran Coupe" for a limited time. Moreover, in the lobby, an ideal chair for a living room "Tack Lux Living" was a collaboration between Condehouse and Somes. To encourage people to purchase art, there was also a campaign called "Food and Art" by which the first people who purchased art received a set of premium small bottles of tomato juice, "Hokkaido Snow Jewels" and a dinner coupon for two to be redeemed at Le Musee.

Room 1405, hpgrp GALLERY TOKYO/NEW YORK (Tokyo and New York), Photo: Erika Kusumi
Is art only a thing to enjoy? Starting from 2014, Art Fair Sapporo started a deposit system which people who purchase art to receive their 1,000 yen admission fee back. Artists cannot make a living in areas where art doesn't sell, and the areas where artists cannot live will not develop their own art culture. This will eventually result in that place losing its identity in today's international society. It is very frustrating that the public does not recognize the value of artists who are proud of creating and developing their own culture in such a tough environment. Therefore, especially in this current era, there is a huge need to have art fairs.
Art Fair Sapporo 2015
Date: November 22nd, 2015 11:00 – 20:00 & 23rd 11:00 – 19:00
Preview: November 21st 19:00 – 22:00 (Invitation only)
Place: Cross Hotel Sapporo (Hotel style art fair)
Address: 23, North 2 West 2, Chuo-ku, Sapporo, Hokkaido
Admission: 1,000 yen (deposit system)
Visitors: 2,000 people
Fair Director: Taketo Oguchi (Clark Gallery+SHIFT)
Adviser: Kentaro Totsuka (New City Art Fair Director)
Organized by Art Fair Sapporo 2015 Executive Committee
Co-Sponsored by Cross Hotel Sapporo
Special Cooperation: BMW Kokusai Kogyo
Cooperation: NEW CITY ART FAIR, ART KAOHSIUNG 2015, Art Sapporo 2015, Machinaka Art Project
Sponsors: H.P.FRANCE, Graniph, MIRAI.ST cafe, CONDE HOUSE, Hokkaido Snow Jewels, Le Musee, Laser System, Tanno Seisakujo (tek)
Partners: SHIFT, PRISM, Seigensha, Dress and Tights, Spice Box
Supported by City of Sapporo, Hokkaido Shimbun Press, UHB, HTB, HBC, STV, AIR-G' FM, FM North Wave
http://www.artsapporo.jp/2015/fair/
Text: Ayumi Yakura
Translation: Yumico Miyagawa
Photos: Erika Kusumi

[Help wanted]
Inviting volunteer staff / pro bono for contribution and translation. Please
e-mail
to us.