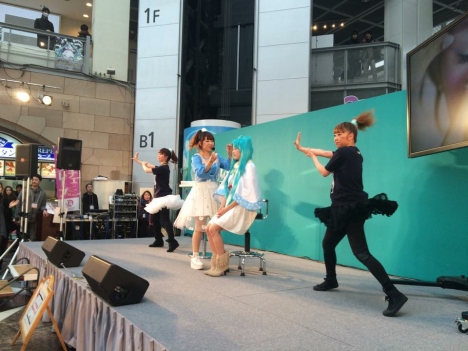 "Snow Miku 2015 Miwonderful × Yuki Miku Special Make Up Show", Sapporo, 2015
I heard you are learning dancing. Is it practice for your performance?
People often ask me "Makeup and performance? Do you want to be a pop star or something?" and "Why do you need to sing?" I don't think it pessimistically but Japanese likes to categorize things. People tend to not understand what it is if it doesn't fit the certain image of makeup artist.
Various artists who I met with when I had performance in U.S. were for example painters but suddenly started singing or shooting movies. Someone was actually a TV personality. Nobody came to have makeup at the Venice Beach even though I proudly assembled the pink flame. It was because my expression was usual and quiet. Performing in the foreign countries made me feel "I can be much more free. People prefer more entertaining thing." I'm a kind of person who becomes aggressive if people say "No Chance". So I study a lot to be a better performer. I don't want to be a dancer. I just believe learning dance and taking the essence from it would make my expression of makeup better. Learning how to sing will make my vocalization better. All the things are connected to the thoughts "Enjoy makeup and make entertainment through makeup" It might be a spirit of defiance.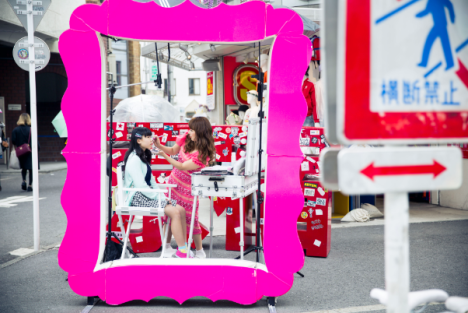 "MakeUp Tour", Tokyo, 2015, Photo: Gori Kuramoto
Please tell us what has never changed and what has changed for you.
The thing which has never changed is my thought "Make the world smile by makeup". The thing which has been changing is my way of thinking. Firstly I thought I had to do something anyway. I think now "I want to keep learning. I want to do more interesting thing. I want to heighten the quality. And I want to tell stronger message to people." It's getting simpler.
What are you interested in these days?
Eating real delicious food, going to see sophisticated dance performance, and drinking rare alcohol, even though those are little expensive. I can obtain new essence from those experience. Dance also makes me interested in the body so much. I do relaxing exercise like Yoga and stretch. I enjoy voice training. Learning is good thing. Through the experience of publishing book, I became to be curious in the field of books. Everything is related with many kinds of things.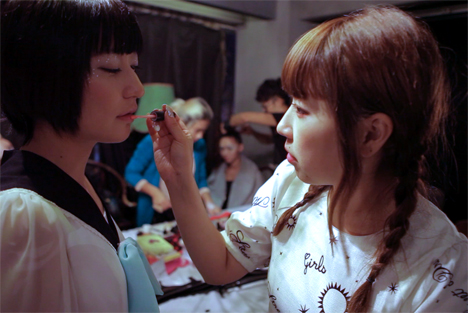 Creative Hokkaido meets Taipei 2014″, Taipei, 2014
Could you tell us about something or someone affected you?
My favorite artist is Yoko Ono. For the music, Tsujiko Noriko! I met her in Paris. Fluxus, Demeter, Creative Hokkaido, Dialogue In The Dark, and New City Art Fair were influential as well. Great views I saw all over the world are also my treasure.
Read more ...
[Help wanted]
Inviting volunteer staff / pro bono for contribution and translation. Please
e-mail
to us.