A world of creatures in imagination.
SHUUN creates images with creatures and their world hiding in daily/non-daily life as motifs. Audience is strongly attracted by the world created with overwhelming use of various colors, cuteness and terror, creatures with winsomeness and eeriness, and elaborate yet bold sense of humor. We interviewed the artist, mysterious as his works, right before his first solo exhibition.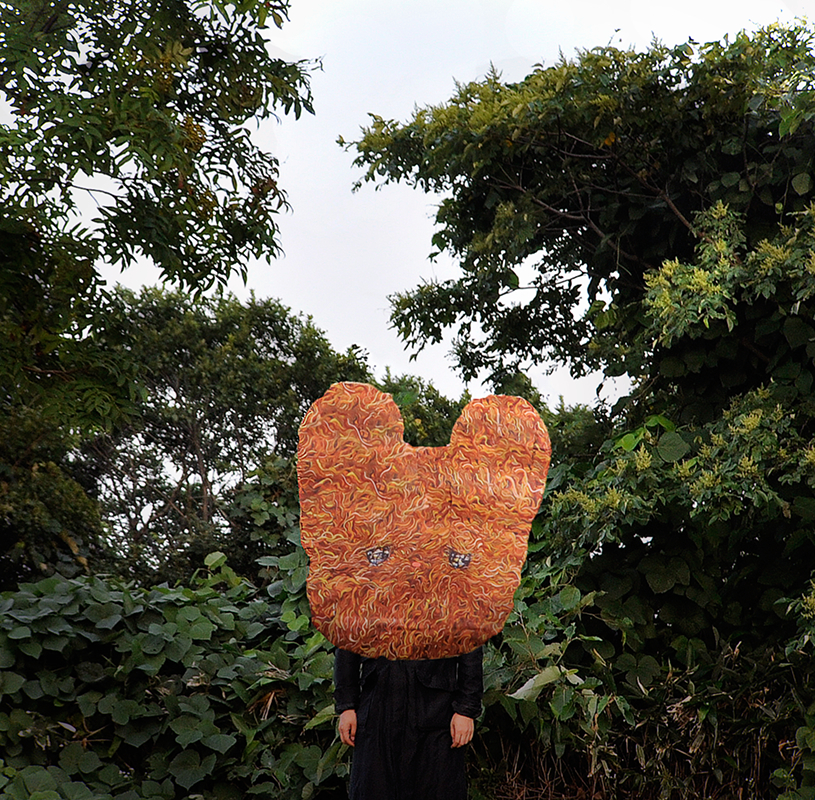 Please introduce yourself.
I am SHUUN, an artist based in Hokkaido.
How have you been working so far? Please tell us your past and latest projects.
I was working for a design firm after graduation, and while working continuously, I've created my own works, which became serious around 2010. I've been uploading some favorite ones on my website, SHUUN.ME. In the beginning I created the works mostly in digital. I'm self taught, and create them on my own terms.
In 2012, I was connected with Clark Gallery + SHIFT, which I work with to this date, and soon they exhibited my pieces abroad in a project called Creative Hokkaido. Now my works are on show at an exhibition titled MUSIC at Cross Hotel Sapporo, and another one, Star Sceneryat the museum shop of Sapporo Art Park Museum.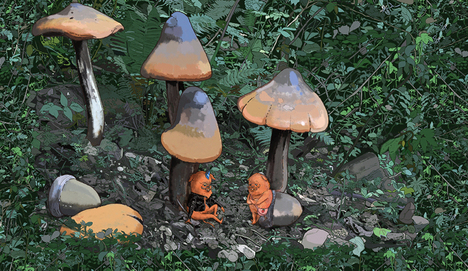 Playboys, Shuun, 2011. 544 x 726 mm, Giclee print on photographic paper
You create works mainly in digital with creatures hiding in daily/non-daily lives and their world as motifs. Please tell us how you started to use these motifs.
As a child, I spent a lot of time in doodle. I lived by the sea where you could hear sound of ice drift, and my friends at the at time were five dogs my family and my uncle kept. Mostly I spent my time with them near the cold sea spread in front of my uncle's place or the forest behind there, and I always personified animals and stuffs around me in my fantasy, pivoting the dogs and myself. Trees, bugs, leaves, eagles and black kites I fed leftovers of the dogs, white swans, seagulls, big crabs trying to escape from the cores at my uncle's place, snow, washed litters on the shores, stones, empty cans, dead fish, unknown mountains behind ash colored sea, etc etc. Additionally my sight is pretty bad, so I made up some figures to the stuffs I couldn't recognize and drew them. Since then I grew to use them as motifs naturally, and my mind count on them.
I heard you started painting on canvas in 2012. Is there any difference between process to create pieces in digital and on canvas?
Simply, big canvas requires energy, space, and money, but digital works don't need them. I use digital tools to create works on canvas, too, so I don't see much difference and take it as a part for the same activity.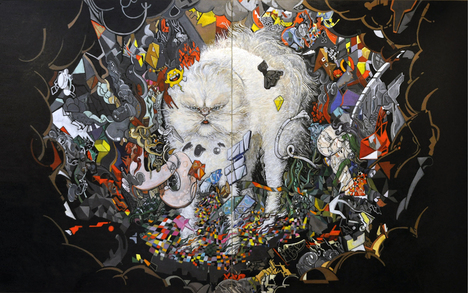 Miiko to Chiiko, Shuun, 2012. 1,000 x 1,606 mm, Acrylic on canvas
Please introduce some of your works.
The work titled "Miiko and Chiiko" is the name of mother and child cats of my aunt's. It was exhibited in Creative Hokkaido in 2012. It was first time for me to paint in that big with analog process. It's a good experience during a very hot summer.
In many pieces, animals are personified, which is fun and I can imagine smiles on audience's faces. What kind of person and things interest you?
Something with a vague standard, and on unconscious basis, someone intended to be cute actually looks scary, or someone tries to intimidate in a scare way but looks cute, and so on.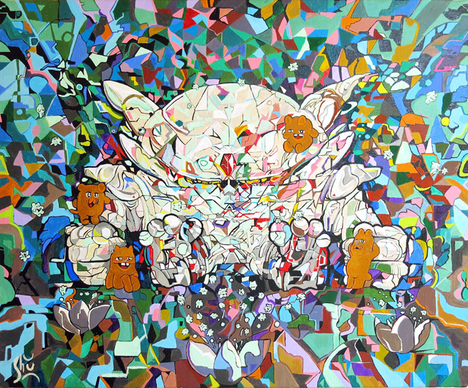 WE, Shuun, 2013, 606 x 727 mm, Acrylic on canvas
Your have a unique view of the world, aren't you? How do you come up with an idea?
I'd rather say it comes in unconsciousness. It should be. While I am just sitting on the field, while I'm working in town, and while I'm listening to music… I don't organize ideas that much, but always take notes of what I saw and thought on cards, and put them in an empty can of various sweets such as Yamaoyaji of Senjuan (a specialty biscuit of an old sweet shop in Hakodate, Hokkaido), and I occasionally open them to look back on and to plan. However mostly an idea comes unconsciously.
The creatures have only two fore teeth in your previous piece while they have nice teeth in the latest one. Why is that? Is there any reason?
No. It happened to be like that. Even now I'm painting one with only one tooth. For the piece titled "Aitsu", I painted an ideal image for it to have all the teeth. The original Aitsu looks shy having only one teeth, but even so it smiles without hiding the teeth. I want to have the same kind of attitude.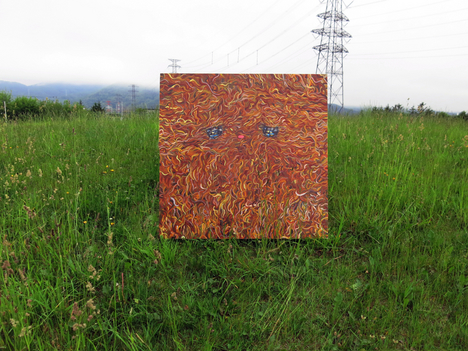 mojamoja, Shuun, 2014. 910 x 910 mm, Acrylic on canvas
Please tell us your intent or concept for your first solo exhibition, ANIMALS starting from August fifth at Clark Gallery+SHIFT.
This is the first opportunity at a gallery, so I'd like to present the creatures in my works well. I hope audience interpret them in their own way.
What kind of projects do you want to do in future?
I'd like to create more works. In many sizes, and hopefully move to a place where I can create big pieces.
As a last question, please tell us your favorite artists, musicians, art, design, book etc, if any.
I like comedies, science fiction, monster movies, something lo-fi.
SHUUN's solo exhibition "ANIMALS"
Date: August 5th – September 30th, 2014
Opening hours: 11:00 – 19:00 (Closed on Mondays and every third Tuesdays)
Place: Clark Gallery + SHIFT
Address: 2F Museum, South 3 East 2, Chuo-ku, Sapporo
Tel: +81 (0)11-596-7752
http://www.clarkgallery.co.jp
Text: Zhang Chu
Translation: Yoshimi Irie

[Help wanted]
Inviting volunteer staff / pro bono for contribution and translation. Please
e-mail
to us.