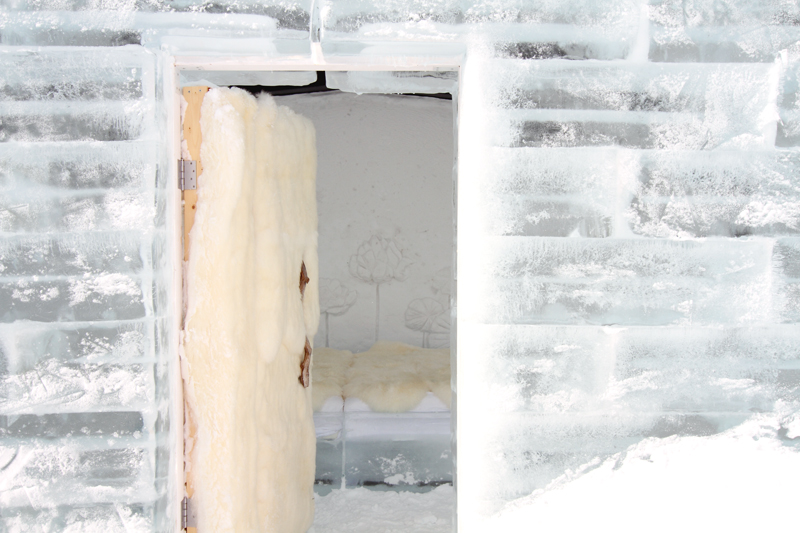 A mysterious world below freezing made out of ice and snow.
In February when Japan welcomed its coldest period, the Ice Hills Hotel opened up on a hill covered with snow in Hokkaido. The hotel has been surprising visitors from all over the world with its elements, including a building built with ice and snow, the Royce Ice Bar reception building, and a fun experience below freezing with art, restaurants with locally-grown ingredients, a snowmobile and a sleigh.
The Ice Hills Hotel opened up in the Sweden Hills in Toubetsu town, Ishikari, a district near Sapporo with a sister city, Leksand, in North Sweden. In this district, people have recreated a town in Sweden, protecting the natural landscape by burying electric wires under the ground. Every year, a traditional Swedish event is held, the summer solstice festival. However, this year, the Ice hotel, a Swedish winter tradition, was included as an event held to help enjoy the long winter.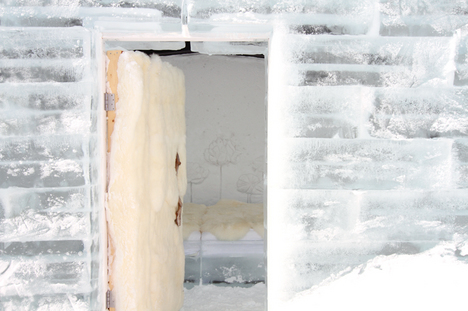 The creative direction of the hotel has been overseen by the Clark Gallery + SHIFT as a part of "Creative Hokkaido" projects, a platform for spreading Hokkaido's awesome culture nationally and internationally. Three groups of local artists in Hokkaido were invited to design guest rooms for the three hotel buildings where people can experience their stay. Their rich ideas were brought to life by ice builders from Itofuyu Kougeisha who have built the experiences of building ice hotel in Sweden.
The common theme for all of the projects is nature and humanity. This theme hints at and recalls the beautiful way one makes a life in the northern provinces with nature with art. In the future, the goal will be to continue to create regional attractions while expanding attractive content focusing on art and sharing it with the public.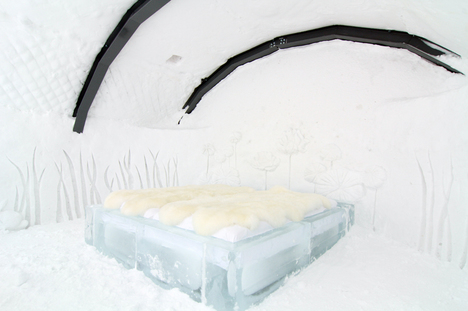 Midori Kambara: "White Garden – Room of White"
Painter and advertisement designer, Midori Kambara, who is based in Sapporo, created the "White Garden – White Space" which contains a painting portraying nature scenery using pure white snow as a material engraved on the three walls that surround a bed. On the front wall, flowers are blooming and wild birds and a Japanese hare are nestling in the grass growing on the side. People visiting the hotel will have a fantastic experience when they enter in to the world pictured which is free in this unusual space.
The nature scenery in the original painting is drawn in an extremely simple manner but one can find a firmly wild consciousness in its refined silence. Protected by the ice and snow, in a place where a snow storm makes a roaring sound, if you listen carefully you can hear a wild whisper hidden in the white silence.
Currently, Midori Kambara's piece "Garden #12," a painting with gold leaf, is on display at the Creative Hokkaido exhibition at the Cross Hotel Sapporo.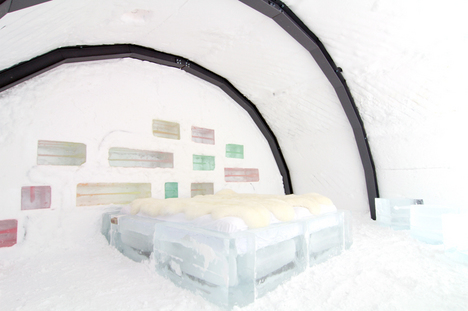 Toshihiko Shibuya "Ice Pallet – Room of Light"
Toshihiko Shibuya, an artist who develops three-dimensional installations using a space in consonance with nature in Hokkaido, created "Ice Pallet – Room of Light" with blocks of ice dyed in various colors buried in a snow wall. The ice blocks are neither made of colored water nor lit up by colored light. Rather, fluorescent-colored sheets buried in the wall naturally reflect and make the ice blocks look like they are dyed with colors.
Shibuya's original technique causes the appearance of his art piece to change depending on the weather and time of day, while also respecting the characteristics and possibilities of nature, and individualizing the beauty of nature. The feel of his art is similar to the happiness felt in receiving an unexpected gift, especially the sweet and warm impression that people find from his art. The color given to nature becomes a gift in return from nature and dyes people's eyes with gentleness.
Toshihiko Shibuya currently has an on-snow installation "Snow Pallet 5" on display at the Otaru Canal Plaza and Otaru Kihinkan, formerly Aoyama Villa, in Otaru, Hokkaido until the snow melts. He has another piece called "White Collection" using naturally white materials at the Creative Hokkaido Exhibition.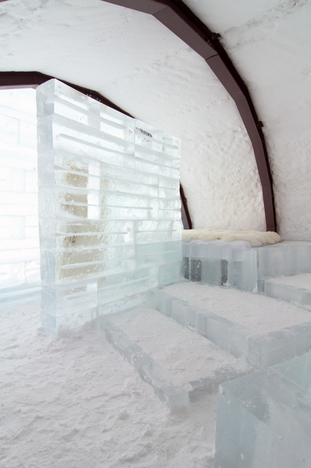 Leo Fujisawa & Muneyasu Okazaki "Ice Steps – Room of Steps"
Metal artist and sculptor, Leo Fujisawa, who organized the art event "Tarumae Arty +" and is positively involved in local and social activities based out of Tomakomai, along with first-class architect, Muneyasu Okazaki, who is originally from Tomakomai but currently based in Tokyo, co-created "Ice Steps – Room of Steps."
When people first open the door, it is a little bit difficult to see inside due to a thick wall of ice standing in the way at the entrance. Once you enter, steps of ice are piled up in three dimensional molds on the back of the wall as if the ice was carried in by the strong north wind and drifted in alongside the pier. The outside light coming through an ice pillar pushed outside of the wall draws the beauty of the translucency and the texture of coolness from the ice.
Though an indoor space, it gives the impression of a large Baltic Sea and the Sea of Okhotsk. Overnight guests can enjoy the feeling of drifting in the empty ocean from one floating ice block to another. Upon arriving at their cold ice bed, they can wrap themselves up in a warm sleeping bag and sleep like a seal while enjoying this dream world. There may even be some visitors who will think about the changing global climate where the amount of floating ice has been decreased.
Currently, Leo Fujisawa, has an iron sculpture, "Seed – Rough Sketch," on display at the Creative Hokkaido exhibition.
The Royce Ice Bar is located in the reception building, slightly bigger than a hotel, with a display of interior goods that make it look like there is chocolate everywhere. At the counter made of ice, vividly colored cocktails, Royce's special hot chocolate to warm you up, hot wine, and soup are served. On a snow wall inside, a video recording is projected showing the set up of the building.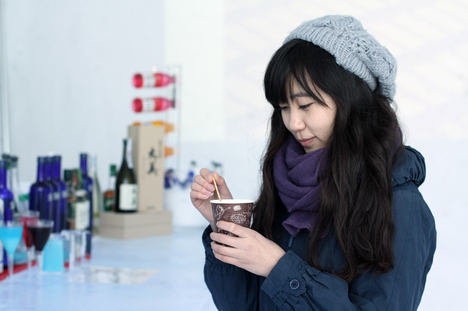 Ice Hills Hotel in Toubetsu 2014 started with the goal of being a new winter tradition in Toubetsu town after the executive committee joined with Cross Hotel Sapporo , design production company Auras, and I-pro. It only took about a month to set up this project thanks to some huge help from Royce' Confect, Sweden Golf Club, Sweden House and the Toubetsu town office.
Even though the event could only be held for a certain amount of time before the ice melts and it disappears in the spring, this event is not transient thing. The value of artists associating with locals is open up the public to things that they wouldn't see in their everyday lives, and to the possibilities of their local area. If locals can connect to art, that can create a better area and enhance a local life rich with ideas.
As for the accommodations at the Ice Hills Hotel, they offer 2 plans; a 12 hour stay and tour with a taxi pickup, or a day trip to the hotel as an activity for those who stay at the Cross Hotel Sapporo. Toubetsu town wishes that visitors experience the pleasures of life with art and Northern Europe in an area where wintertime nature can also be enjoyed.
Ice Hills Hotel in Toubetsu 2014
Date: February 11th – March 15th, 2014
Opening hours: 11:30 – 20:00 (open everyday. Due to the bad weather, it may close)
Place: Swedish Hills Golf Club
Address: 2788-28 Sweden Hills, Toubetsu-cho, Ishikari-gun, Hokkaido
Organization: Ice Hills Hotel in Toubetsu 2014 executive committee
Special sponsor: Royce' Confect
Support: Volvo
Special Support: Toubetsu town, Sweden House
Admission: Free. Overnight stay and food and drink inside will be charged
Cooperation: Creative Hokkaido and Art Sapporo
http://www.icehillshotel.com
Text: Ayumi Yakura
Translation: Yumico Miyagawa
Photos: Yoshisato Komaki

[Help wanted]
Inviting volunteer staff / pro bono for contribution and translation. Please
e-mail
to us.