Meat kingdom.
Johan Jureskog is Chef Creative Director of AG, responsible for winning 2 years consecutively Best Meat Restaurant in Sweden. Not an easy task, a status that he has established thanks to pursuing his own believe. He is known as "The Butcher" on his collaboration for channel TV4 in Sweden. He plans to have his own TV show but Johan also works on a different direction with his other restaurant Rolfs Kök (Rolf's Kitchen) where he can offer grounded rustic food. The secret for the successful formula in AG is due to two main factors: the network that Johan has concocted to be able to offer the best meat possible from different parts of the world every week. So in this spirit you will find marbled meat, entrecôte Wagyu, on the bone Clubsteak or Black Angus from Spain, Finland, Sweden, U.S, Australia or Scotland for instance. Then, the second factor is his drying aged system, a special refrigerator where they can put meat up to 80 days, giving a pungent flavor and unique touch to the meat.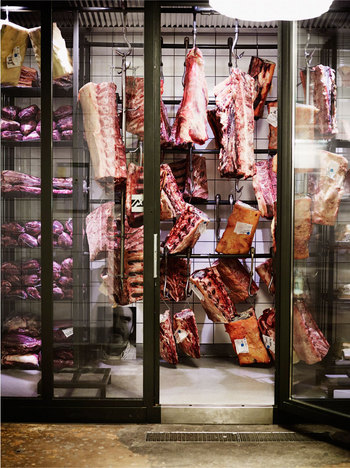 He started-up cooking when he was 16. He is been always interested in food –" In Sweden people don't gather that much around the food but for some reason we have done that in my home. So one day I decided to become a chef, wanted to be the best one. I spend 6 months abroad during my military service on a boat and achieved to be the personal chef for the captain. That was the best experience for me that could happen by then; I was young, going around the world, picking up raw materials, cooking and trying everything. When we came in into the harbor I should take care of captain's guests, maximum fourteen, when we went out to the next town every single officer should come to visit captain's room to have a dinner and I was responsible of that, so I don't know if I did military service but force myself to try new recipes and learn. After that I had the chance to work in the Swedish restaurant Pole Norberg in Stockholm, he is like my mentor. Thereafter I worked three years in France between Paris and Provence." He explains.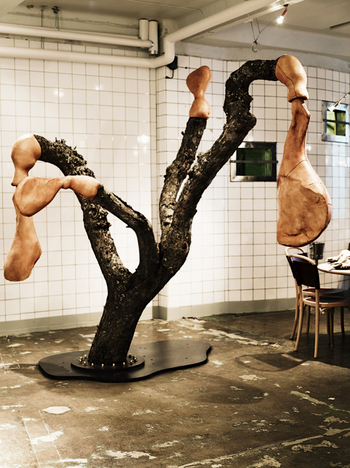 He contributes with channel TV4 in Sweden. In the TV show he is called "The Butcher." –"I've been doing meet the last four years. Rolf's kitchen is based on classic recipes from Spain, Italy, France and Sweden that I do in my way. I love bowels, liver every part so my philosophy is to use as much as you can. People generally eat too much fillet, and only 2% of animal body is that. Rolf's Kitchen is an institution for ten years now. I'm sorry to say I hate textures and things like that so this food is "as it supposed to be," really good ingredients, cooked for a very long time or short time, but always in a very natural way; very rustic kitchen. In Rolf's Kitchen I am famous for my braised chicks, I can sell hundred kilos per week. It's my signature dish. In AG it is simpler, it is about the product, it is about to have the best meet all around the world. I'm searching on every stone for it."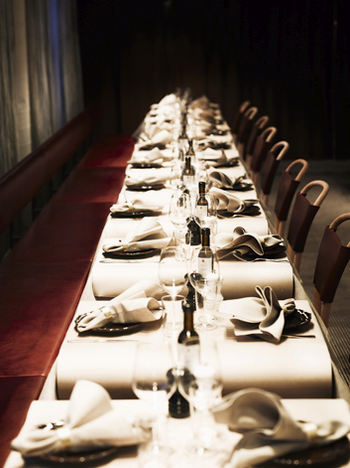 They do a little season, like the starters Their dream costumer comes to AG standing on the bar eating some tapas, taking a little drink, go in and order a big piece of meat or if you don't do the tapas bar then you take some starters; they grill everything by order but still they have veil in the winter, lamb in the spring, autumn lamb too, spring vegetables. We don't need to focus on the season but I like it anyway. The idea is to order different starters to share then the meat.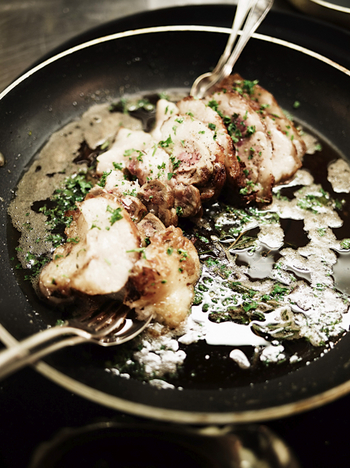 For Johan, his culinary influences are basically the Mediterranean countries. But also the cosmopolitan viba of a city like New York inspires him. – To my opinion the best food comes from the Mediterranean Sea and the philosophy how you eat there is fantastic." He asures. But what it make unique, besides the raw matrial Johans look after every stone, is their dry aged fridge system. –"The fridge it is the most expensive thing I ever put in. There is one person working with that fridge full time. Normal restaurants they don't have that because they buy it done already so that's way it is a little bit more expansive here. Without that fridge I don't think we would have so much clients so fast. I think people love us because it is very informal." They do that in the dryer room. Meat is dried on the bone. When they see something very marbled they take it off the bone after 5 weeks and then I take the fat, the skin of the meat and they let it be for another 8 weeks, so the process of aged can be up to almost 80 days. –"The taste is crazy" Johan says. They have "the meat list" one day a week. Johan searches for the best meat all over the world. –"I would love Sweden could provide different qualities but Swedish meat still is not there, it not that is bad but it's very hard to find the right piece. The farmer here cut it up but there is not categories, animals has a good life but there is no a quality control."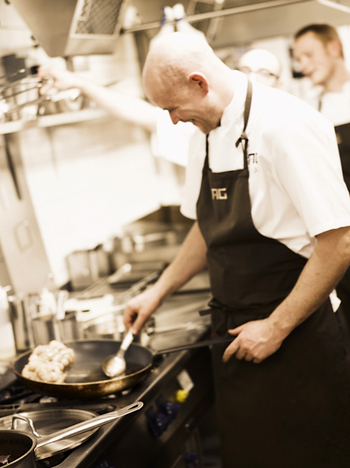 They have more than hundred different producers, farmers… Johan compares meat to wine. If you have a Black Angus from the states they take it very young, it is almost like veil, then you compare it with Swedish meat and it doesn't work in the same way. You can compare it with Pinneu Nuard, really light, you can eat a lot, the Swedish one you can have a glass and it's good but not two glasses because maybe is too much. In AG it is important the figure of the meat sommelier, generally Johan likes to do that himself: go around tables talking about meat to people. They have a meat tasting. This is 6 different cuts for each diner. Then the sommelier tells the story and you can compare qualities and testes. It's a fantastic experience for meat lovers.
AG Restaurang & Bar
Address: Kronobergsgatan 37, 112 33 Stockholm
Opening Hours: 17:00 – 25:00 (Closed on Sunday)
Tel: +46 (8) 4106 8100
info@restaurangag.se
http://www.restaurangag.se
Text: Victor Moreno
Photos: Restaurang AG

[Help wanted]
Inviting volunteer staff / pro bono for contribution and translation. Please
e-mail
to us.