Kerstin Olby started her vision of furniture design in 1980. She labels herself as a Furniture Architect, rather than as a Designer. She builds timeless pieces for life, yet modern, with the consideration of traditional furniture making. In her own words "furniture is supposed to resist the wear of both hand and eye." Olby is specialized in wood. Swedes are some sort of wood wizards, Swedish-produced furniture has been in the spotlight for decades now, due to its simplicity, functionality and durability. Olby tosses in her concepts other elements gathered from different cultures: Asia, British legacy or the American input. This shows off in the name of each model within the collection. In fact, she feels confortable renewing old models that slightly turn into a modern piece.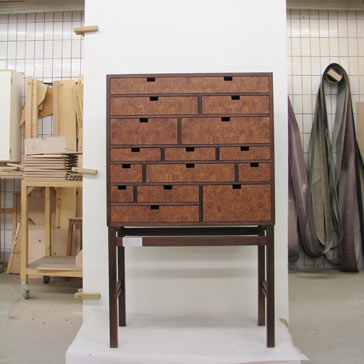 Every year from 1993 to 1998, Olby awarded the Excellent Swedish Design award, a desired prize for many Scandinavian designers. In fact, Kerstin Olby has also been awarded the Swedish prize for architectural construction in wood; Träpriset 1988 for her own house, Villa Olby. They control all the production process with their own factory located in the South-west of Sweden. On a particular note, Olby is the only company working with limestone from the mountain of Kinnekulle in Sweden. This limestone is a sedimentary rock, dolomite from fossils and sandstone created for more than 500 millions of years. There is only one stone factory left, run by the 5th generation of the Thor family. Other common materials in Olby's details are glass, iron, wools and linens.
The collection compiles a vast offer including storage, tables, drawers, chairs, beds and sofas. These versatility of these pieces makes able fit in both private and public spaces, including the Swedish Prime Minister´s official residence and as ambassadors of Swedish furniture design in a number of embassies around the world. Olby's sideboards are probably their most characteristic pieces within the collection. Olby's current offer is a combination of rustic and earthy-like furniture with the addition of color in a very pop-art spirit.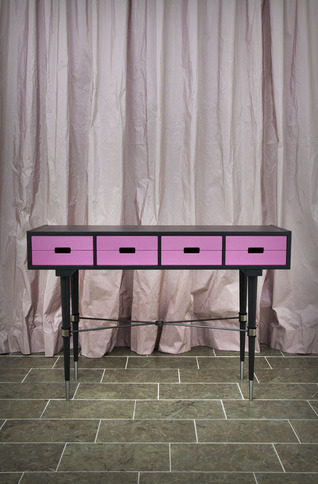 Pin up
This is the kind of furniture that everyone would be up to getting it home. Very versatile, a light piece that can work in different interiors. A useful sideboard lacquers in yellow, blue and pink and waxed white oak.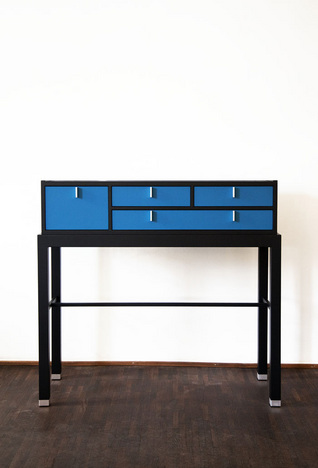 Ching
This is one of the newest additions. The top is made of glass and it can be ordered in several color combinations.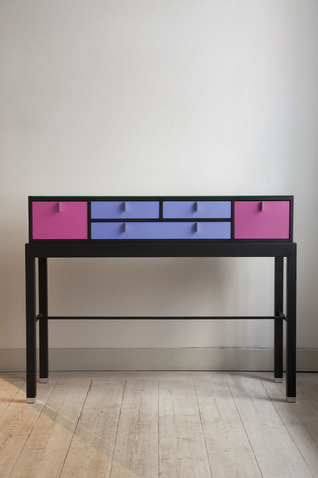 Chingeling
Expands the concept and also makes possible the combination of two colors in the same piece.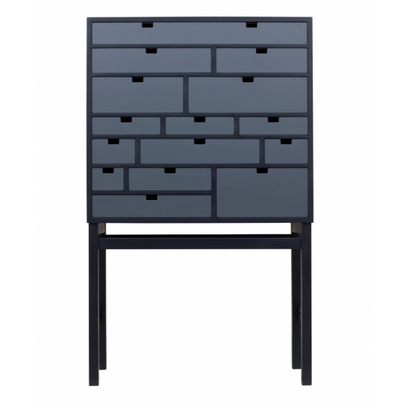 Rhapsody
This is the most exclusive piece in the collection. They only manufactured 30 copies, made of different woods in walnut and oak. Two of those are exposed in their showroom.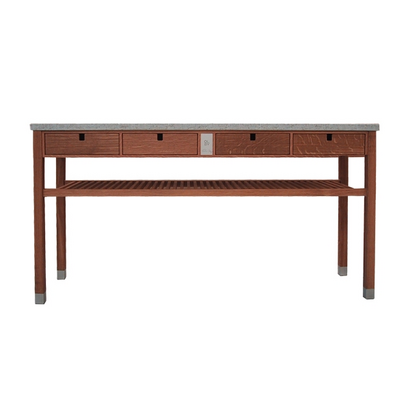 Limousine
This is side table with a powerful expression that reminds of the part of France, which has also named long cars and a certain race of cattle; with a functional shelf with ribs under the beautiful row of drawers and the durable stone top.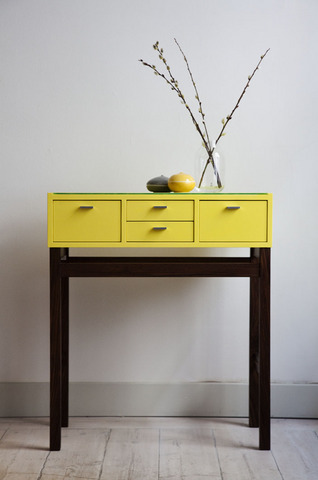 Ming
This piece is made in aluminum, durable in time. The top part is covered with glass. Also available in different colors.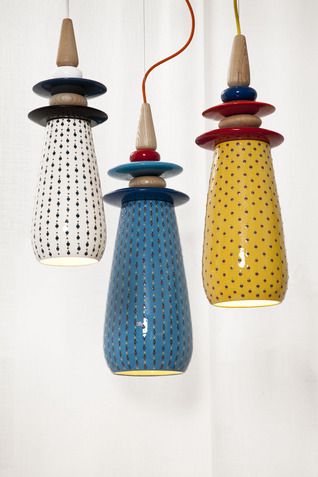 Forbidden Fruit
Hand-decorated ceramic shades with colorful, turned pearls fitted on the cord.
Olby Design Showroom & Shop
Address: Sturegatan 24, S–114 36 Stockholm, Sweden
Tel: +46 8 666 95 20
showroom@olbydesign.se
http://www.olbydesign.se
Text: Victor Moreno

[Help wanted]
Inviting volunteer staff / pro bono for contribution and translation. Please
e-mail
to us.