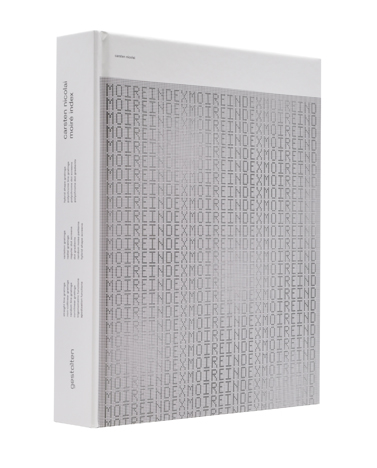 Moiré Index by Carsten Nicolai © 2011 Gestalten, Berlin
Released in August 2010 (November in Japan), Moiré Index (Gestalten) by Carlsten Nicolai is his collected result of studying research about the effect called Moiré. After his first release of the index series "Grid Index", Moiré Index is the second series about the effect of grids when overlapping each other at a certain angle creates a new form.
Carlsten Nicolai is also known by the alias Alva Noto, most notably for his work within most fields of the contemporary scene, most notably being for his specific type of conceptual style of music and combining it with installations. His music is also used into his art which his music, art and space converge together. His latest installation piece in collaboration with Marko Peljhan "polarm" is currently exhibited at Yamaguchi Center for Arts and Media [YCAM], where you can get a glimpse of a part of his creativity.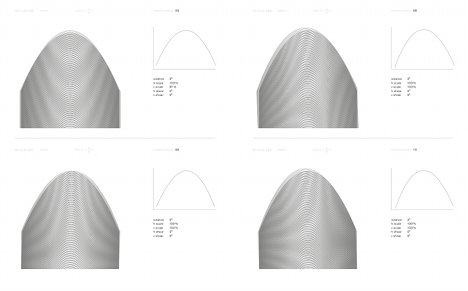 Moiré Index by Carsten Nicolai © 2011 Gestalten, Berlin
This index is filled as what the author and designer calls artworks but can also substitute for a source of means depending which field the index would be applied on. Be it in graphic design, mathematics, architecture, visual artists, research and whatever I may have left out. Actual use of Moiré in real world is mostly within metrology and strain research with fabrics, but it is seen in everyday use like the side effect of bad printing.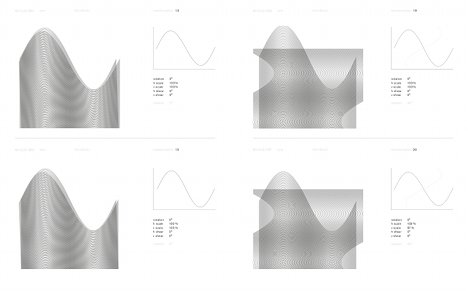 Moiré Index by Carsten Nicolai © 2011 Gestalten, Berlin
MoiréIndex is like a catalog collecting 580 Moiré "phenomena", they are separated by different means of creating such as "straight line gratings" and onto more complex formulas like "hybrid moiré". The information of every type of Moiré is well explained and the short introduction is a good foundation of using the book as a reference. All the formulas, names and codes are very easy recognizable for the reader. Along with the book comes a CD with all the grids, gradients, functions, gratings and so on… included in the book, making it a total of over 1400 kinds. With the hard-cover bounded, the cover design makes use of its content in that it utilizes the moiré effect that it writes about. Pages in the back show color moiré effects, printed on sleeker and coated paper, with the book comes three overhead pages with grids that you can use by putting on top of the existing moiré grids in the book.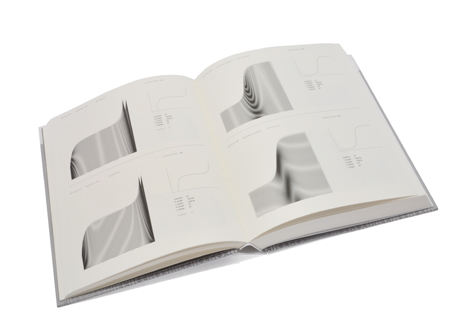 Moiré Index by Carsten Nicolai © 2011 Gestalten, Berlin
Moiré Index by Carsten Nicolai is somewhat of a foundation stone in the creative process, because it requires that you look beyond what you actually see. When you are exhausted any other means of creative processes and you are hungry for something a new way of creating, this book will be a excellent cookbook for creating by using aesthetic effects of moiré.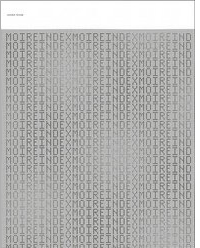 Moiré Index
Publisher: Gestalten
Release: August 2010 in Europe (November 2010 in Japan)
Specification: 312 pages, 18.5 x 23 cm, b/w with 14 color plates, CD-ROM
Language: English
ISBN: 978-3-89955-308-6
Price: € 39,90 / $ 60,00 / £ 37,50
http://www.gestalten.com
Text: Jovan Velkoski

[Help wanted]
Inviting volunteer staff / pro bono for contribution and translation. Please
e-mail
to us.