A home appliance music group formed by Teppei Kuroyanagi and Tyousinkai.
"1980 yen" is a reasonable price for Japanese, it reminds us of electronics retail stores where you can easily find a number of price tags with 1980 yen (it can be also said as "ichi qu ppa".) Inspired by such cheap and busy image of retail stores for white goods, 1980yen is a Nagoya-based home appliance music group working on their own unique creation in the realm of art performance. Check out on the cover art for SHIFT 2011 with a live on Ustream!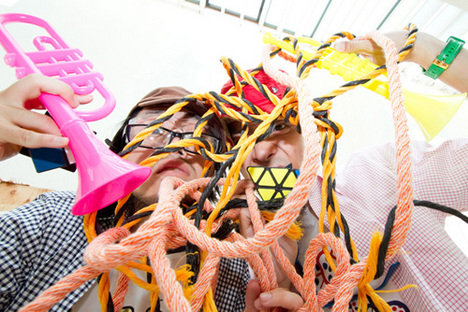 Please introduce yourself.
1980yen (ichi qu ppa). It is a home appliance music group formed by Teppei Kuroyanagi and Tyousinkai. We express the artificial world of electronics retail store, mainly by performing music lives as well as through various creations such as videos, design, bargain devices, electronica, media art, performance and animation. We are currently based in Nagoya.
How did you start to form 1980yen?
Teppei Kuroyanagi: Before we started the group, we had been working together for 7 years making various works of video and music, from commercial to art. We both like minimum works and have challenged ourselves for a long time to figure out how we could reduce the "fat" to highlight the framework as an expression. While our work became refined every year, we were also driven by a sense of danger by losing something. At that time I just happened to see a leaflet from a home appliance retail store, and it just inspired me so much.
Tyousinkai: Flashy colors and great volumes of information directly connected to my brain. As I felt a compulsion to express by transforming such advertising copy and noisy visual impact into another media, we formed an unit called 1980yen (ichi qu ppa).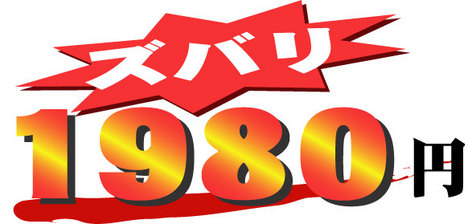 Could you tell us about the origin of the group name 1980yen (ichi qu ppa)?
K: To explain in one word, it's about bargain-ness.
T: I think the word "ichi qu ppa" well expresses a Japanese sense of exaltation in regard to such excessive representation. Don't you feel uplifted just by hearing the word (laughs)? The word is often used in our everyday lives. That's another key point.
As music band or contemporary art unit, you work on music performances using home appliances such as vacuum cleaners. Could you introduce some of your works?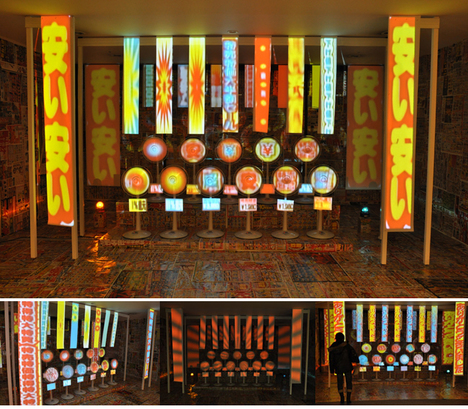 "MAY I HELP YOU ?" Video installation
K: This installation work was shown at ARTS CHALLENGE 2010. Exceedingly decorated, the video installation work intrigues people with extreme phrases by recreating a mega electronics store in the event site (Aichi Arts Center). From our point of views on commercial works, which we have been involved in for a long time, we wanted to express our way of contemporary art by challenging ourselves with the theme "art as commercial" to depict the real and fiction with irony and humor.
"1980yen LIVE2010"
K: After we made the installation piece mentioned earlier, we explored it with music, and formed a band using vacuum cleaners and fans. Instead of creating new music, we wanted to create a new value by combining "home appliance (kaden) songs" and "electronica" to produce a kind of kaden-tronica music.
T: The instruments we use varies depending on the venue. For example, we use vacuum cleaners and a drum at a live house, while using vacuum cleaners and sampler keyboard at a club. To express the flashy visuals you see at electronics retail stores, we used a myriad of LED and dynamic video work.
"We've got you covered."
K: This song was inspired by sitting on a massage chair at the electronics store. I came up with the melody since I felt a soft wind and the scent of woods from the chair.
T: But in the latter part, the rhythm of the music totally changes. A sudden bargain sale started with flashing lights. This piece was made with a theme of silence and roar.
How did you start to focus on home appliances?
K: After we got inspired by the leaflet which I mentioned at the beginning, we frequently visited electronics store. We are not intrigued by new products, but its "excessiveness" and "fiction" which you can find at the store. It is a flashy world of fiction in a flurry of false and exaggeration with slogans that arouse consumers' interest.
T: But even in the world there exists a sort of comfort and beauty, which are the motivating forces we are moved by.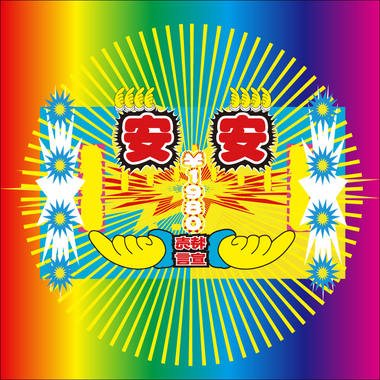 What do you use besides home appliances?
T: Our creation style is to transform sounds and images of home appliances into electronica music and art. So we use anything which can reproduce the image. To incorporate images of "cheapness", "flashy-ness", and "exaltation" into music, we use colorful mass products which you can get at 100yen shops and home centers.
K: Cheap sounds and visuals of those low-priced mass products is quite attractive. It is necessary to create the world of 1980yen. In contrast, I am not interested in something expensive. So we are far away from a commercial studio and fancy devices (laughs). We have a DIY spirit, I guess.
You are based in Nagoya. Could you tell us about the art/creative scene in Nagoya?
T: Not sure… I think there are many creators in Nagoya, but they don't come out. Maybe, it's difficult to understand the current situation from outside. There are extremely cool lives and art things happening at the underground scene, which is hardly featured in the local magazines.
K: Yes, there are exciting things deep in the underground. Another thing was Aichi Triennale 2010. After the event finished, there were alternative spaces created at the event site, from which some new things might happen.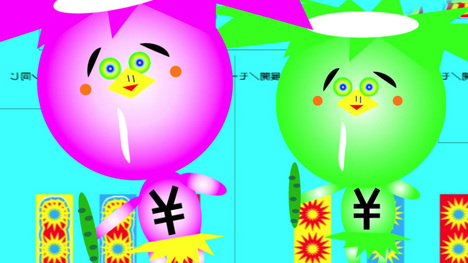 Each member works independently. Please tell us each activity. And how does affect to the work by 1980 yen?
K: I have worked as a film director and maker, and I can take advantage of the experience for the 1980yen works. When making sound sources, I first make visuals instead of scoring. As I try to make motion in my head with the visuals, I listen to sounds which come up in my head and score them. I think this approach is my advantage and comes from the other genre.
T: As a track maker, I perform live and DJ mainly at clubs in Nagoya. I also make music for skate videos, organize events at clubs, perform live painting, and go to the super sento (public bath) with a group of people. 1980yen creates various genres of works like installation and music. So I put my whole experience towards 1980yen.
Do you have any things or people that you are influenced by?
T: For painting, Paul Gauguin. I love his tropical and psychedelic paintings. For music I was influenced by Nobuo Uematsu who is a composer of Final Fantasy, and Yasunori Mitsuda of Chrono Trigger.
K: When I was in the middle of poverty, I think I had fateful encounters. They are Tyousinkai, Koki Tange, and Kosaku Hoshino.
Please tell us about the SHIFT cover you created.
K: We thought it's boring just to make a movie or still image. For the cover we are streaming live with Ustream. We exhibit an installation piece for 24 hours a day in a space, broadcasting exclusively for SHIFT. It is an image shifting from the past fixed cover design to "live".
T: This is a kind of work you never know what will happen.
K: Yeah, the restlessness is the key point. As we will showcase lives and performances irregularly, please check the cover frequently!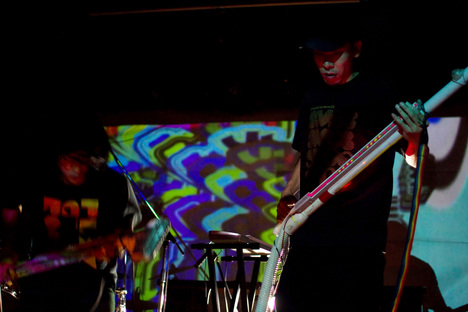 What's your upcoming plan?
K: First thing we do in 2011 are music events and guerrilla performances for the SHIFT cover!
T: Please keep checking the cover! We might do suddenly or announce it. Please check!
What would you like to explore in the future?
T: We think LIVE anyway. We want to perform live in many places. As we are interested in fashion, we want to collaborate with the brands who could support us!
K: We want to work across the media with a main focus on music lives. Our advantage I think is that there are various approaches we could do from art to commercial contents. So I don't want to limit ourselves by crossing media. We are waiting for your offer! We go anywhere to give live performances!
Text: Mariko Takei
Photos: Junpei Kagawa

[Help wanted]
Inviting volunteer staff / pro bono for contribution and translation. Please
e-mail
to us.