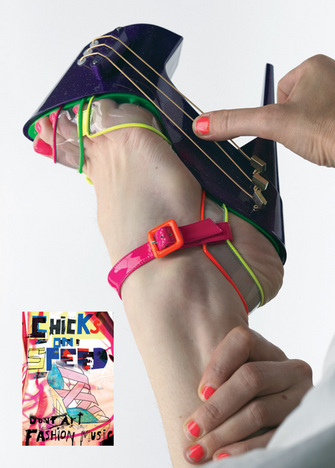 If Einstein had been hanging out during the change of the millennium perhaps he could define himself: Electroclash + Riot grrl + DIY = Chicks on Speed. The band known globally for their hybrid, explosive DIY fading out the boundaries between art, music and fashion presents a second book in their career. "Don't Art, Fashion, Music". focuses on this very new collection of self-made "Objekt Instruments", which act simultaneously as machine, instrument and sculpture. The collection includes the e-shoe – world's first high-heeled shoe guitar –created in collaboration with the award-winning shoe designer Max Kibardin. We spoke with pioneering core members Melissa Logan and Alex Murray-Leslie.
Hi girls! It´s been a while since the last time we met. You both met at the Academy of Fine Arts in Munich. How have you changed?
Melissa: I think we are working on the same ideas that where the drive to start the project. We are more to the point, more extreme and better at the language we have developed. In no way have we become more relaxed, actually we demand more of our work.
Alex: After 15 years of art, music and fashion projects, we´re definitely more ambitious with the types of projects we´re realising now in bigger spaces, such as MoMA, Pompidiou museums and at Fashion/ Art related events for special brands. People give us more room for experimentation and trust us, which is a nice feeling, its a luxury actually!
The new book is based on a performance you did last June at Dundee Contemporary Arts. How was that and how is this exposed in the book?
Melissa: The book is about Objekt Instruments. we have been working on these concentratedly for the last 3 years, but started them 9 years ago.
At DCA we completed the high-heeled shoe guitar & the cigar box synths. The book uses the time line of the performance,…scene 1, scene 2… as a form, like chapters, subjects. Also there is a Zine section where it gets very strange & we hope to loose the reader in Voodoo, we hope the readers are challenged and confused & happily stimulated.
Alex: Yes, It´s a guide to our Objekt Instruments and how they´ve been applied to our extravaganzas over the years. Working at DCA was a turn in our career, It´s the biggest project we´ve done till now. I mean, along with making a book, developing a new multimedia stage performance during a residency at VRC space DCA, we were able to develop the E-SHOE with Max Kibardin, which took 2 years. DCA were really passionate about the E-SHOE, which wouldn´t have been possible otherwise. It was also an incredible learning experience, with Judith Winter the main curator, she pushed us into another dimension of our work, plus, they have an awesome team of people there.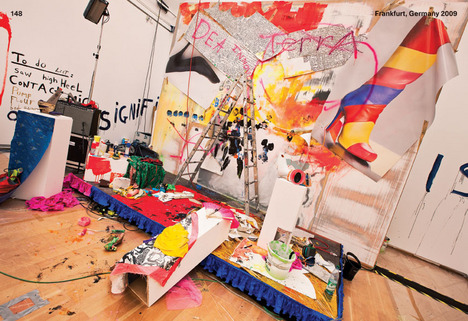 Is it any of you on writing?
Melissa: We wrote some, not too much, we did 2 interviews with guests. We mostly had other people write about the object instruments. Stewart Home who is a great writer and publisher, Glen Adamson from the Victoria and Albert Museum, London.
Tell me about the E-shoe!
Alex: Well, it was a passion for us to realize for the last 5 years, we started the experiment at CAC in Vilnius with the first high heeled shoe guitar, which wasn´t wearable…and to finally get the cash together from DCA, plus the incredible collaboration with Max Kibardin, made it all a reality….We were on a mission and we had to do it YES OR YES! it was 2 years of traveling to Milan, going through the stages of prototypes and changing factories 2 times, drama´s, late nights working in factories, hanging out with "tuning" guys who spray paint cars for a living and basically getting people excited about our project to make it all happen….we told some stories along the way, but I think that´s normal if you really try to do something that´s never been done before! The E-shoe is a wireless wearable high-heeled shoe guitar, which we use on stage in our art performances, and exhibit in vitrines in museums, its rock art fashion!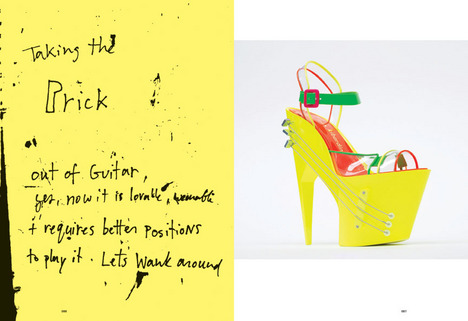 What we can find in the collection 'Objekt Instruments" ?
Alex: 2 hats self contained entertainment systems made in collaboration with Christophe Coppins, 10 cigar box synthesizers, 5 E-SHOES, 1 high heeled shoe guitar, 1 amplified sewing machine, a set of rocks with contact mics and guitar pedals and 4 super suits made to trigger video and sound.
Have you used any of theses creations in your recordings or it is just for performing?
Melissa: On the last album, 'Cutting the Edge' we used a lot of scissors & the shoe guitar prototype.
What is it fashionable technology?
Alex: It´s a term created by Sabine Seymour to describe wearable and fashionable pieces that integrate technology into them. there´s a book by her with the same name.
Where will be possible to find this book?
Alex: We have the same distribution as Damian Hirst and Charles Saatchi, so I believe all good art book shops and museum stores.
Tell me about Max Kibardin. How did the idea of this contribution evolve?
Alex: I´d met Max at his fashion show in 2008, I fell in love with his shoes and we immediately struck it off! 4 months later I went to visit Max and tell him about the E-SHOE, there was a small spider going up inside the first prototype on his table, he said this is good luck, I´d like to do this project….Max, Melissa and I have a great friendship and we´re looking forward to work on further collaborations, including a fashion film which we plan to make in Tokyo during our upcoming residency there April-June 2011, we´ll be collaborating with local choreographers, fashion designers and musicians.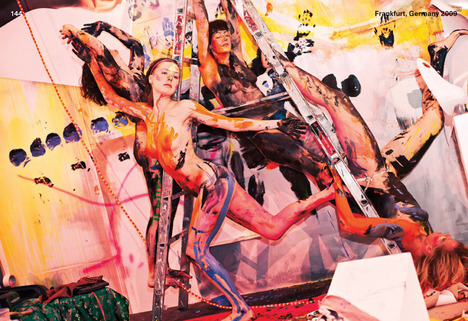 Are you interested yourselves in fashion or it is mostly all about DIY and the fun of it?
Alex: We´re definitely interested in fashion, it always played a major role in what we do, connected to our music and art exhibitions. We see all of what we do as connected, you can´t separate one from the other, then it´d be naked and boring. Since the start of Chicks, we made our own stage outfits and have worked with many designers such as Kathi Glas, Jeremy Scott, Crystal Ball and Jean Charles De Castelbajac. Every new idea needs a new visual representation on the body. I´m also totally art/ fashion addicted and a contributing blogger to Diane Pernet´s A Shaded View On Fashion film and I love fashion, especially when its daring and performative!
So please tell me some current designers interesting for you.
Alex: Trisha Sakhlecha, Max Kibardin of course! Gareth Pugh, Bless, Peggy Noland, Ari Fish, Cassette Playa, Tatty Devine, Vladimir Karaleev, C-Neon. Pelican Avenue, Natalie Wood from "Something else", Material By Product.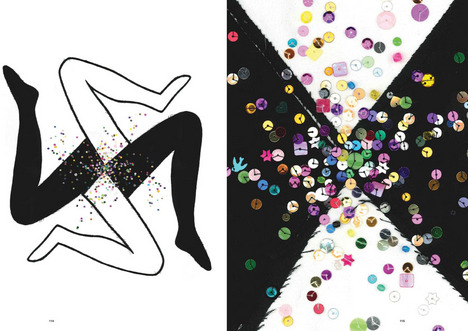 It can be true do you currently perform more in art galleries than other kind of venues?
Melissa: We dj in clubs, we have a very chopped up, very visual, dance & performative DJ set Happening. The Live shows we perform in an art context. We have special stages built, spend a week on location & create a unique performance that is only performed once. It is an amazing experience, and solves the problem that bands have of performing the same thing over and over. We performed this at MOMAK, the National Museum of Modern Art in Kyoto, except we spent 3 weeks there, making film & working with the choreographer Chie Ito (artistic director, Strange Kinoko Dance Company) and the amazing Japanese Band OOIOO with whom we hope to work again. The MOMAK was Amazing to work with, much better than the MOMA in NY, we were so impressed because of course it is clear to us that what we have developed is quite unusual & difficult. They even made it possible to film at a honenin.
What is Dirty Disco Youth?
Melissa: He is a producer, performer, dj and lives in Hamburg. I met him on a airplane, we were both going to the same festival and then we started working together. Look him up, he makes great beats! Also I know he played in Asia recently, I think Japan as well.
Do you frequently follow blogs, facebook, twitter, tmblr and such?
Yes.
First time I met Alex was in Sónar 1999, I think. Is Alex still based in Barcelona?
Alex: Yes I´m based here. It´s a very good city to live and do culturally related projects in! We have all the major music festivals here and an excellent community of creative and vibrant people to exchange ideas with and collaborate with! Of course I need sun cause I¨m Australian born! so I feel its my home!
How is your relation with Australia nowadays?
Alex: I try to get back to Aus every year, to get my dose, hang out with friends, do some lecturing and connected projects and then come back to Europe. We toured Australia pretty much every 2 years since 2003, playing the big festivals, so we have a nice fan base down under in Aus and NZ.
We exhibited at L'Oreal Melbourne Fashion festival @ Craft Victoria with our solo show "Viva la Craft" 2008. Future plans are to do a big art based project in one of the major art institutions, but can´t tell you where yet! Its an important part of our practice to have a voice in Australian art scene,
and we get a lot of very good feedback and invitations, so we must be doing something right! 😉
What do you guys enjoy about Japan? Will you be there soon?
Melissa: We will be in a exhibition at VACANT, Cross Counter, organized by Peter Donaldson and Hideyuki Sawayanagi. The opening is April 8, and we will perform April 15. We are planning to stay longer in Japan & work on a film project. At the moment we are working the storyboard and on collecting funding, but are very excited to be back in Japan.
Alex: It´s an addiction! I really like seeing all the friends and spending time, doing projects, Ossan, Mako, Nicole, Paul, Daigo, Ko and Sugar! I feel Chicks on Speed are part Japanese!
Please tell me some other secrets for 2011!
Melissa: We would love to design more for CRYSTAL BALL, we worked with then a few years ago and I still have the Jeremy Scott bag he made with them. In Berlin we are planning a Objekt Instrument exhibition at Kunstraum Bethanien http://www.kunstraumkreuzberg.de/english.html
summer 2011, then London in Sep.-A large performance HAPPENING.
Melissa, do you know Logan´s run from the70s? I bet you have some funny story at school because of that !
Melissa: My friend, Frau Kraushaar has a song about Logan´s run, sometimes she has me come on stage for it. Yes, it is a great film, visually very beautiful.
Alex, please tell me any favorite restaurant in Spain and what is your favorite Spanish food?
Santa, my friend Paco is the chef there and he´s the best foodie in town!
THANK YOU!
Thanks a lot !
Chicks on Speed "Don't Art, Fashion, Music"
Release: November 2nd, 2010
Language: English
Paperback: 240 pages
Published by Booth-Clibborn Editions and Dundee Contemporary Arts
Price: $35
http://www.chicksonspeed.com
Text: Victor Moreno

[Help wanted]
Inviting volunteer staff / pro bono for contribution and translation. Please
e-mail
to us.