It's the season for fashion. 2009 Spring/Summer Collection.
On September 1st, Japan Fashion Week in Tokyo, or JFW, was held in advance of four of the largest collections in the world. The JFW Organization has been working on enhancing the event for the last few years. The event has been becoming much more enjoyable and exciting as a result. 37 brands participated and special events were held everyday for 5 days. Young, energetic designers can make one's mark during JFW. The main stage, Tokyo Mid town, was the focus of JFW's atmosphere. A wide range of generations come and go, especially an assortment of stylish young people turning out and making a line in front of the next collection with force.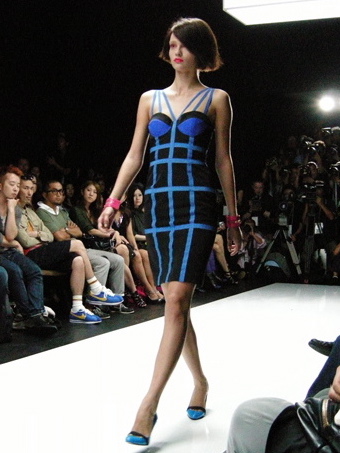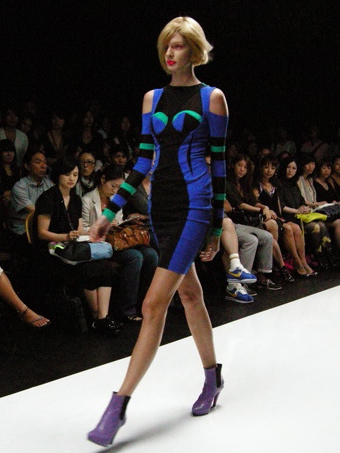 I saw many amazing designers in the collection, especially G.V.G.V.. She blows my mind with her incredible impact. Body conscious and primitive design works pass by aggressively on the runway with strong white light and upbeat sounds. An ideal woman consists of being wild and intelligent. It is based on color – black and flesh color is daring. Variation and architectural patterns are eye-grabbing.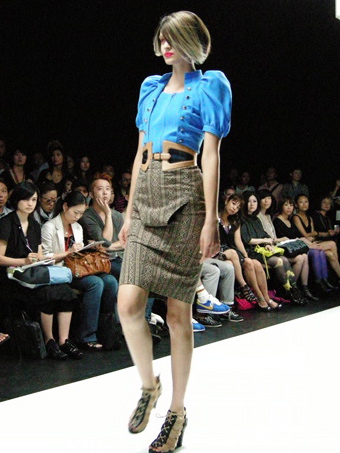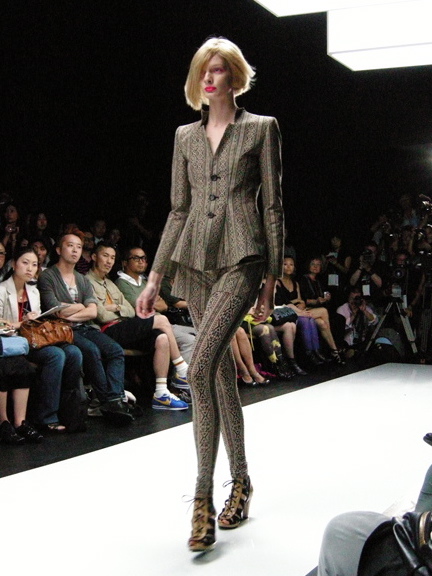 G.V.G.V designer, Mug, works as DJ Soft and Hard. She feels Tokyo with her skin and analyses what she received. Through this process, her designs own rawness and reality. The concept of collection is embodied by design, styling, lighting and back music. The fashion show – it is a theater, performance and illusion. After this stage, I was left with vivid excitements and an electric feeling.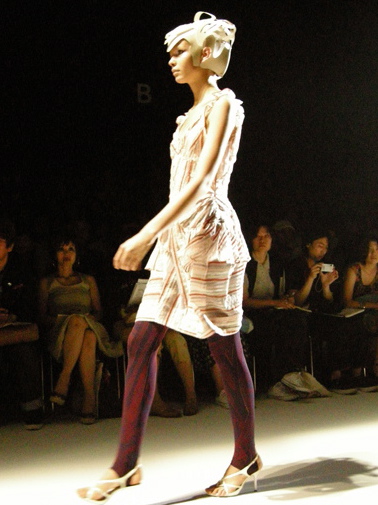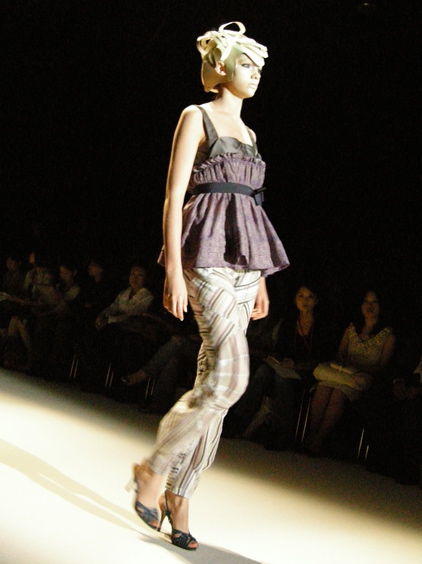 SOMARTA this season's theme is "EVOLUTION BODY". Motion Graphic image of floating DNA are projected onto the front of the stage. Slow tempo music played in the hall. Once the first model wearing a peculiar head dress showed up, the hall seemed to transform into something out of a science fiction film such as "Solaris" or "2001: A Space Odyssey". Ivory, salmon-pinks – the way they use color is soft and feminine. The feature of the female softness is inscrutable but scientific.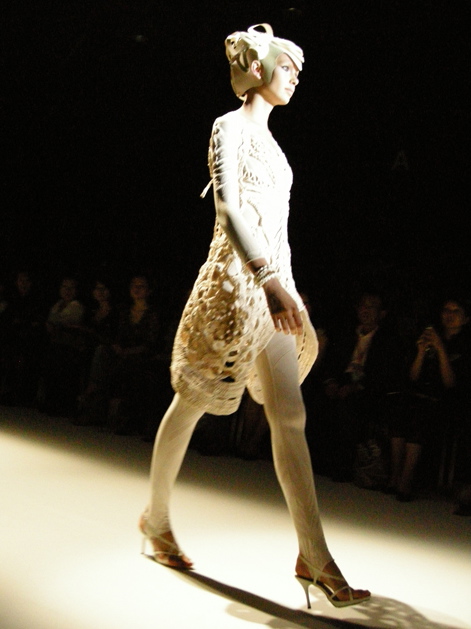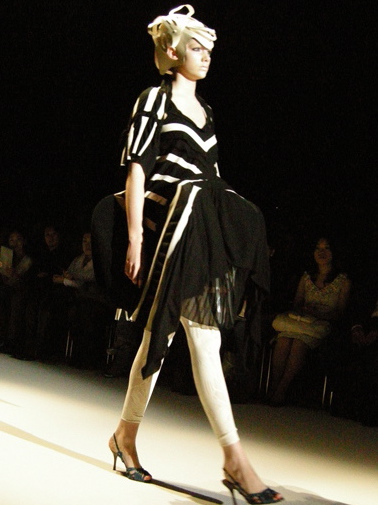 As the theme, dresses evolve with time passing. The design caused more deformation. It clearly showed her interests in nature such as cells, bodies and universe. The bone structure knitted materials were breathing taking. I appreciate the amount of detail she puts into her works. The designer Tamae Hirokawa established "SOMA DESIGN" which design fashion, graphic, music and a variety of other graphic mediums. I see her creativity not towards fashion as outfits alone. Her concept could be described as fashion originating from the body. She looks back to the origin of fashion. The audience, meanwhile, observes this fashion evolution occurring quietly in this conceptual collection.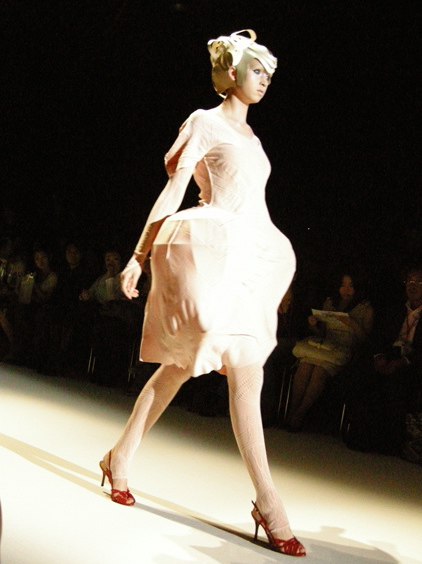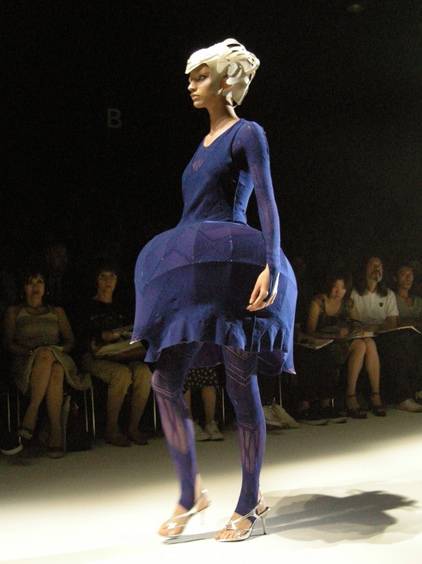 Japanese interest, obsession and culture of fashion – which project the inner self through the outer self – has amazing philosophies and viewpoints. The young generations take over the history and create their own fashion culture in Tokyo where various culture and information get in and have just fun playing with their style. Tokyo's unique high fashion is remarkable in relation to the rest of the world. The JFW in Tokyo's history just started, but the foreign press has given us attention, and it is developing their own position that is different from other collections. Tokyo fashion scene has a bright future.
Japan Fashion Week 2008
Date: September 1st – 7th, 2008
Place: Tokyo Midtown, Laforet Museum Roppongi, Harajuku Quest Hall, and others
http://www.jfw.jp
Text and photos: Naoko Wowsugi
[Help wanted]
Inviting volunteer staff / pro bono for contribution and translation. Please
e-mail
to us.