The Norwegian cult band Serena-Maneesh looses themselves into zero gravity to release the awaited output of their new record. With a superb production and sound mastering the new Serena-Maneesh album "S-M 2: Abyss In B Minor" is a piece of pureness plenty of rich textures, a blast-o-rama compacted in 38 minutes and 45 seconds spread with 8 tracks. Released via 4AD at the beginning of the year (22nd-23rd March) the outcome is yet far from billboard charts has an unanimous recognition that keeps them in steady touring and promoting the album during the whole year summing fans all around. The band has presented the album in North America including SXSW, summer dates in Europe including Roskilde Festival and soon back to America clarifying themselves as one of the most interesting and pungent current acts on the globe.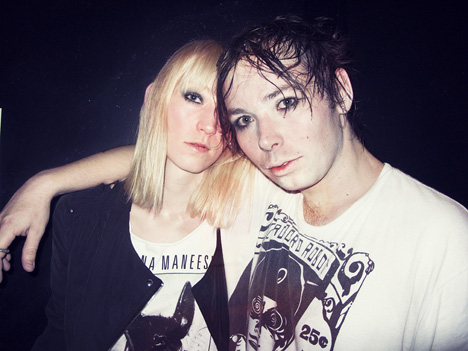 'I Just Want To See Your Face', basically the most pop-oriented song from the album, spreads like wildfire over the internet what is already called to be heritage in the pop-culture for the following decades. The band fleshed their profile out 5 years ago with the previous debut album and now arrives to a maturity with the assistance of the likes of Nick Terry who has worked with Primal Scream already and Ray Staff, who did the same for Led Zeppelin's Physical Graffiti, among many others. Emil Nikolaisen is a considerate chap and as composer he looks for the self-surprising. He has built a magnificent formation of adepts musicians including his sister Hilma, Ådne Meisfjord, Tommy Akerholdt and Øystein Sandsdalen. The 5-pieces-set sometimes gets extended. In fact, more other musicians have participated in the recording of the album, including Sufian Stevens and previous associated member Lina Holmstroem. Whatever how lucky you can be to experience the band live they will thrill you for sure. Meet Emil Nikolaisen and let him conduct you through his kindness to the end of the abyss.
5 years since debut album and new release in 4AD.
The record industry and how people get, purchase or often even relate to music is a whole lot different these days than just a small decade ago. This particular label has a rich history, and it is great to be part of it, but like I said living in these times, what label you' re on doesn´t always change a whole world. Every artist today has to relate the changes and act accordingly.. I guess it goes with being able to cooperate with whoever you' re working with..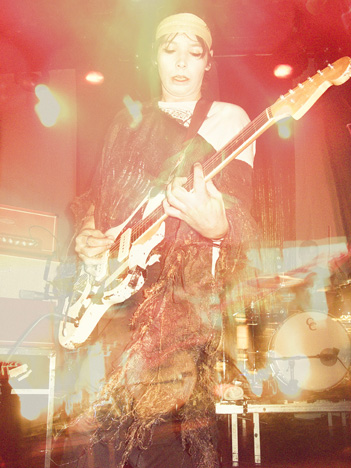 Has the album been physically released worldwide?
I thought it was "available" in physical format in most "major" markets, meaning most of the world..? if not I' d have to have a word with.. haha
At least I'´ve seen a US, a UK and a Scandi pressing of the record, cd/ wax..
I heard you were recording in a cave somewhere in Oslo. How long has the process been to create this 2nd piece?
Hmm.. yeah depends what you consider "making an album", it is the conceiving of idea, laboring and then kicking it out heeeeee…maybe almost two years of making but nagging my head since I finished the previous one..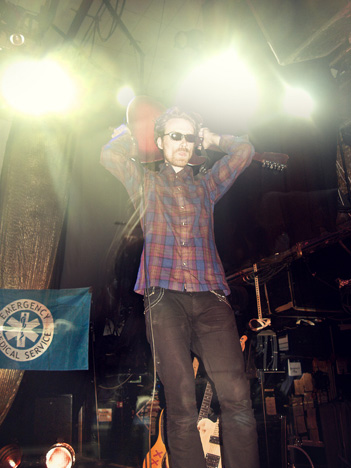 How does the band work together. Is it you who do the composition for the songs?
Yeah, I outline compositions pretty heavily. Then I normally invite in good heads for dragging and cutting in rhythm and in harmony. Then flavors evolve and slowly turn into something else and that is what I am looking for, surprising myself and getting rid of knowing too well what will be cause I get sick of my old ways easily. So it is a long on going molding process and I even might edit the whole master or single elements later on as well… it is like throwing the whole thing in a washing machine with some serious flamboyant powder and it back turned around a thousand times…and see how you go about it again…
How did you involve yourself with the production of this album?
Well it is pretty much my life when I head into this kind of cloud, this dungeon of a mind place. so I stay in the recording or editing facility non stop alone or with someone else looking for gold or fine waste we can use. Normally too much waste of time but it is like a goldmine where you pick up the little grains of valuables from a whole lot of nonsense. I tiresome, time- consuming process but often oh so exciting
How did you came to work with Nick Terry?
Me and Nick met through a mutual friend and I really liked him as a guy. calm, a little shy, really cool and really gifted in his craft. And not very elbow- y. He pretty much rescued me, if he wouldn' t have been around, I would probably still be in the dungeon. dead or barely half alive.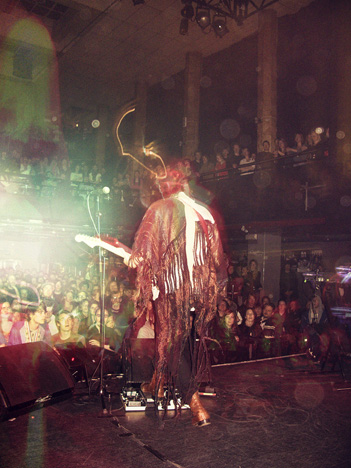 Was It your idea to send it to Ray Staff for the mastering?
Nick knows Ray really well after numerous projects they worked on together, so he highly recommended him. Ray was great.
Who is in charge for the lyrics?
I write most of it. Lina wrote a little when she was more involved in the band..
What inspires you to write?
Through intense euphoric rushes or on the glowing manic rollercoaster I sometimes catch glimpses from a concentrate of my own subconsciousness.. horrible or reservelessly good. So, triggered off by ongoing or past incidents, moments of clarity in nature or in relation with other beings, it is pretty much that kind of stuff.. life, as we sometimes like to call such..
You started this year promoting in the U.S. Tell me about that.
Wow, yeah, America… what can I say? I love it and I hate it. I love the American countryside, the middle- of- nowhere and middle of nothing special, the dusty diners and crappy fat and steak and smell and hairiness.. dwell upon the epic, endless sides of such a majestic continent is never tiresome. and I love the outspoken, dedicated people who give so much back in response at shows. but I find it very demoralizing that the authorities give foreign artists such pain with tax, work permits and formalities.. We' ve left so much in their pockets already and probably always will…spending more than what we earn anyway…so I don' t really understand why they' re being so paranoid about everything. We just want to share the music!
There are some other dates that you are playing in Europe during the summer. Tell me about it.
Yeah, quite a few great festivals, which we just started on… Norway, Denmark, Belgium, France, Germany.. full fire on to quite a lot of people who probably have never heard! then off to some club dates and smaller nice festivals in Holland, the UK, Poland.. THEN back to America!!!
Is it anything else you will advance until the end of this year?
There will be a new chapter of SM sound towards the end of the year. Lots of new plans, new things…Exciting…in the cooking…
The band regularly performs a 5-pieces-set but sometimes it is more people on the stage.
The more the merrier. The more chaos, the better. Communal chants and the tribe floating all along…yeah, it depends on when and where. Freedom is a great word and even better when it actually happens.
You like to keep the show in less than an hour.
Precise, full frontal assault. Don' t want to bore or overfeed people. Should be precious.
Oh, I like your amp painted with the Puerto Rican flag. Besides the aesthetics is it any meaning behind that?
Haha, it' s my friend' s. We love those amps, which are custom made, and you can choose whatever you like inside and outside, so I have a feeling he loves Puerto Rico, too…
Does the idea about to release a 3rd album with 4AD in the future make sense to you?
Well, you know, music history of albums that don' t sell a million. Some of them are still good. and if the label dares to keep some steady path even when the wallet doesn't speak sense.. we' ll see. I put my life into the first one they got from me and I think they are pretty happy with it even though were miles from billboard…
Oh, just for curiosity: Do you know Scott Walker yourself?
I know him in my heart.
Do you still like to produce other bands or do you prefer to put your energy in your own band?
I haven' t worked with many artists lately, Serena has demand my full attention lately but looks like I will do a few things maybe in between of SM stunts this fall. Just did a Dusty Springfield track with my sister, Elvira, who has a solo career. She has an incredible voice and I love her so much so I guess it is good for me to expose myself to such input every once in a while…
In Norway you introduced the album at Rockefeller in Oslo.
Rockefeller is a pretty standard good sized venue, cap of app 1300 people. Pretty tall stage, balcony, and a really good sound system. It has a long tradition, and I' ve had some magical moments there. have to say I love that place. As everything I Norway, it is sadly expensive, and it is purely a music venue, so it is definitely not somewhere you just hang out…As a city Oslo is nice, but you need to choose constructive routes. Day and night time.
Do you see yourself living in Oslo for many years or has the idea about to move somewhere else crossed your mind?
Hmmm… there are so many places I love in the world.. I have been on the verge of leaving many times… Either to the big world or heading back into the woods. The woods are calling me. they have been, strongly lately
I met your other sister Elvira and she told me that also plays in a well-known band in Norway.
Haha, there you go. Yeah. She' s solo. Her debut went platinum or whatever they call it here, and she is a household name with families here in Norway. We do pretty different things so to speak.
So is all of you musicians?
Heeeeeeeeee.. We are seven siblings and the youngest three got sensible and went the good, stability way.. I admire them. My brother Ivar, and my two sisters, Elvira and Hilma are stuck in this crazy game. Well, we had an incredible childhood and our home was filled with a lot of love, joy and love for music. Music was used in so many events of our early life and still is.
Talking more about your persona. What do you enjoy most after tour and to be back home?
Air is clean. Food is clean. Woods are clean. Water is clear and clean. All this. Cause I am definitely not clean but I get to enjoy all this richness. We are privileged up here!
Text: Victor Moreno
Photos: Victor Moreno

[Help wanted]
Inviting volunteer staff / pro bono for contribution and translation. Please
e-mail
to us.