A WINDOW ON SELFRIDGES CREATIVE WINDOWS
"For an idea, it can be anything. Our inspiration for the seed of an idea comes a lot from different sources, through lots of different layers and cultures. Quite often, we pull in a little bit of stuffs in the fashion world, a little bit of stuffs in the art world." Sarah McCullough, Selfridges's 3D creative team's concept manager shares an interesting insight into the world of window displays…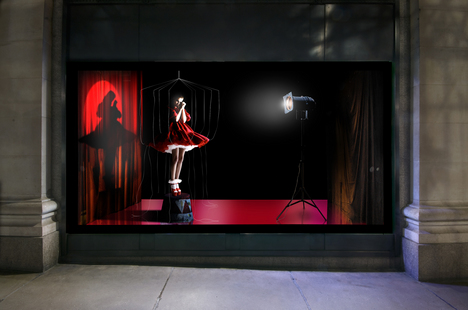 Gothic (visual) – A Window On Selfridges Creative Windows
Please explain the process from start to finish.
Well, it's a very long process from start to finish. A window scheme takes anything from a year… For example, the Xmas scheme, we begin working 12 months in advance from concept to fruition. A normal scheme can take anything from 6 months.
The very beginning of the process is called "gathering process", where we do a lot of culture research and that can involve anything like going to international fashion shows, art fairs, design weeks, graduate shows and have a look at any up and coming artists that we'd like to feature in our windows, and as many exhibitions as we can, plays and talks to have an eye and real understanding of what's going on culturally in London and worldwide.
Once we've gone through the gathering process, we begin to save the information that we find into themes or trends, and we begin to find a number of key themes or trends that we're interested in for the following season.
Maybe the theme comes from a fashion show trend that we want to focus on or it might be a play that we might think it's fantastic.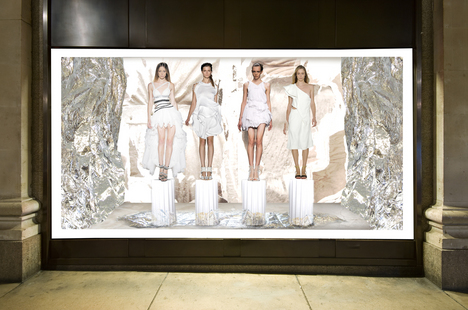 Statuesque (visual) – A Window On Selfridges Creative Windows
An example of a scheme is January 2009 where we did a scheme called "Statuesque". 6 months before the launch, the economic crisis was starting to happen and the effects happening on the art world was sculpture has becoming very prevalent again and we find that during times are hard, people are interested in something really solid, everlasting, has an eternal value and so we were interested in contemporary sculptures and during that time, there's a lot of exhibitions happening throughout Europe, historic works have been shown alongside the modern works…. For example, Statuephilia British Museum, where contemporary sculptures were being shown alongside the Greek marbles.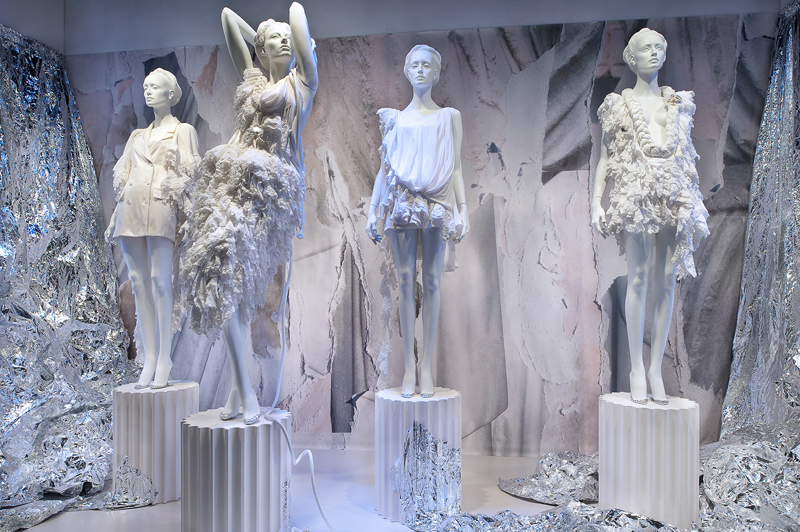 Statuesque – A Window On Selfridges Creative Windows
We really saw the need of an audacity and adding value to the modern works by putting them next to the old works, for this reason, the spring/summer season 2009 has a lot of statuesque with a lot of draperies, chiffons and silks in clothing – everything started to come together and we formed a scheme that we called "Statuesque" – we approached British Museum and V&A and took photographs of their ancient sculptures and blew them up in 2D into vast proportions. We put them in the windows alongside a series of mannequins, where we had an artist who makes headpieces so they all look ancient Grecians – that gives you an idea of the kind of influences we might have.
We go through a gathering process and come out with a concept in that way. Once we come out with the concept, we make a pack – we'll have images, references from contemporary artists, plays, films and a section of fashion where we have referrals or designers that we think fit in the concept and I'll write a blurb to describe the concept. From there, we take it to my director and sell the idea to our business directors, almost like pitching an idea to them.
Once we get the concept pack signed-off, I have very talented designers who visualize each window so they will create a 2D graphic of what each window will look like, very detailed showing what the props will look like and dressing the mannequins.
When the visuals are signed-off, I'll brief the production team – they are the team who makes it happen. They are a well mixture of people. The production manager has a sculpture background and does all the manual things, really varied. The production team takes the images and works out how to build it! Quite a complex job, they are given a budget and work with external facilitators. They decide who's going to be involved, how much it's going to cost, what materials to make it from – technically they are the problem solvers, the realisation team.
We also have a styling team who works hard with the production team. They look after all the mannequins, props and lifestyle products direction. The styling team also works very closely with the buyers, in fact some of them will travel to the fashion shows so that they have a good real understanding of what trends are in for the season, what young designers we want to promote, and they work out with the buyers on the stocks that going to be delivered at that time, which pieces we want to showcase… they will take the concept and work out which clothes, which designers, which products best to describe the concept. They also work on the mannequin allocation so they might decide the quantity and how they should look on the visuals. Maybe they'll be sprayed blue, or graffiti make up on them so quite often, they will commission young artists or designers that we pick up to make pieces and we give them a credit on the windows.
The styling team works out what products to be featured, and if it's home products, obviously it takes quite a lot of coordination to fit in the windows…
This will go on for a period of 6 months just for planning, preparation, building and collecting stocks from the reels. The creative direction comes from the concept team, and the production and styling teams work out how to make it happen.
And then, it comes to the installation phase. The blinds in the windows typically come down on a Sunday night and there's five days to install all windows and launch on the early trading hours on a Friday morning so the whole installation has to happen over a period of five days and the way it works is that the production team works night shifts so they work overnight when the shop's closed and they bring in all the big props because quite often, these props are enormous that they need to be winched into the windows and the styling team works day shifts so it's in relays. They hand over to each other every morning and evening.
Night shifts are incredibly long and the production team works huge number of hours. I think you have to be a certain kind of person to have the stamina to do that!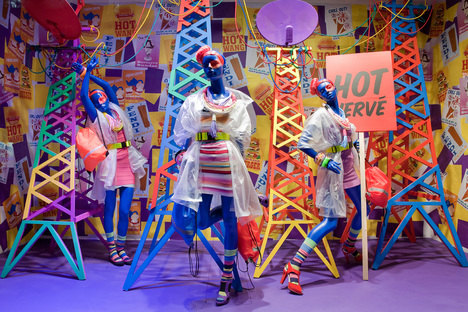 Metropolis Ridiculous – A Window On Selfridges Creative Windows
This isn't any discrimination but more of a curiosity to know if there are more women than men in the production team.
Actually, our production team is all women, which is really unusual and they are all incredible women. They know their stuffs very technical, in fact we always kind of take pride when contractors come in and try to bamboo them with facts, figures and how things are built. They absolutely know their stuffs and they are really strong. They come in the morning with steels, tools, caps and boots, really impressive. It's really a female team and we've only got one boy on our team and there's a twelve of us in total.
I guess the installation is the exciting time, that's when we work really long hours, that's the bit where everyone loves – hands-on bits. During those five days, we work all together. Every morning, each window, the manager of each of the three teams will access how's the installation going, will decide what's working and what needs more work.
On Friday morning of the launch, the blinds go up and we see everything for the first time from the outside, and there may be emergency changes and of course, you work behind the blinds and you never see the window from the front until the final launch. Quite often, things will look different to how you plan and you see them in the front so before trade on that morning, we do a few emergency fixes, like the mannequin doesn't look quite right or the props need to move a bit this way so we make a lot of small tweaks but really, that week is when all the hard works happen and that's the bit where everyone likes best.
We bring in a lot of freelancers to support the team during that week and so the team can be a lot bigger than twelve, up to twenty-five people so we have got a trusted team of freelancers. The freelancers literally help with the hands-on stuffs and the production team will employ freelancers who have a background of things like art handling, theatre design and installations to help and instil the props. The styling team works with artists who help with the styling and placing of objects and obviously get all the stocks down in the windows, it's quite a big job so we need a lot of hands-on deck.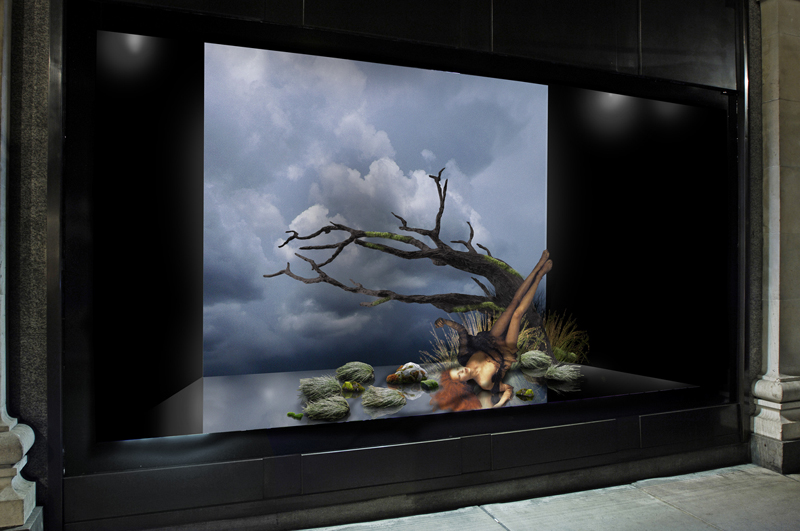 Storm (vusual) – A Window On Selfridges Creative Windows
Where do you find these freelancers?
Quite often, we find them in graduate shows and sometimes they approach us, they'll come in a week or two every six weeks and they are really an incredible team. We always like the installation time because all these interesting people coming to the studio and they often do other things. Some of them are artists and some of them have their own shows and support themselves by freelancing.
What is the average number of concepts in a year?
Oh gosh! It seems like a lot! The window scheme typically stays six to seven weeks, every year we have three spring/summer schemes (Jan-July), three autumn/winter schemes (August-December), among that which is a Christmas scheme and we have two sale schemes – quite a lot, seven or eight a year. There is a showcase of stocks, home and fashion products of the season so we'll be planning the schemes six months before that as soon as we've seen the fashion shows.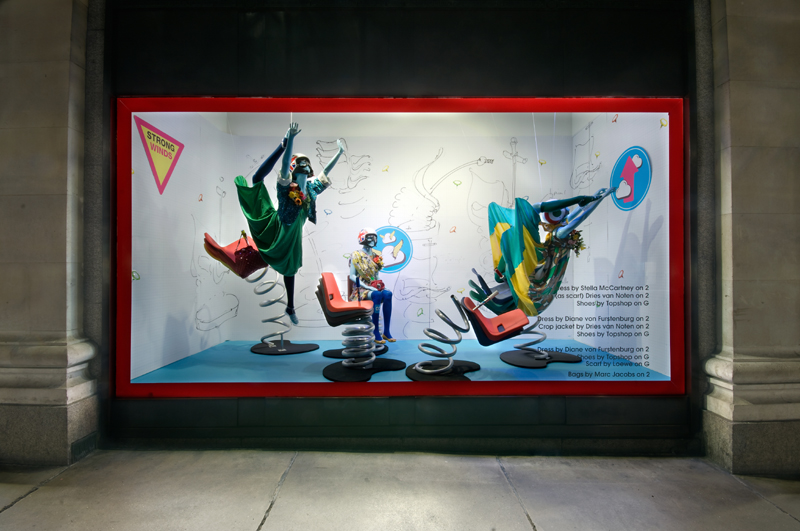 Wackey Races – A Window On Selfridges Creative Windows
How about the sale schemes?
We have two sales a year where the windows will be covered in a graphic wrap. We have a series of windows that we called "Wonder Windows" and they sit on the Orchard Street side of the building and one of them is a huge showcase window and we tend to treat them as art spaces so they don't have to show products, and we showcase artists or designers that we think are interesting or current. We have all sorts of people on those windows; we'll run those in tandems so we are always looking for collaborators that we think will do something brilliant for those windows.
How do you determine the concept for the art space or is it free-flow thinking?
We will look for artists we think work in a way that suits the brief of our schemes, for example, the scheme that we just had was called "The Little Things" -it's all about life's little pleasures and the idea of connecting in a slightly more civil way with our customers and the materials that we use are really low-vibe. We use a lot of wood and text, there was two artists called Lightning and Kingly Face, whom we knew they work in this kind of materials. We invited them to come in, gave them the brief and asked them to respond to our brief with the proposal, that's really quite often how it happens. We choose an artist who will work sympathetically to the brief we're having.
So, how are they being selected?
It is me who accepts the proposal and commissions the windows. I meet artists whom I think they are interesting and invite them to come in and talk to me about what they do so that I have a sort of library of people and have an understanding of who's out there and what's happening.
Do you work closely with the fashion directors and buyers?
We do, quite often we travel with them and we use a lot of web sites like WGSN.com or STYLE.com so that we have an understanding as soon as the shows happen, and what trends we're interested in. we call them "pre and post show downloads" with buyers where we get together as two teams and we discuss what we've seen, what we're interested in, what they've bought, what kind of quantities and that will help to guide in deciding the designs. The styling team especially works closely with the buyers.
How is a concept being related to the audience?
Every concept is different and we want to engage people in different ways for every concept we do. I think Selfridges is very famous for being quite humorous and funny and that's the hook we use is to get people interested and relate to them. Humorous is always a huge part of the Selfridges DNA. And quite often, when we design a concept, we like to use irony or we sometimes use word play, a bit irrelevant, a bit naughty when we do things in a way that's slightly controversial so we're not afraid of taking risks. Obviously we're known as a fashion store so we always like to make sure that we showcase the most wonderful and beautiful products and trends of the season so the customers come to us to be inspired.
Since the inception of an idea is six months ahead, how does it tie-in to the current state of affairs?
The minimum time we can produce a window is eight weeks, which is about two months, the concept won't be visualised maybe until a little bit closer but we absolutely need that development time to work out and gather ideas. And yeah, we can certainly tweak ideas closer to the time but it's definitely a necessity to have a long period to develop the concept, a period to produce it because windows are so intricate and such a high standard, producing them in less than two months is impossible.
What is the most challenging project so far?
Oh my goodness! It always seems to be the last project is the most challenging, let me have a think… I think the most challenging project for us is always Christmas because it's the biggest scheme of the year, it means the budget is bigger, everyone in the business has an opinion of what Christmas should look like because it's our biggest trading time of the year, it's the windows and visuals most people will see because it's the most fruitful of Christmas time. We get a huge amount of press on our Christmas windows and Selfridges becomes like a destination at Christmas, people will come from far to have a look at the windows and there are overseas people who come especially to look at the windows – there's always a real pressure and expectations in there of what they will look like. There, often, the most filled and abundant windows, there's a lot of stocks, which means the actual installation is a lot more challenging and there's always interesting problems to solve, for example, this year, our theme was "Pantomime".
So we had to work out how to build pantomime dames, which are very British tradition. Pantomime, I guess it's like a play and in that play, you have men dressing up as women, in fact, we have enormous dresses so that's a bit of the challenge on how to make a mannequin to look like a man dressing as a woman. We had incredible sculptors sculpted faces of a man and then dressed them up. We invited amazing costume designers to design for pantomime dames to make these big skirts, all sorts of weird and wonderful things often happen at Christmas, I think the most challenging time of the year.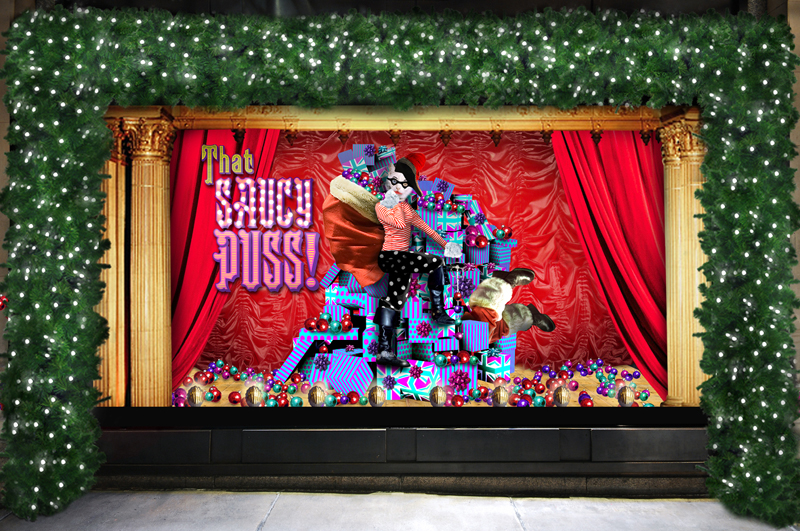 Pantomime (visual) – A Window On Selfridges Creative Windows
Is there a particular memorable one of all these Xmas schemes?
I think, it probably has to be this year that's just gone, like I said the theme was "Pantomime". We had a huge number of characters in the windows from the classic rhymes to fairy tales, and everything from Captain Hook to Pussy in Boots so we have mannequins with enormous cape hats on. It's quite challenging to decide what Giant Cap should wear. In the end, Pussy in Boots wore a pair of fancy Balenciaga boots, which is quite funny.
Of course they are very recognisable fairy tales, we have to sort of honour their heritage and make sure we are portraying them in a way people will understand and find it fun – one of the things that makes us laugh about the Christmas windows this year is we don't get complaints often about the windows but when we do, they are always unusual.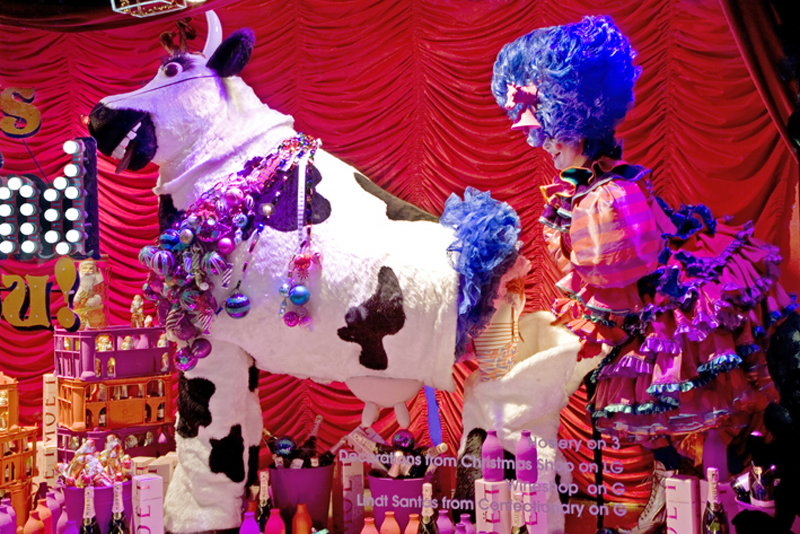 Pantomime – A Window On Selfridges Creative Windows
What sort of complaints?
We have a very crossed customer who contacted me this year because we had Captain Hook in the window, so we had a beautiful mannequin dressing up by Alexander McQueen with a silver hook on his hand and the customer emailed me to say that we had the hook on the wrong hand. That was the complaint. Apparently, in the story the hook is on the left hand and we had it on the right hand. They are very upset and offended. We get complaints for very unusual things. We always answer them very politely and I sent them a very long apologetic email and we did actually change the hook on the hand.
Do you collaborate with others?
Yes, well, we always come up with the concepts ourselves, if we decided there's someone that we want to work with, then, we absolutely rely on them to come up with a concept. We happily let someone exciting and interesting to design the window. We never give away all windows; we always keep control to ourselves in the overall theme but we will, quite often, give one or maybe two windows to different brands or designers.
What are the main criteria for someone to be part of the team?
Oh gosh! That's an interesting question. Everyone from our team has graduated from a creative degree of some sorts. We have people on our team who have studied fashion, ceramics, fine arts and graphic design. I guess it doesn't necessarily really matter what your degree is as long as it's a creative degree, it teaches you an understanding of how to develop the creative process, how to bring in ideas into fruition so our art college background is brilliant. In terms of getting into the industry and working in our studio is not an easy thing to do.
Jobs don't come up very often, and when they do, there are a lot of competitions. The best thing you can do is to come in and do work experience with us, I think work experience is a valuable thing to do whatever field you're in if you want to be in the creative industry. It gives you an understanding of how studio and department works because we're so specialists in our team so it's a real benefit to come in the studio and work with us for a bit of a time and have an understanding of who does what and understand what you'll like to pursue.
How about the props?
The production team sorts them out – some are really enormous, detailed, intricate props, they outsource it and employ someone to make them. If they can be made here, quite often they will do it here.
What happens to the props after it has been finished?
Quite often, we recycle them. We give them away to students, colleges or charities, or we take some of the props home ourselves.
And lastly, please leave a message for our readers.
Always be curious, never stop being curious, never stop reading, never stop looking at things, that's certainly how we keep things fresh and keep our jobs exciting. Always be interested in what's happening next. Always be looking what's around the corner and what's the next thing that'll inspire you. Curiosity is a wonderful thing.
Selfridges London
Address: 400 Oxford Street, London W1A 1AB
http://www.selfridges.com
Text: Waiming from Unit9

[Help wanted]
Inviting volunteer staff / pro bono for contribution and translation. Please
e-mail
to us.