Exploring the organic interplay between music and poetry is not something you do for big bucks or even fame these days. But given an opportunity to lay down a 20-minute, 4-track debut EP with skilled engineers at a world-renowned Swedish recording studio, you jump at the opportunity. At least this is how Victor Moreno, a Sweden-based writer, photographer and artist, reasoned after receiving a stipend from the Swedish Institution of Electroacoustic Music and Sound Art (EMS) in Stockholm. His debut EP, entitled "An Abrupt Solidity to The Light," evolved out of a deep passion for poetry, music and even overcoming personal crises in his own life. It is based on a chapbook of poems Moreno had compiled, with the intention of performing live. The impressionistic tracks weave atmospheric guitar riffs, modular sounds, some motion-picture like passages and pulsating beats. Together, they capture a magical fluidity that hints at the title of the project: Rio Negro, or black river.
Teaming up with Moreno on this project was an array of well-known producers and sound engineers, including long-time friend Jorge Navarro (Nomads OST), Oliver Ackermann (A Place to Bury Strangers/Death by Audio), Björn Hansell (Fever Ray), and Johannes Buff (Lee Ranaldo and Thurston Moore from Sonic Youth). The cover photograph, entitled Lux, was also donated by Wolfgang Tillmans, the renowned German fine-art photographer. We caught up with Victor Moreno at Bistro Napolyon in Stockholm where he was planning an imminent trip to the Tokyo Design Week.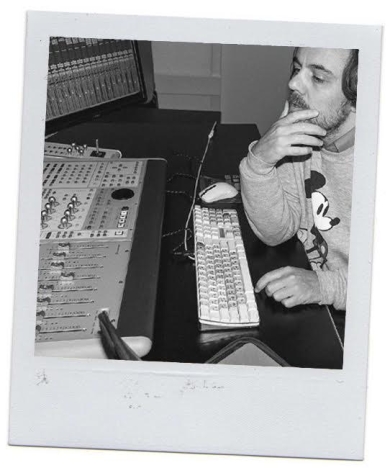 Victor, in today's world of pop music, this seems like quite a deviation from the normal path – more like an art project. Can you tell us about how it got started?
Wow, okay. Where to start? (laughs). I guess you could say there were a lot of factors involved. And believe me, there was no pre-meditated master plan. Actually, I've been playing guitar and had an interest in music and computers since I was a young kid in my native Madrid. And of course I also write a lot about music for different global publications. But, oddly enough, what maybe sparked this project was an interest I acquired in American poets like Anne Sexton and Sylvia Plath, who wrote intensely personal stuff about their inner existential struggles. I just love it. Their work touches on universal topics like suffering, crises, death, divinity and emptiness. But there is also a positive side. It inspired me to start writing my own poetry and I started building up a chapbook collection of my own poems.
This all sounds very dark and depressive. After all, didn't all those writers commit suicide in rather dramatic ways? And yet you seem like a very positive person.
Ha ha ha. Yes, it's true about the suicides. There's a reason for the expression "the Sylvia Plath effect." If I recall correctly, Anne Sexton, who looked stunning and wrote brilliantly by the way, poured herself a vodka, put on her mother's fur coat, went into the garage and turned on the car, dying of the exhaust fumes – a very dramatic and even glamorous way to die. But now I'm getting off topic. No, you're right, I really don't consider myself to be a dark and brooding type. I think I'm most attracted to the openness of their language and the use of extremely personal experiences, which leads to an openness of emotion. It really gets you. There is this feeling that anything can happen. Anything.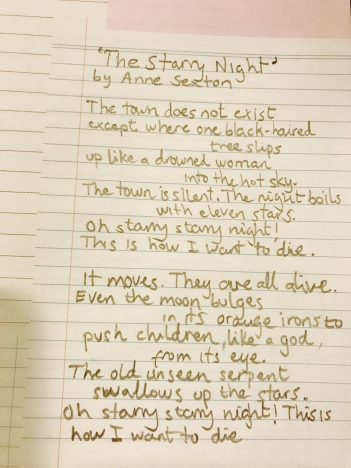 The Starry Night by Anne Sexton. Handwritten by Victor Moreno © 2016
Was there any particular poem or moment that really fueled your inspiration?
Well, I remember reading a poem called "The Starry Night" by Pulitzer Prize winner Anne Sexton. It's based on that famous painting by van Gogh where he captures the night sky in blues and blacks with swirls of orange and the moon with burning yellow-white stars. There is a lot of rhythm and movement in that painting and in the poem. It's like an orchestra of movement rushing skyward. Sexton's free-verse poem also touches upon the themes of religion and the divine. Like van Gogh, she'd been struggling with suicidal tendencies and was highly unstable. And yet there is something very magical, surreal, almost spiritual about it. I'm not a religious person but this poem really touched me deeply. I started thinking about putting it to music and what that might feel like.
Read more ...
[Help wanted]
Inviting volunteer staff / pro bono for contribution and translation. Please
e-mail
to us.