Paramodel "tommy sushi" & "tommy ca".
AZITO is an online gallery which brings the hottest contemporary Japanese artworks to the international scale. By collaborating with Japan's leading galleries and artists, AZITO makes these works readily available for purchase online. And with new arrivals every month, this is truly your personalized insight into the thriving world of Japanese contemporary art.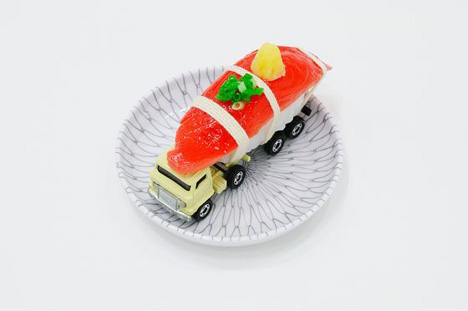 "tommy sushi" by Paramodel © Paramodel
AZITO is pleased to introduce two new series, "tommy sushi" and "tommy ca" by Paramodel.
Paramodel is an artist unit formed in 2001 by Yasuhiko Hayashi and Yusuke Nakano. Their title is essentially a manifesto in sum – fusing the words "Paradise", "Paradox", and "Model", the portmanteau also plays upon the Japanese word "puramodel" (toy plastic dioramas). Through elaborate combinations of plastic toys parts with other everyday objects, they attempt to create blueprints of Paradise whilst underscoring life's paradoxes.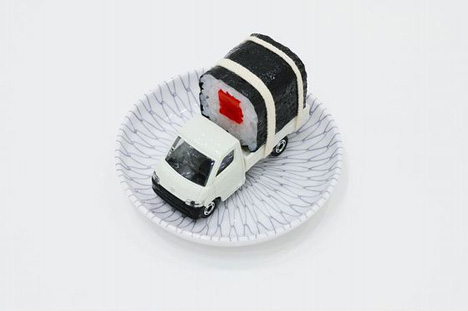 "tommy sushi" by Paramodel © Paramodel
This engagement of "play" between pleasure and function, imagination and necessity, is what launches the viewer into a realm where the poetic mixes with the aesthetic. The juxtapositions of such recognizable, yet unlikely objects, creates visual discrepancies that seem to reconnect one with the spiritual, like a Zen koan. Paramodel's expansive oeuvre ranges from massive, room-scaling installations, to mini-sculptures, with videos, drawing, and photography, and other media in between.

"tommi ca" by Paramodel © Paramodel
The series of sculptures featured on AZITO show the perfect merger discovered between TOMY toy cars, plastic food models used by restaurants, and the dishes accompanying those cuisines. Four carry enticing plastic sushi models, while another four carry Chinese food models. Strapped down to the toy cars, the plastic foods are readily docked onto the very dishes which would be used in their consumption. Yet, the cars cannot budge from the perimeter of the dish; the food cannot be consumed; and the viewer recognizes the paradox in having the exact collection of items needed for transporting food onto the table and into our mouths – and yet, not being able to perform either function. Enticing us with our own desires of play, eating, and mimicry, and then turning such impulses into plastic model visions, these eight sculptures beautifully capture the spirit of "Paramodel".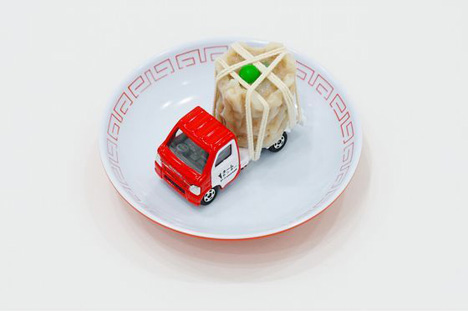 "tommy ca" by Paramodel © Paramodel
In the picture below, the sushi master is serving a "tommy sushi" to his customer.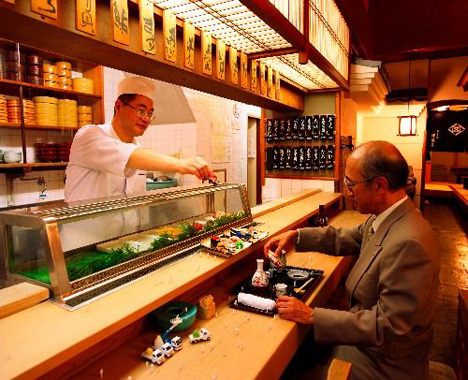 "tommy sushi – a happy delivery" by Paramodel, 2005 © Paramodel
There are 4 types of "tommy sushi" and 4 types of "tommy ca" available on AZITO. All works are original, so don't miss this chance to get one of your own.
All works are available on AZITO.
AZITO's partner gallery for this project: MORI YU Gallery
Text: Teriha Faye Yaegashi from AZITO

[Help wanted]
Inviting volunteer staff / pro bono for contribution and translation. Please
e-mail
to us.