FUGAHUM
"FUGAHUM" a kingdom that creates a new concept.

FUGAHUM is a keen fashion brand started in 2006 by Akiyoshi Mishima, an artist and previously worked as an art director at Enlightenment until last July, and a fashion designer Asuka Yamamoto, and a new member since 2007 Takao Mishima who works on the Men's line. Without sticking to single field such as "fashion" and "art", they showcase the FUGAHUM kingdom in the form of collections, which are created out of their unique ideas. As one of the elements for the art project that will complete with 10 volumes, the Vol06, Spring Summer 2010 collection "PRIMITIVE CHANNEL" was presented in the end of October. FUGAHUM revealed their kingdom including their latest collection.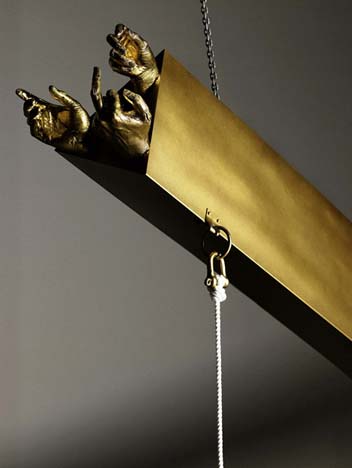 Please tell us how did you start FUGAHUM.
When I (Akiyoshi Mishima) was asked to work on an art exhibition for joint fashion presentations called "rooms", I and Asuka collaborated together; I made works with building a concept FUGAHUM kingdom and She did a presentation of her clothes inspired by my drawing work. That was our starting point. Even though the clothes shown at the presentation were not wearable, we decided to make wearable clothes and started FUGAHUM from the next season on.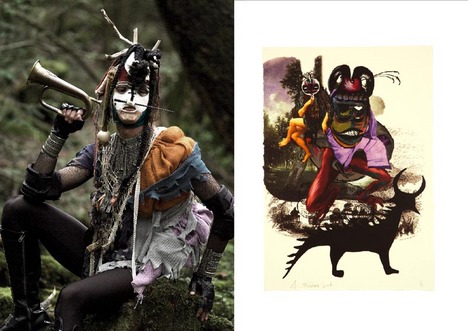 FUGAHUM Vol.00, 07S/S, Quarter

You have just presented Spring Summer 2010 collection "PRIMITIVE CHANNEL" as Vol06 for FUGAHUM. Can you please introduce the collection and its concept?
PRIMITIVE CHANNEL = receiving from primeval time.
We intended to include a message not to believe only visible things but to have your own aesthetic. It's not about the sixth sense, but I believe people wouldn't go in the same direction if you nurture your own sense to visualize things with senses.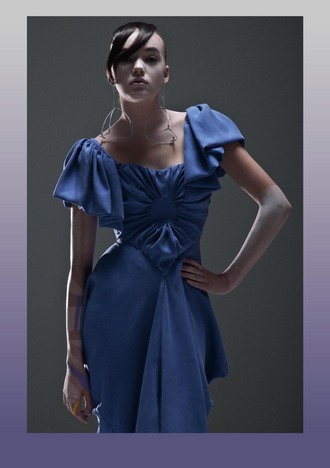 FUGAHUM Vol.06, 10S/S, PRIMITIVE CHANNEL
First, we set up a theme for making clothes, trying to return to the origin. We made a dress directly designed onto the body, not creating from the 2D surface to form with not gather and bias. Around a circle pattern like a black hole, we arranged gather radially and then selected a fabric that suits for the pattern. We decided to use twilled silk.
For every collection we make a symbolic piece for the ladies line, and this dress is the one that connects to a concept for this latest collection.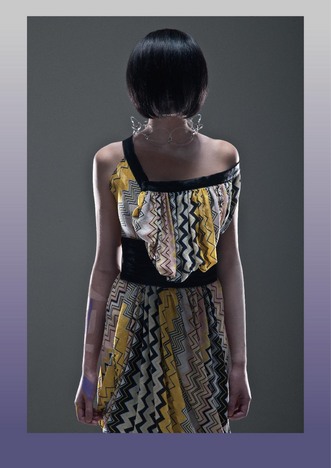 FUGAHUM Vol.06, 10S/S, PRIMITIVE CHANNEL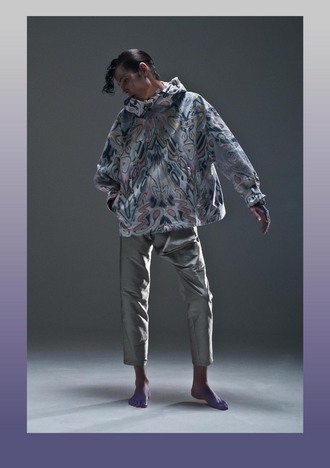 FUGAHUM Vol.06, 10S/S, PRIMITIVE CHANNEL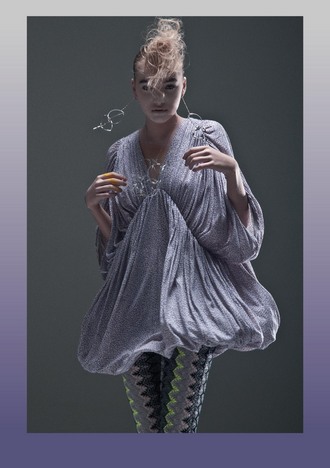 FUGAHUM Vol.06, 10S/S, PRIMITIVE CHANNEL
As for visual elements, we used images like tie-dye and leopard patterns that has been used from the ancient times. As for the design, we intended to include elements that will create changes in the look of clothing. (Elements include a belt and string that changes line of the clothing, patterns made up of many layers like Origami create different silhouette every time you see, detachable and reversible things and etc.)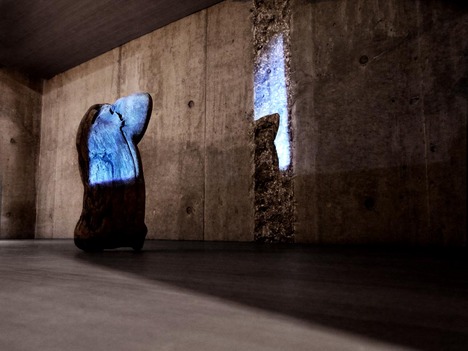 Installation View, FUGAHUM Vol.06, 10S/S, PRIMITIVE CHANNEL

You have presented an installation for the collection. What was it about?
created several sculptures as tools for channeling with primeval and modern times. It was an installation of giant stone-like objects that receives emitting light and vibrating sound pressure. Our installations tend not to related directly with clothing, but the background story is a root for FUGAHUM.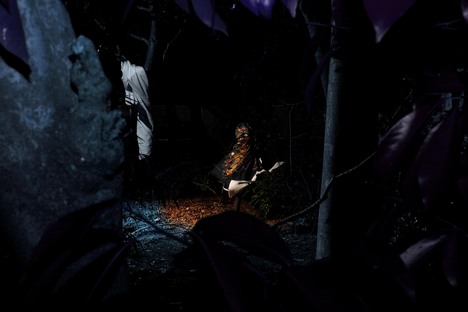 FUGAHUM Vol.03, 08-09A/W, Spiral distortion

FUGAHUM is a fictional kingdom which you made up as an art project, pursuing a form of clothing that is a combination of fashion and art. Without limiting yourself as a fashion brand, what is your goal for FUGAHUM?
There is a strong commercial sense in the fashion industry and because of that, it is difficult fashion to be recognized as an art. Also, it is not easy for art to include mass elements into it as there is not enough platform in Japan. In fact, fashion and art head opposite direction each other. I think it is impossible to combine art and fashion in the true sense, but both art and fashion are created by artists who are equal to each other.
One thing I can say is that works and activities are later divided into genres by others, and I don't think there will be created a new value as we fit into the current framework of fashion or art. It might be created from culture of the time or from the personal narrow sense of value.
As for art, even if a creator doesn't intend to make an artwork, he/she will find out it will become a value-added artwork and then evoke multiple sympathy, that will be a new sense of value. We cannot define ourselves, but we are sure that we definitely don't aim to create a popular fashion nor to work as art activity.
We don't know how people understand about FUGAHUM and how it will be transformed by other's senses. Well, it could be either gold mine or trash.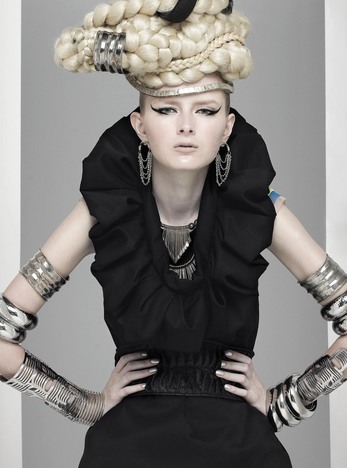 FUGAHUM Vol.04, 09S/S, Gradated kingdom

We heard that the project of FUGAHUM will be continued up to Volume 10. As you have presented 5 collections before and you are at the halfway , do you feel any changes compare to the past collections?
Through our creation of a " fictional country", we are naturally able to express the current world where we are. It's similar to a sense that we native to Japan look back to our home town from out side of the country.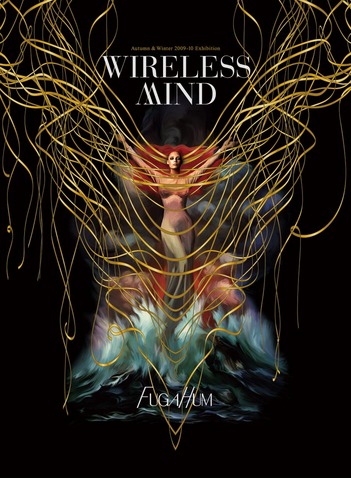 FUGAHUM Vol.05, 09-10A/W, Wireless mind

FUGAHUM originally consists of Akiyoshi Mishima with an artist and graphic designer background and Asuka Yamamoto with a fashion designer background. How do you proceed working on projects? Could you tell us your production process?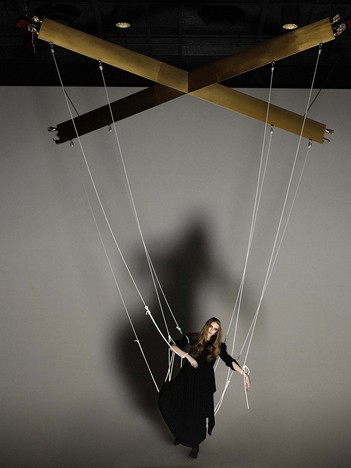 FUGAHUM Vol.05, 09-10A/W, Wireless mind
At first, there were big differences between ideas from graphic and design from fashion. But now we can use balanced "push/pull" each other and have been working together well creating a beautiful color. We have in common with design, but we have completely different ideas. So it's like blending red and yellow to create orange color.


FUGAHUM Vol.05, 09-10A/W, Wireless mind

What are FUGAHUM's inspiration sources?
The world history so far, development and decay of substances and consciousness, current world condition and personal sense of value.

Please let us know your favorites as FUGAHUM.
People who have proposed beauty with new senses like Poiret, Vionnet, Schiaparelli, Chanel.

What is your attraction for fashion, art or the combination of both?
A new concept.

What is your future plan?
Japan is filled with the fast fashion lately. So we want to meddle with asking "is it really your sense?"
FUGAHUM
Address: 3F 2-11-13 Minami Aoyama, Minato-ku Tokyo
Tel: 03-5654-7730
info@fugahum.com
http://www.fugahum.com
Text: Mariko Takei