12 visuals have been selected for SHIFT 2010 CALENDAR!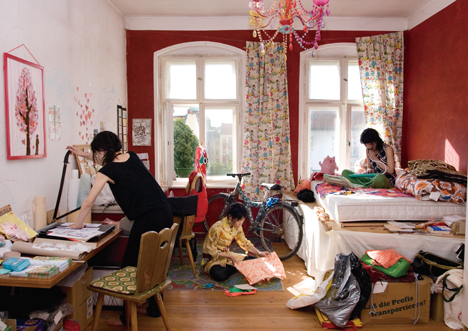 The Shift Calendar Competition started in 2003 with an aim to discover fresh creators. For the 7th competition of this year we have received 1,837 entries from 38 countries. 12 carefully selected works will decorate each month of the Shift calendar, which will be on sale from October 20th and appeared in shops and galleries around the world.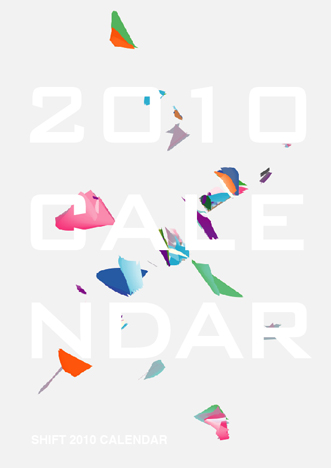 Taking as an important role in making opportunities for worldwide creators to extend the stage for their activities, Shift calendar competition has delivered a number of visual works through these 7 years and the number of them counts 84 works. We believe the calendar competition will take many creators to various places where they can meet and discover, and will outspread the circle of creation derived from there.
It is time for seeds to begin to sprout for 2010. Enjoy the 12 visual works selected for the calendar created by artists and designers who are waiting to be flowered.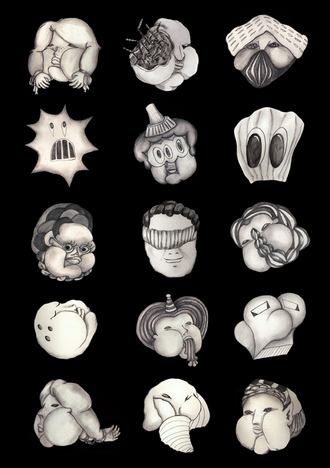 Vi / graphicairlines (Hong Kong)
Born in Hong Kong, 1978. Vi, 1/2 founder of creative team graphicairlines. She is an illustrator, freelance designer and street artist. Without a thought, she accidentally stepped into the world of drawing, but surprisingly feels good with creating. The fat face with big chests is her icon character. She creates a wide range of 2D and 3D pieces including drawings, wall paintings, character design, sculptures, plushies, animations, etc.
Work Description: UMA (Unidentified Mysterious Animal) portraits, strange but beautiful creatures.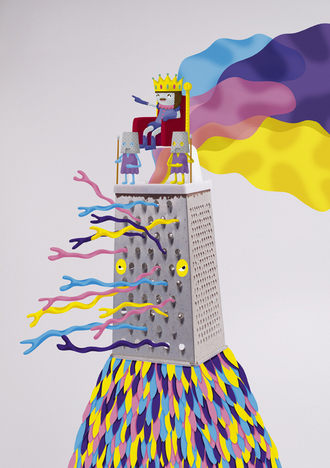 Postics (Japan)
Born in Japan, 1972. Postics currently lives and works in Paris since the late 90's. Postics is creating works as an illustrator and graphic designer based in Paris, London and Japan. In addition to creating characters as his main work, his works are characterized by colorful and comical styles. He collaborates with many people on the coloring project "Flying Coloring Wall".
Work Description: Mysterious creatures who live in simple things of the daily life. Take a peer into it carefully. You should be able to find the presence of many miracle things around you.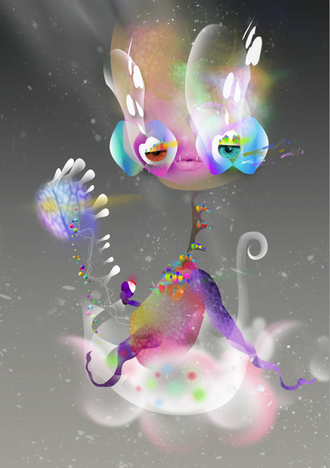 Calvin Ho (Hong Kong)
Calvin Ho studied in Fine Art and Graphic Design in Sydney Australia and moved to Hong Kong in 1992.
He is the founder of the studio Atomic Attack working in a number of fields including design, illustration, dj, producing music, art and making products with his wife Claudy. He is currently busy on his new radio show – bringing good music to Hong Kong and creating personal art publications on the Atomic Attack website.
Work Description: Inspired by the ocean and sea life on Galapagos Islands, the illustration is to hopefully remind us all of the beautifully frail and delicate sea life that relies so much on the Islands ecosystem to survive. Due to the increased of tourists, the islands have attracted many people inhabitating these islands for profit. We need to save the land and sea life of these islands from extinction by man's interference with the most magical microcosm on our planet.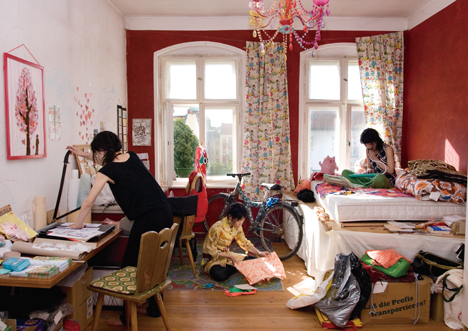 S180509B, The secret garden, series
Model: Shoxxx (Graphic designer)
2009 / Berlin / digital photo / digital montage / dimension variable
Aki Suzuki (Japan)
Lived in Japan until 2007, working on the advertising photography as well as creating and exhibiting personal works. Aki Suzuki currently lives in Berlin.
Work Description: This work is one of a series called The secret garden.
I'm interested in you.
I'm interested in that private part of you nobody can see.
Your ordinary life seems extraordinary to me.
At the same time, my ordinary life will be extraordinary to you.
I ask questions when taking photos. Please show me your ordinary life.
Eva Jane Hogan (Ireland)
Born in Dublin, Ireland in 1987, Eva Jane graduated in 2009 from the National College of Art and Design with a 1st Class Honours Degree in Visual Communication. Currently working with a fashion photographer in Dublin, Eva is moving to New York in 2010 to work in the art department of a magazine. She works in a number of fields including graphic design, illustration, photography and film.
Work Description: This is one of a series of seven illustrations based on a short story by Truman Capote entitled 'Miriam'. The disjointed, disconcerting nature of the story and the boundaries of reality are reflected in the collage style.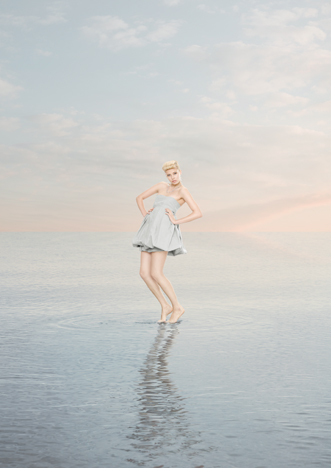 Clothing: Dagmara Rosa, Hair: Klaudia Jaspinska, Model: Ewa Dabkiewicz (mangomodels)
Pawel Fabjanski (Poland)
Pawel Fabjanski belongs to young generation of Polish artists. Large metropolis, urban style, concrete, comic books and movies are the "ingredients" which Pawel Fabjanski uses to create his images. In addition to the huge interest in contemporary photography he is also passionate about cinema, 3D graphics and graphic design.
He is represented by leading photographic agency in Poland – ShootMe, by Tank Management in Germany and Take Production in Italy.
Work Description: "Water" is a personal fashion pictorial done together with stylist and clothing designer Dagmara Rosa, hair artist Klaudia Jaspinska and model Ewa Dabkiewicz (mangomodels). This project was inspired by cold fiords of Scandinavia. The most important here is the feeling of coldness and the silence of huge water space.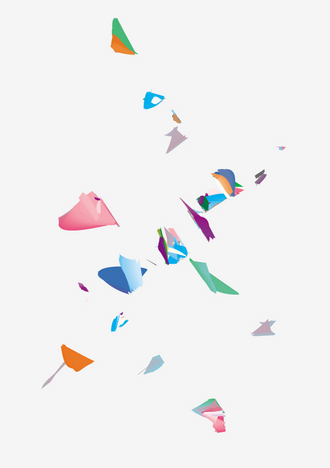 Shunsuke Sugiyama (Japan)
Born in Shizuoka, 1985. Shunsuke Sugiyama currently lives in Tokyo. He is a graphic designer, sometimes works on art, VJ and films. He likes live-action films, animations, and plastic models.
Work Description: Even though I like the idea of design, I'm interested in graphic rather than design, so I look the conformation too much. This work is one of such pieces which I make without thinking something special when I feel like to.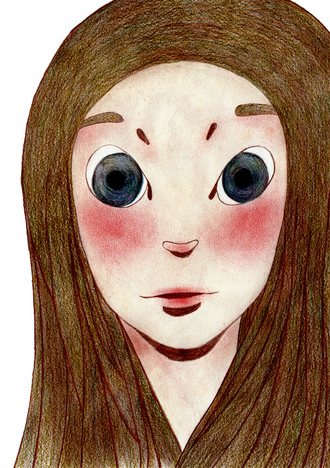 Yuka Itono (Japan)
Born in Japan, 1980. Yuka Itono is an illustrator living in Kyoto.
She likes to draw unnamed feelings.
I am devoting myself not to have a sad sleep at the end of a day.
Work Description: At the moment to start a beat that falls out from the eyes.
Heat soars. Getting tinged.
I added my feeling that I like to face a new feeling without stopping.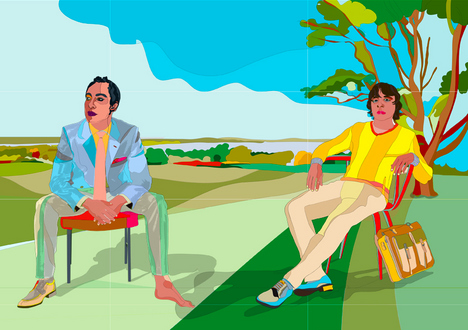 Mario Sughi (Italy)
Mario Sughi is an illustrator from Italy who lives and works in Ireland. He combines subtle humorous elements with a consistent loose artistic style reminiscent of the English pop artist, David Hockney.
Mario is a member of AI (Associazione Illustratori) and IGI (Illustrators Guild of Ireland).
Work Description: With my work I attempt to create colorful beautiful images whose meaning, if any, is minimum and doubtful. This drawing is entitled "Two friends" or "Waiting room". In this case, you can see, I depicted the waiting room as the world we all live in.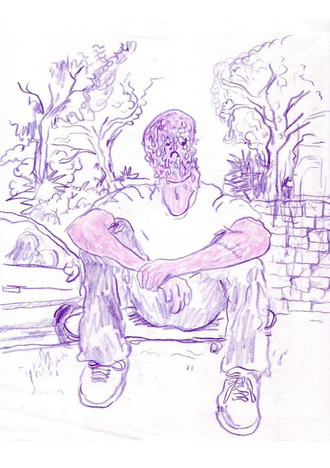 NANOOK (Japan)
Born in Tokyo, 1984. NANOOK lived in a Christian boarding school located in the deep mountain for junior high school and high school. Less-noted, he has a dark past as he once belonged to the Research Group of Daniel, Book of Revelation. But he has gained recognized by people little by little for his fight with a king salmon for 30 minute-long in Alaska in his college student day.
Currently, he works on design, drawing and planning and sales for "A Delicate Relation You & Me.". He has another face as a seismologist "Magnitude Takahashi". The resource is coming from National Geographic though.
Work Description: Here in Seiseki Sakuragaoka, 1996. No YouTube is appeared yet. Knowing his lack in talent for making violins, Seiji gets into skateboarding like crazy, as if he walked away from his past memories…
Listening heavily to the early Carcass, Seiji, in time, listens to Hayato Aoki. He will, however, never be escaped from the troop of the zombie-like Rei Harakami. Never.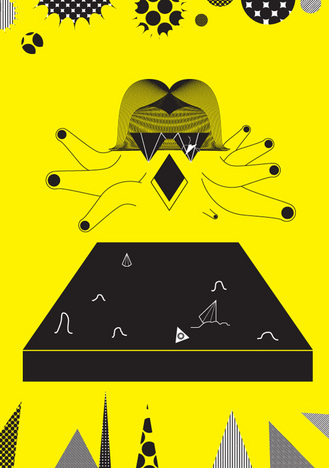 Martin / FunkFu (Czech Republic)
Born in 1980 in Prague, Czech Republic, Martin studied graphic design and works as a freelance designer and art director. In 2000 he has started the FunkFu project which was graduation exam work. It was supposed to be an urban culture magazine but it has quickly turned into Martin's brand and one-man practice. Under this mark he works for local and international clients in the creative industry. His work is motivated by searching new paths in the crossover between art and design, kitsch, glamour and character design. Side effects of the process are self-initiated projects.
Work Description: The taxes work in inspired by many visits at local tax office. An octopus of state bureaucracy with countless hands interrogates people on dark carpet, which swallows everything like swamp.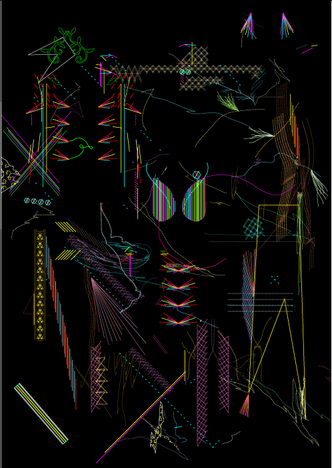 Natsuki Arai (Japan)
Born in 1986. Natsuki Arai is a member of Tokyo Illustration Center. He has awarded a grand prize in the 2nd illustration competition "NOTE-TEN" from the Illust Note Magazine.
Work Description: I created the work repeated with act and failure to act.
SHIFT 2010 CALENDAR
Release: October 20th, 2009
Spec: All colour / 28p / 210×297 mm
Price: 1,260 yen (tax included)
Produced by Shift Factory
Printed by Syoubunsya
It can be purchased on Shift Factory,

If you know of any shops that might be interested in supporting this project, please e-mail us to staff@shift.jp.org.
Thanks to
[Help wanted]
Inviting volunteer staff / pro bono for contribution and translation. Please
e-mail
to us.