Boundaries between the different disciplines of art are beginning to blur.
Design, and in particular art, is hard to qualify, as its meaning and interpretation can be quite different from one person to another. Perhaps the main aspect to judge is simply the character of the piece itself. The Stockholm-based studio Vår is a vast expression of individualism amongst technique and style. Perhaps the work of Karl and Björn is familiar to you since they have been responsible for the Cheap Monday label or their work with Amnesty International campaigns.
The Vår studio creates a wonderland of characters from the themes of death to the holy. Their work is based on a strong and delicate handling of illustration as well as the love of typography and its experimentation. This allows soulful artworks to be created and beautiful patterns to blossom.Vår it's a Swedish word meaning both 'springtime' and 'ours' (the possessive form of 'we'). –"We organized an exhibition/club night in the freezing cold springtime of 1996 and then decided to adopt the name for our team".
But it´s not all about springtime but "We – ours". Vår has an enormous character; this is how they are! who are you?
When did you start and how many people is involved with the studio?
Vår is Karl Grandin and Björn Atldax. We joined forces in 1996, while still in art school and doing assistant work for other designers, as a platform for experimental collaborations and have been working on a very wide variety of projects together since. In 2004 we started the clothing label Cheap Monday together with some friends and were responsible for the brand's complete graphic expression for four years. Today we share a studio in the north side of Stockholm and divide our time between personal and commercial art projects.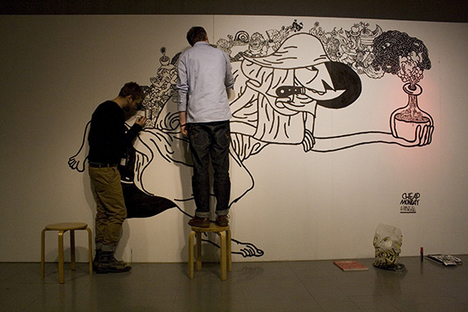 How is in your opinion the visual communication landscape in Scandinavia?
It's a vast term, there's good stuff and there's bad stuff as there's interesting and uninteresting communication. A lot of the 'communication' in Sweden is, unfortunately but evidently, about advertising. There are several interesting creators in Sweden but most designers and artists are dependent on commercial work to make a living. Because of this, the design schools seem to be very close to the market rather than encouraging the students to really experiment and try out new ground. But it seems like the boundaries between the different disciplines of art are beginning to blur so there's a bright future ahead! Over the years we have lived and worked in several different cities, like Tokyo, New York and Amsterdam, both together and apart. Stockholm is a good place for us right now but we think the type of work we do is more or less independent of where we are.
Your work embraces the fields of Illustration and Graphic Design mainly. In your own words, how could you describe such a labor?
Working in a wide variety of media comes natural to us. We enjoy going from one type of project to something completely different the next time but it makes it hard to put a label on what we do. Right now we are planning to make shochu moonshine and open up a pizza parlor.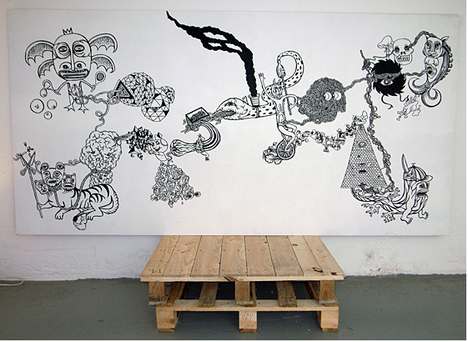 Is anything within the print or digital platforms that makes the work more special for you?
We enjoy working with tactile things. That is why we more often end up working with books, posters, installations and clothes than with digital stuff.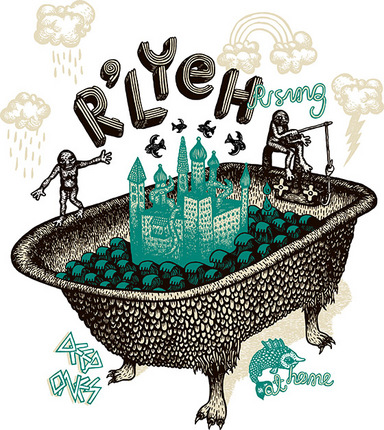 Graphic design and illustration since late 60´s have grown up from self-taught persons to private schools, art schools and most recently University degree. What is your advice for those who now face the idea about run such a road?
There is no such thing as a perfect school, as all the students are different. But in a good art school you will have the opportunity to experiment, try out new things, turn things upside down, blow them up and fail completely and still get away with it and learn from the experience. Finding your own methods and ways of working rather than blindly following the traditional route is the only way to create really innovate work.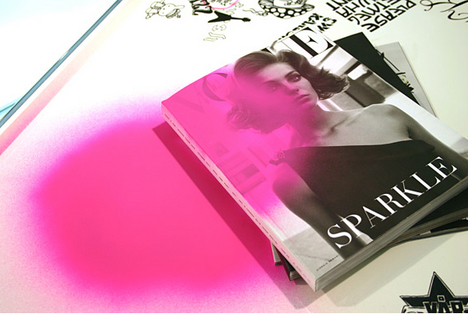 Is any school that you would like to highlight?
Not any school in particular, they all seem to have their own directions, pros and cons. For the last few months, however, there's been a very interesting, and often confusing, debate about the work of some of the students at Konstfack, Stockholm's main art school. The discussion is about freedom of expression and censorship in art and although the debate has been somewhat unfocused, it has really engaged the public at large and it's exciting to see a lot of people actually caring about works of art, the definition of art and the work of student in art schools.
The advertisement world is a bit obsessed about award issues. Gold lions, pencils or platinum pyramids rule a competitive scenario. Do you think when is time to the graphic design and visual arts the thing comes more laid back?
Most design awards seem to be very business related and just another way of selling something. We don't feel a strong connection to that world so we don't really know.
Which awards achieved from the studio are you most proud about?
Some years ago we won the Tranan Prize, an annual award that our local bar hands out to its most influential guests, that was nice.
Ha, ha…wicked! so any exciting festival under your point of view?
In Sweden, the award thing is mainly an issue for ad agencies. We like to compete and play and we like to win but we don't really keep track of these sort of things.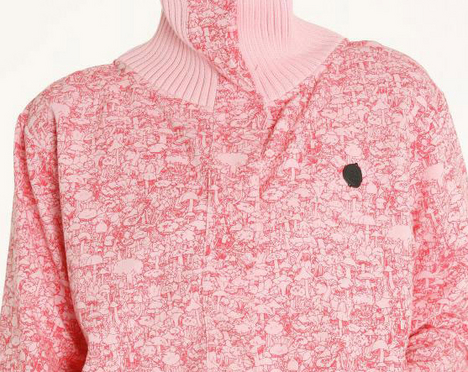 A grand part of your work is dedicated to music and fashion industry. How is been since your early days?
When we first started out working together, we were very active in the Stockholm music scene, running club nights, DJing and selling beer, so it was logical to design posters and flyers for clubs and gigs. By making artwork for projects of our own and of friends, we developed a body of work that was uncompromising and defined what Vår was about. The focus have shifted somewhat over the years but we still enjoy doing music related work. Some recent projects include posters for the Norwegian Hove festival and designs for the strange record label Du & Jag.
Is any other kind of clients which you could include into the favorites ones?
Generally, we find it more interesting to work with clients, rather than working for them. Every year we design a poster to promote special summer events in the bar at Riche, one of our favourite restaurants in Stockholm. The place itself is inspiring and we have great relationship with the staff. Since they give us complete creative freedom and we only print about 40 copies, we have the opportunity to experiment with the format, material and printing technique.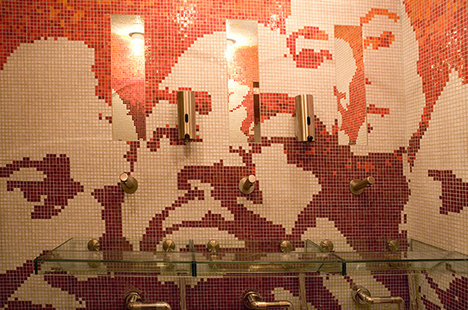 Regarding dress up spaces and interior design, which ideas has come to Vår lately?
We recently produced 10,000 paper spectacles with green/red lenses. Now we are planning to throw a party where we create a new layer of reality by covering all the surfaces in the venue completely in printed 3D images.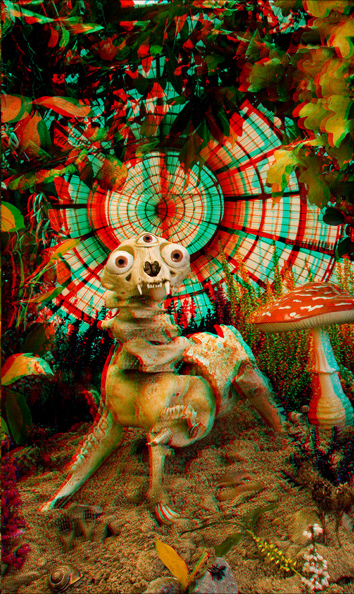 Wow, that sounds great. Is the art-installation /art crafts – an interesting via for the studio?
We are interested in art that defies definition, between or beyond what we used to call graphic design, illustration, painting, fashion, applied art, installation, etc.
Is any collaboration with other studios or artists that you are been involved for a specific project together?
At the moment I (Karl Grandin) am planning a collaboration with the Dutch artists And Beyond for a show called 'If You Could Collaborate', opening on January 14th 2010 at the A Foundation Gallery in east London.
Which aspects do you enjoy most about the fact of living in Stockholm?
That it's our home town, it's as nice to leave as it is coming back to.
Which are the latest gigs you´re been up to?
Cheap Monday recently released their first eye-wear collection, Clairvoyant, and we are currently working on the art direction. We are also planning an upcoming Vår exhibition in London.
Vår
Woo Agentur AB, Hökens gata 8, 116 46 Stockholm, Sweden
Tel: +46 (0)8 6402305
http://www.vaar.se
Text: Victor Moreno

[Help wanted]
Inviting volunteer staff / pro bono for contribution and translation. Please
e-mail
to us.