How do you describe the feeling one gets when they find a letter among lots of direct mail with a printed impersonal sticker in a letter box?
In the process of an omnipresent act – communication -, messages are conveyed as a result of the rearrangement of words and combination of clauses, leaving a certain story.
In the same language, words are interesting all the better for the difference between images which are portrayed by each word that is delivered deep into someone. Letters are "dressed up" in handwriting, undeniably bringing the feeling or impression of the writer to the surface.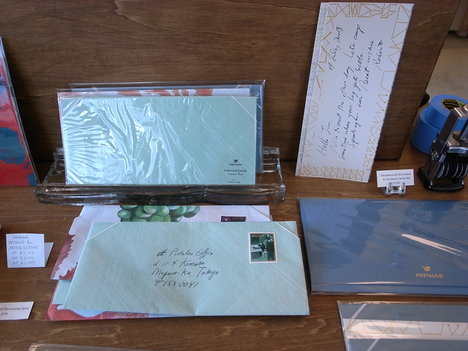 We have been communicating through paper for a long time. We choose letter paper, write words, put on a stamp, and post it to someone. Mike Abelson and his partner Yuri became concerned with such public service of communication and coined the term POSTALCO, combining POSTAL and COMPANY. That's how POSTALCO was born in 2000 in Brooklyn, New York.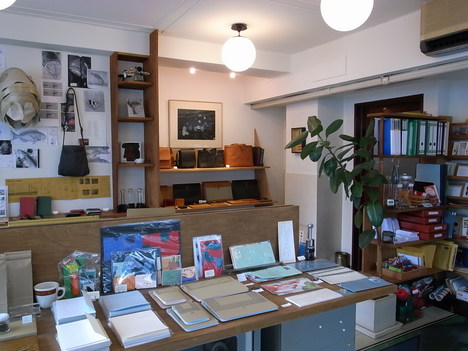 Now their office is located on the 4th floor in a 50-year-old building in Kyobashi, Tokyo, and the tastelessness and subdued color remind us of a somewhat nostalgic feeling. There is an old window open; there are pigeons resting by the window, conjuring the image of the pigeon in the trademark.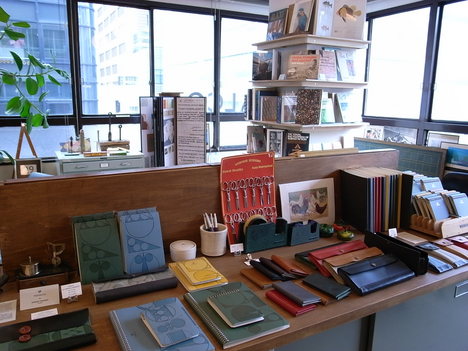 Driving from the question – "how much of the feeling of creators can be communicated through the process of mass production? – POSTALCO started to work and aim at high-quality goods production.
They focus on the theme of the nature of design – what will be charming with repeated use, what is close together and attached to a person, and what conveys the idea of the creator – and cast their ideas into shape.
The Handkerchief envelopes (6 pieces, 1,575 yen) are to "wrap" a dear message just as to wrap something with a handkerchief. The envelopes like origami are made of neutral paper which are not to slick too when you write and reflect your thoughts, carefully preserving heart-wrapping culture in Japan.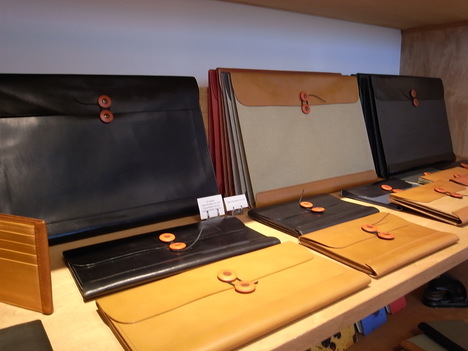 One day Mike found Yuri's paper materials cramped in her bag. At that time, he was a designer at Jack Spade and invented Legal Envelope Series for her. The leather-made envelope with metallic eyelet, full line of sizes and one of the early works of POSTALCO, was made in pursuing a comfortable portability which was focused from the "carried paper's" viewpoint.
Mike has spent more than a year inventing Mail Bag (small: 94,500 yen, large: 128,000 yen); the leather bag with an original metallic eyelet, which enable to open and close one-handed in any position when you put it around your shoulders. It is smartly designed, even a series of behaviors. On top of that, their works include Bridge Bags A4 Bag (34,650 yen), which are inspired by the structure of bridges distributing weight. Applying the advantages of strength and the balance of bridges, the Bridge Bag series added A4 Bags to its lineup.
The project was launched from the personal, everyday point of view of Mike and then explored deeply to create products of POSTALCO as a new invention or discovery. The Mini Book (1,050 yen) series transmits warmth of handwriting or paper like zines. The series include 4 kinds, LETTERS, SIGNS, MAPS, and RECIPIES.
Check on the web for the opening hours and days before visit.
POSTALCO
Address: 4F, 2-2-18 Kyobashi, Chuo-ku, Tokyo
Opening Hours: Wed. – Fri. 12:00-19:00 / First & Third Sat. 12:00-17:00
Tel: 03-3281-3309
office@postalco.net
http://postalco.net
Text and photos: mina
Translation: Tatsuhiko Akutsu
[Help wanted]
Inviting volunteer staff / pro bono for contribution and translation. Please
e-mail
to us.