Green products made by recycled glass that adds a value to the piece.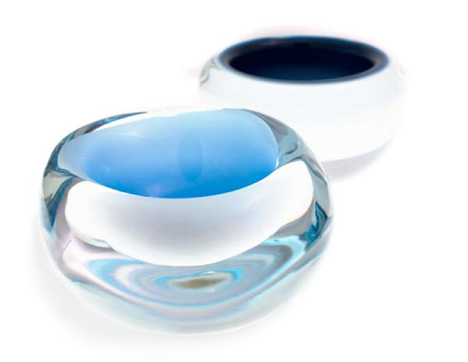 Blob Bowl
White w/ Turquoise, Blue or Ruby / 7"W / $600 / 2008
Within my 5 minutes of (miraculously) finding the meet-up location, I was worried I had arrived a bit too late. Being not a huge coffee drinker makes it slightly difficult to keep tabs on all of the java joints in town. I finally found the Stumptown coffee café at the Ace Hotel downtown, which felt more than appropriate for this interview. Not only is Stumptown known for good coffee, but their business practices run well in line with Esque's, being eco-smart/friendly as well as offering fair-trade coffee beans to their customers as well as having Esque pieces on display in the shop.
I grabbed a nice seat by the window, looking out on the all-too-familiar grey morning that is the Pacific Northwest only then realizing I had never seen Andi Kovel before in my life. I took a couple minutes looking online for "esque andi kovel" and I found a nice video done by the Coolhunters, featuring a mini interview of Andi & their studio space. After trying to memorize the face, she came through the door and I had a chance to introduce myself. She was sweet, sprite-y, almost like a hippie lumberjack who'd stay up late drinking with the boys and still got up early to make flapjacks.
"It's sorta like you're a rock band, in a way, you know? Where the thing is bigger than you, bigger than itself," Andi says. "We're definitely looking at the White Stripes & the Gorillaz as the model (of anonymity and mystery), and it's cool because nobody does that with designers and artwork (in glass)."
Here is a portion of the interview with Andi Kovel. I wish I could transcribe the entire thing, but it would be around 10 pages, and as all writers and women know, you have to leave something for the imagination.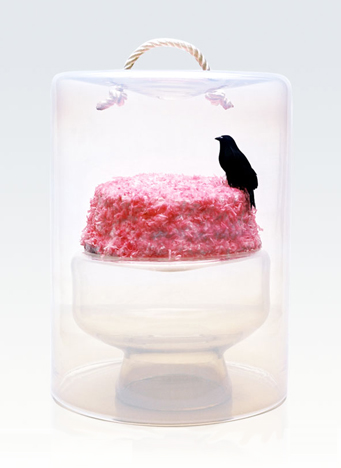 Ghost Cake Plate + Lid
Opaline Plate 10" D, Lid 12" D x 16" H / $2400.00 / MSRP / 2008
Please tell me about your studio.
Our studio is out on St. Johns, which is Northeast Portland, which is almost as far as you can go while still being in Portland. It's a really industrial and natural landscape there. There's also the Portland steel yard, and Pier Park, which is a really large old-growth forest, then there's the shipping container yard back behind our studio. And when they stack them correctly, you can see Mount St. Helens through the gap of these shipping containers.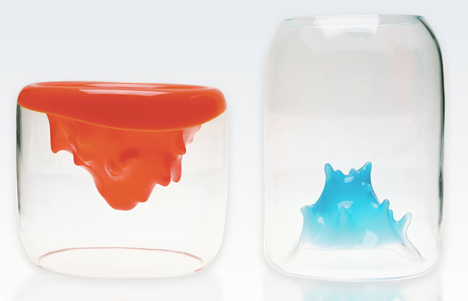 Crater Bowl
Persimmons, Turquoise / 8" x 10" / $900.00 / 2008
Haha, that's really cool.
Yeah, it feels like Panama to me there. It's super out there and really weird. It's industry plus nature in a really weird combination. And in our studio we have half of a gigantic steel structure, and the other half of it our landlord occupies. He's a race car driver.
Really? Is he pro or amateur?
He won best racecar driver in Portland last year, but I'm not sure which class. So he prepares for races part of the time and also has a Formula 1 racing school in that space too. So there's a bunch of car mechanics and race cars around the space all the time.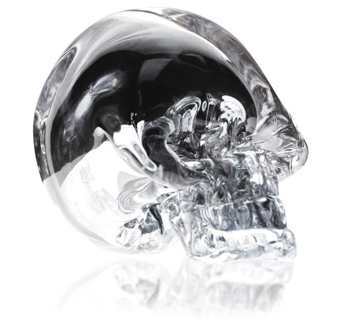 Skulls (adult)
Mirrored / 8"D / $2,800, Edition of 50 (also available: Clear w/ Bubbles $1500, Edition of 50) / 2008
That's cool. So if you ever can't get your car started, do you just whistle them over?
We've had problems with our cars, so they'll come over and fix them. And at the back of the lot, there's a guy named Jesse that collects old Cadillacs and then he refurbishes them and sells them. So the whole yard is filled with old, rotting corpses of Cadillacs.
It's a great setting. And it's so isolated, which is something that we really wanted when we were looking for a space. Because we knew we didn't want any foot traffic.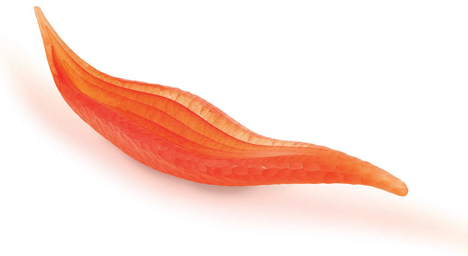 Pica Bowl
Cherry / 34"L / $2,400, Hand Carved Surface; One of a kind / 2008
Well, yeah, of course.
Yeah, and it was something that everyone was telling us. "Well, you want foot traffic, and then you can do retail out of there and you'd make a lot of money with people stopping by and buying stuff." But it's really distracting to us while we're working. It takes so much focus and concentration to pull off a lot of the work that we do. We like having visitors, but not random visitors.
I apprenticed under Deborah Czerescho. she's one of my favorite glass artists, and works mostly in large scale clear glass. she really empowered me as a female glass blower, and gave me consistant encouragement, where other's tried to keep me down.
Justin, my partner, he designs a lot of his work in the studio with the glass in his hand. He likes pushing the medium. So, he'll design these pieces that are so hard to make, and in the process he'll drop every other one. It's really hard and frustrating and I get it and it's fine. That's why his pieces are so beautiful because they're so challenging. Everything I make generally doesn't go on the floor, really; every once in a while. I don't like that aspect. I like saying "I've gotta make 5 of these pieces. I'm gonna make 5 and then move on to something else." If he's going to make 5 it might take him a week. He might drop 4 on the floor the first day, and then he'd be like "I can't make this today I've had too much coffee."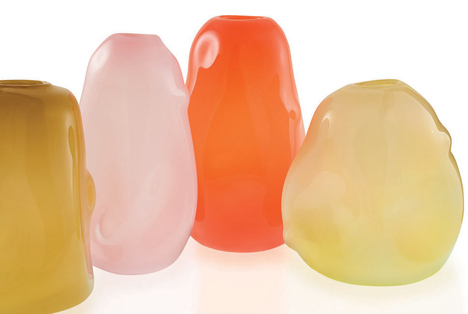 Knoll Vase
Pink, Persimmons, Beige, Orange 10"H to 12"H / $480 / 2008
Hahaha. I was reading through your website on the bios, and it said that Justin was trained by Italian masters? So he trained to work with big pieces of glass at first?
Well he was trained by Pino Signoretto and he's the best Italian sculpting master that's alive today. So Justin learned sculpting from Pino and he learned blowing from Petr Novotny who was from the Czech Republic. He then expanded on the "big thing" that just ended up happening with the scale. I think it happened when we were living in New York. Because we were working for fine artists and interior designers, people would come to us with these gigantic projects and we would have to try to figure out how to make them. It was interesting because that was the kind of working environment in New York. People were working really large at the time that we were there. Sometimes we would work on teams with 10 people. It was pretty amazing to work with a team like that because you can imagine the coordination. It was a really fun time, I miss that.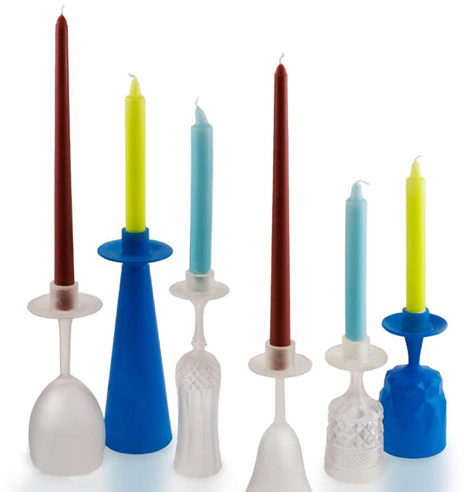 Goblet Candlesticks
Cear or Royal 6"H to 12"H / $280 / Rubberized Reclaimed Glass / 2008
Where was your old studio?
We didn't have a studio. We were kind of vagabonds. When we worked in New York we were at a public access studio called Urban Glass. And then, pretty much all of the glassblowers in New York worked at that studio. It cost so much money to set up a studio in New York that everybody rented time there. It was really cool, though, because there was so much dynamic work coming from there, so you got exposed to a lot. On any given day there were amazing projects going on there. While we were there we made a life-size truck tire for Robert Rauschenburg, we did work for Kiki Smith, we worked for all of these artists and we made some pretty cool stuff there.
When we came here (to Portland) we had the intention of starting a studio. We were actually going to start one in New York and we did the research and tried to find a space. We got really close to doing it in New York but we weren't really feeling it. And, y'know, then 9/11 happened. After 9/11 it was like Armageddon. There was no work for glassblowers- zero. I mean, it was the end of the world. We moved a few months after that. We were (already) planning on moving in 2002 and we moved at the end of 2001. We literally couldn't bear it anymore. We got in our car and ran away from our landlord. Ugh, it was horrible.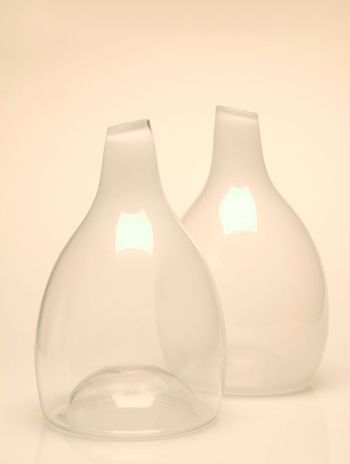 Hand blown glass vases and paperweights for Ralph Lauren home / 2007
I've heard that your studio uses 100 pounds of recycled glass per week. Is that all old beer bottles or "accidents?"
We actually do both because we have two electric furnaces, and one of them we melt clean glass, which is new glass. So if we make something that's clear and it falls on the floor, or if it's something that's clear and it cools down to room temperature and we don't like it or we break it while we're polishing it, that stuff gets melted into the primary furnace; because it's still pretty clean glass. (In) the secondary furnace we melt beer bottles, we melt kind of whatever. It's a smaller pot so it's really easy for us to change whatever's in there. So we'll fill the pot up, get it molten, and when it's empty we shut it back down. That gives us a lot of freedom as to what we're melting in there, so if we want to melt a whole thing of green beer bottles and have green glass out of that (we can do it).
The one thing that's our biggest statement with our electric furnaces is zero C0² emissions.
You know, a lot of people talk about greening their studio and all these steps that they're taking. The whole point is to lower your carbon footprint. Some people really objected to running electric furnaces for a really long time because the technology wasn't there, or it wasn't being utilized properly. You can have an electric furnace that really functions well. If you were running a higher volume studio, even an arts studio, you wouldn't want an electric furnace because the glass was colder, the furnaces were smaller. So this guy that built our furnace, he's a local fireman; he totally revolutionized the electric furnace.
I think what the bulk of it is, is that we're trying to make the right choices. You know, there are decisions, and you can go gas or go electric. We went electric. And it's really easy to do that when you're setting up a studio. Our electric furnace is probably 5 times more expensive than a gas furnace, but it's so much more efficient. It's knowing I'm making an investment, knowing I'm going to use a lot less power. We've been getting a lot of attention for our green practices, and I think what the message is is that we're not saving the world at all, you know? We're blowing glass and glass uses natural resources. It's really wasteful in general.
I think it's more that if we get the message out there to remind people of the choices that they make, then we're doing a good job.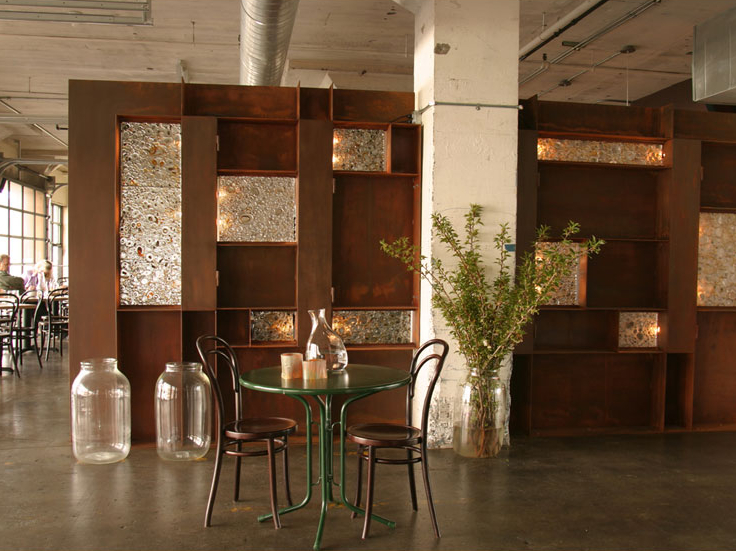 The glass wall created from fused, hand pulled, glass cane.
Yeah. Setting a good example that it can be done.
Yes, exactly. You know, we get a little uncomfortable about it. I think it's a great marketing thing for us and the reason a lot of people know who we are is because of our forward studio practices. For us it was so easy. It was literally just making decisions. We print our catalogs on recycled papers with soy inks, because, like, why wouldn't you?
We also buy wind power from PGE, and it's been misinterpreted so many times in the press where it's always worded where it sounds like we have a wind turbine in our backyard.
People come over to the studio and they're looking for the windmill, and they're like, "Where's the windmill?" And we're like, "No no, no no." Hahaha. So we don't have a wind turbine in our backyard. We do purchase blocks of energy that's produced from wind and then we also give money each moth to PGE to research alternative energy resources.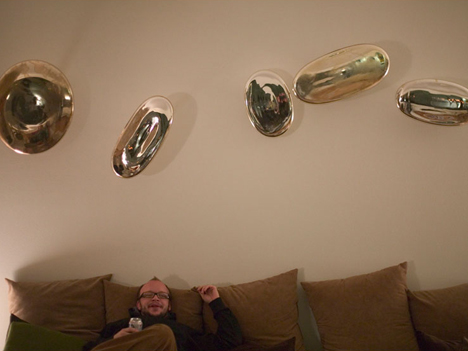 Speed Residence
On the website, you also talk about using chemical-free glass products. Are there some pieces of glass that have chemicals in it?
Yeah, well the clearer glass is basically made up of Silica and Ash. And then there's a flux that gives it elasticity, (which is) similar to Borax. But clear glass is pretty non-offensive. The colors we use are all made with heavy metals and different minerals, also poisons: cyanide is an ingredient in some glass colors.
It is actually pretty cool. White is made with cyanide. There are some elements of glass that are super noxious, and they aren't when you're holding it or drinking out of it, they're incased into it. But in the production of making that color, factors that are making that color, you're handling a lot of dirty shit. It's really bad for the environment. So there are a few colors that are naturally less offensive, so we use those when we can. That's a whole science on top of what we do. I know some glassblowers that are really into the chemical aspect of glassblowing, which I think is really fascinating, but I really don't have time to deal with it.
There's also a value in having a product like that and for us to say that this product is made with Eco-Black or Eco-White which is chemical-free, lead-free, and that adds a value to the piece or a consciousness to it.
(We take a slight detour off the main topic and then we get back to talking about their studio in a bit more depth.)
There are a lot of problems that I've seen when people try to revolutionize the glass tools. The only thing that I've seen that's successful is the electric furnace. We run a 600 pound furnace, which is our large one. There hadn't been one that large ever. Maybe like 200 pounds was the biggest one I'd seen.
So it holds 600 pounds of broken glass?
Of molten glass, yeah. It's got a huge bowl in the middle of it that we put the raw materials in and then it melts down to molten.
It's got these heating elements on the side, and we run 3 phase electricity into the space. You know the cans on power lines? We have 3 cans. If you touched the top of the furnace you would be a pile of dust on the floor.
It's totally crazy. One of the benefits of the electric furnace is that when you have a gas furnace you have a source with gas and a flame that's hitting the surface of the glass. That flame is burning out the flux, which is your elasticity, so it's deadening that top layer of glass, so it doesn't really move very well. And so because we have no direct heat source blasting our glass, our glass is really even. It's actually nicer quality to work with.
As I mentioned earlier in the article, much more was discussed between Andi & I. The politics of glass studios in 3rd world countries; cornstarch bio-degradable packing peanuts; collecting rainwater for cleaning tools; the comparison and working styles of Andi & Justin. So much was discussed that morning, and a lot of it was from going off track. But hey, this was my first interview, and I wanted it to feel authentic, like you were sitting down with us listening in like the other people coming and going in the coffee shop. It was a great experience talking with Andi and hearing a direct, sensible approach to the marketing frenzy of the Green movement: "I think it's more that if we get the message out there to remind people of the choices that they make, then we're doing a good job."
You can purchase Esque products at Nepenthes America in Tokyo, Japan as well as other stores in the US & Canada, and Lane Crawford in Hong Kong. Check their website for updates on distribution.
Here's the video I mentioned in the beginning that I found of them on YouTube.
Esque Glass Studio
Address: 6717 N Borthwick Avenue, Portland, OR 97217
Tel: 503 289 6392
Text: delilah.loves.you
[Help wanted]
Inviting volunteer staff / pro bono for contribution and translation. Please
e-mail
to us.