Opera-like emotions and maxi-maximalism.



Mercedes-Benz Fashion Week in Berlin: Show Basso and Brooke, 2008
Born in the late seventies the fashion designer duo Chris Brooke and Bruno Basso presented a retrospektive of their work at Fashion Week Berlin in Summer 2008. They began working together in 2003 and 2004 they won the 1st Fashion Fringe competition. Basso & Brooke worked together with luxury goods manufacturer Aeffe and were awarded "New Designer" at Elle Style Awards 2006 and show their full collection on London Fashion Week since 2005.
Basso & Brooke seems to be those kind of fashion designers, who are a product of the postmodernic information society of the late 20th century. Now in the early years of the new century they became succesfull with their amorphic ideas: Flexible, intelligent, technology-concious but not geeky, glamorous, dynamic and playful: Cyberpunks masked as sensible fashion artists. Shift contacted them on the occasion of Fashion Week Berlin 2008.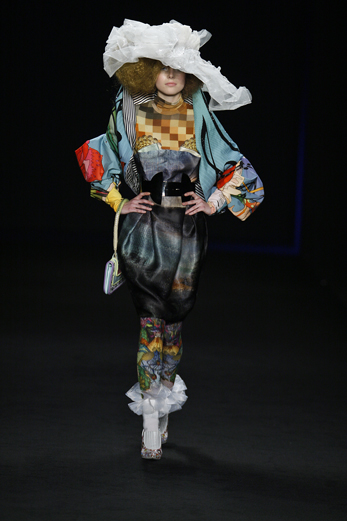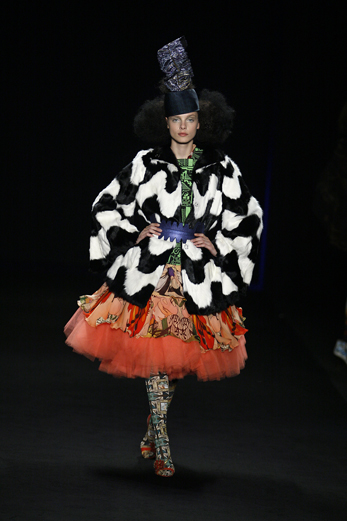 Mercedes-Benz Fashion Week in Berlin: Show Basso and Brooke, 2008
Your retrospective of the last four years in the Berlin Fashion Week was overwhelming! Could you tell us a bit about that show?
IMG – the main organizer & creator of Berlin Fashion Week approached us with the idea of doing a show in Berlin and in this brainstorm we decided to do a recap of our last 4 years. It was such a pleasure to re-create something with so much freedom and lots of available garments to choose from. So we reviewed all our personal archive of 8 seasons very carefully, choosing the pieces we all most liked and together with our stylist & muse Namalee Bolle, we started to remix it all. We were looking to create a very complex but harmonious final image, engaging fantasy almost as an abstract and surreal story that could been universally understood, timeless, without needing to be an expert in fashion or anything, was an invitation to imagination, also something that would reinforce our ideal of individuality, vision and the most important: our own amusement. In every day life, we know people wouldn't wear those garments directly how we presented, and this wasn't the intention at all – we rather kept this opportunity to display our inner fantasies and escapism. In the process of styling we've noticed that famous history characters has somehow influenced the whole image, subtle you can point Queen Elizabeth, Galileo, Da Vinci, Louis XIV, Barberousse, Napoleon, Madame da Pompadour, Edwardian Dames and so many others. The exoticism probably comes from the mixture of very different cultures: One of us is from Brazil – best known for a sparkling & magic land full of joy, sun and beautiful women the other from England – a kingdom full of history, pomposity, discoveries, influential pop culture and a great sense of humour.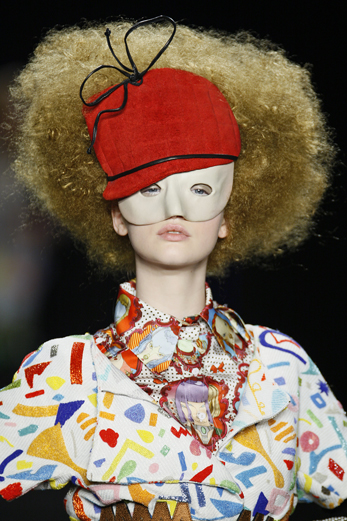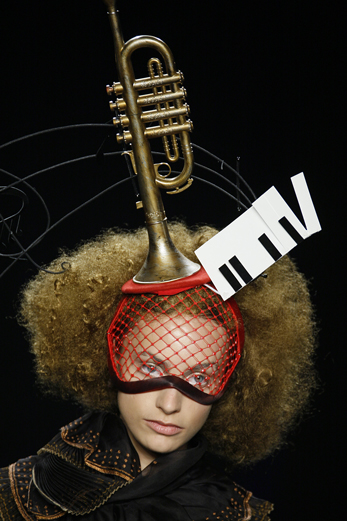 Mercedes-Benz Fashion Week in Berlin: Show Basso and Brooke, 2008
For me it was like a mixture of neo-classicism, cyberpunk, exoticism, alice in wonderland and post-retro yuppism. How do you call it? Maxi-Maximalism?
We never thought about this, but Maxi-Maximalism can be a very good neology to express this ultra-modern 'Operatic' feeling, an intentional awake for this new and unexpected esthetic sense, which depends on technology, history, pop culture, sense of humour and imagination all mixed together to become alive.
For the fashion show itself you have used a musical composition which also went into the same direction. The opening melody was from Rossini's Opera "La Gazza Ladra". How you come to use this melody?
This melodramatic Opera is amusing itself – but we've decided on this piece to make a subtle homage to Kubrick who used it in the Clockwork Orange masterpiece. Rossini generally has this great vitality and interest of exploring speed in his compositions and specially La Gazza Ladra bring us a mix of mysterious & curious although vivid, full of contained emotion sensation, its like a fantasies of Royal Picnic. The rest of the tracks we've used explores lots of 'Staccato' style which bring us this cartoon mood, highs & lows brings attention to the movement and whole dynamic to the feelings.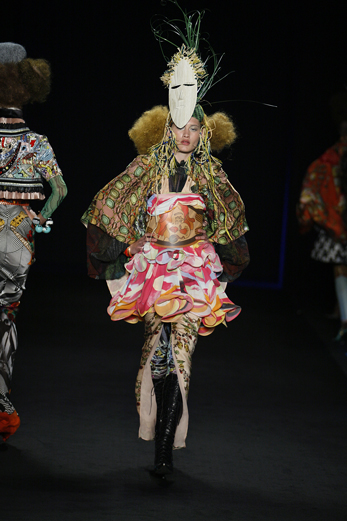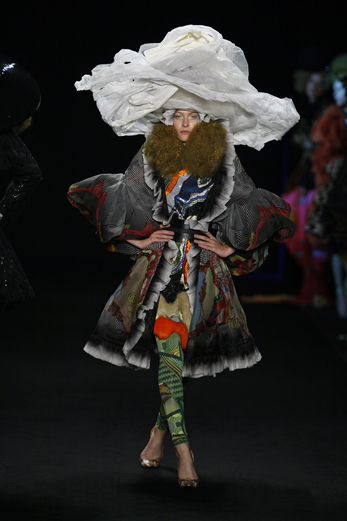 Mercedes-Benz Fashion Week in Berlin: Show Basso and Brooke, 2008
What kind of music do you like?
Bruno: I love music to the most, it moves my world. I've collecting for many years and dedicate myself almost everyday to new finds – at the moment I'm in love a new band called 'AU' and a brazilian baroque style opera called 'Maracatu de Chico Rei'.
Chris: Chaka Khan & Stevie Wonder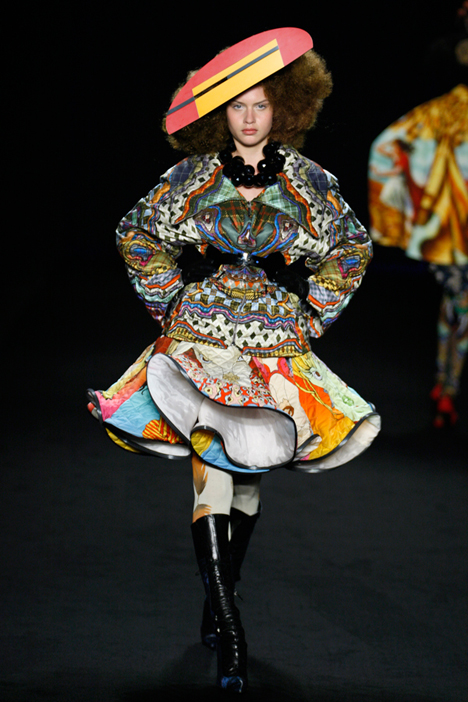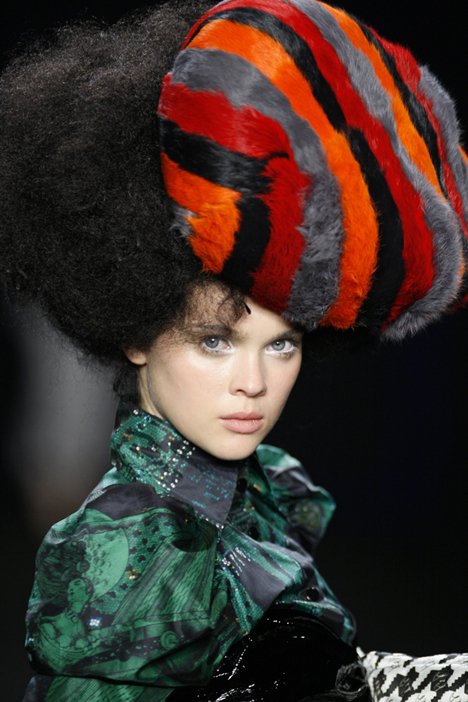 Mercedes-Benz Fashion Week in Berlin: Show Basso and Brooke, 2008
What are your backgrounds?
Bruno: Graphic Design, Advertising, Art Direction, Curatory
Chris: Fashion Design, Styling, Pattern cutting
What kind of women is the ideal wearer of Basso&Brooke clothes?
Our ideal woman is always bold, provocative, glamourous, playful, imaginative – effortlessly combining avant-garde with distinct classicism and both historical and futuristic influences to demonstrate through this unique show exactly what the luxury label stands for.
Did this image change during the years?
Yes, in Fashion changes is inevitable, but our Ethos and signature style always has been preserved. Our Spring/Summer 09 collection due to be presented in September during the next London Fashion Week is inspired by 'Japan', we've been to Japan few months ago and it was absolutely inspiring.
What are your plans for the future?
So many: design a hotel room, make the costumes for a classical Opera, open own Boutique…
Basso & Brooke
Address: 15 Percy Street, London, W1T 1DS, UK
Tel: +44 (0)20 74369449
bb@bassoandbrooke.com
http://www.bassoandbrooke.net
Stocklists: Currently selling to over 75 stores worldwide including Corso Como (Milan), Harrods (London), Maxfield (LA), Harvey Nichols (Dubai & Hong Kong), Podium (Moscow), Wynn (Las Vegas), Henri Bendel (NY)
Text: Shintaro Miyazaki from la-condition-japonaise, Berlin
[Help wanted]
Inviting volunteer staff / pro bono for contribution and translation. Please
e-mail
to us.