The phenomenon resulting from the passion for rock music and culture is becoming more and more interesting. The Beautiful Ones is a clear example. Agustina and Lisandro Rodríguez, fashion designer and publicist respectively, have pinned their interest in music, books, photography and their friend's bands on the creation of a brand of clothes.
Moved by the lack of identification with what the market offered, they opened their first store in March 2005 in the heart of Palermo, Gurruchaga and Costa Rica, where they remained until March 2008. Nowadays, though still in the Palermo district, they have moved to a new address — Costa Rica and Borges.
The Beautiful Ones — the title of a song by the English band Suede — is mainly a line of clothes for men, although in the beginning it used to be unisex. The Beautiful Ones is a good clothing choice for youngsters who love music and having a good time.
I interviewed with the designer, Agustina Rodríguez.
What is your story with fashion design?
Since I was a little girl I have liked clothes, I was always buying, browsing, gossiping or going to markets. I come from a… how shall I put it? coquette family — my two grandmothers, my mother. Mum also made clothes for quite a long time… and thus I developed a mixture of a liking for clothes, for art and music. The truth is when I had to choose a course of studies; I chose this one, which at the time was pretty new. It seemed not to have a future…
Where did you study?
I studied at Universidad de Palermo. Immediately before graduating I got a job with a well-known brand in Buenos Aires, where I learnt how to work on the "product". Then I worked for 3 or 4 more brands (Bachino, Kill, Vans, Hispana, Vasseur, Esquivel…) until I decided to start my own brand.
Who inspired you?
I draw my inspiration from my musical idols. I listen to music a lot, and I don't only listen to it, I also study everyone's biographies, from Bowie, The Beatles or The Clash, just to name a few well-known bands, to the most under at present. Trips, cities, markets are also sources of inspiration…
How do you see fashion design nowadays?
I think design is disappearing in Argentina… there are creators of collections. For instance, Palermo Soho sprung as an exclusive place for designers and nowadays it has become a shopping centre in the open air. Those who began as designers have now become very commercial brands of clothing. Only a few of us remain. For instance, I do not design exclusive clothes but I do make a product with a mixture of trends and things I myself like.
What does The Beautiful Ones speak about?
It speaks about music, comfort, simplicity, elegance…
How did you come up with the idea of opening The Beautiful Ones? Which ideal were you seeking?
We wanted to develop things we liked and we had not yet found in the market. At first, it was a brand for men and women. Once we opened, the store turned to be just for men and now, little by little, we want to include some items for women again.
What is your dream?
My dream regarding this project is to be able to grow, to be able to reach other cities in the world. So far we are a very tiny company fighting with the workshops to manage to have a good product on time… it is difficult, but it can be done…
In case we grew, I'd like to be able to keep the brand's exclusive spirit, to be able to make a few products per design… Also, I'd like to be able to include a line of clothing for women.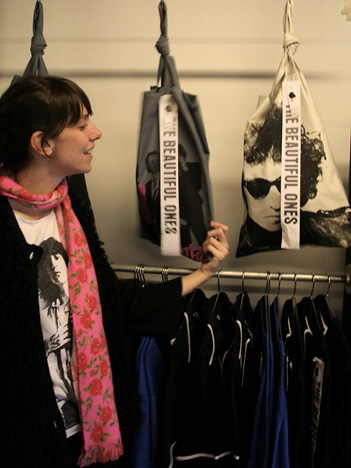 Photo: Celeste Najt
Next design / ideas?
For the 2008-2009 summer collection there will be a T-shirt line connected with sadomasochism, though very elegant, inspired in Venus in furs, Velvet Underground…
Define the spirit of The Beautiful Ones in two words.
Records and books.
The Beautiful Ones
Address: 4737 Costa Rica Street, Palermo Soho, Buenos Aires
Tel: +54 4805 8623
http://www.thebeautifulones.com.ar
Text: Celeste Najt

[Help wanted]
Inviting volunteer staff / pro bono for contribution and translation. Please
e-mail
to us.