Going to see The Brian Jonestown Massacre is always going to be more interesting than watching any of the regular Indie-muppets that are peddling their sorry wares now. The music that this band has put out in the last thirteen years has been criminally ignored by the mainstream.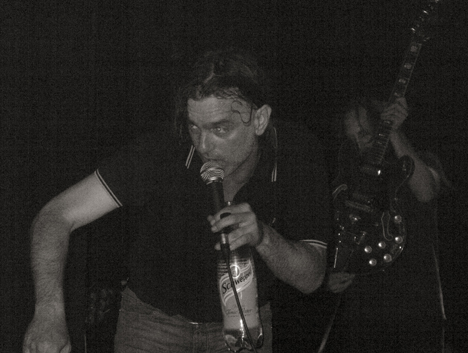 The BJM only gained belated and somewhat unwanted recognition after the 2004 movie Dig! In which their frontman, Anton Newcombe came across as a heroin addled lunatic megalomaniac. The onstage fights and bust ups that were documented in that movie have added to their mystique, meaning that there were probably boys and girls here tonight not for the music, but hoping something bad would happen between the band. As it would transpire, they got the full Brian Jonestown Massacre package.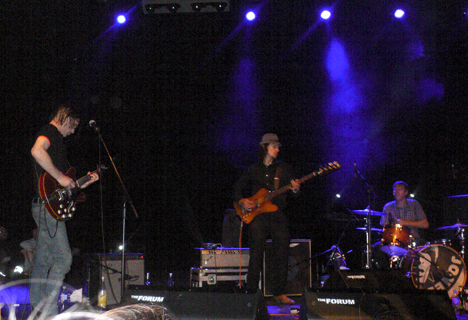 The band amble onstage from different directions, with no fanfare at all, they then proceed to tune up for a couple of minutes without once addressing the audience. The Brian Jonestown Massacre don't do showbiz at all. Once they are ready to go, and ignoring the first of many cat-calls from the people who have only come to see if they can make Anton kick someone in the face again (as he did so expertly to that redneck in Dig!), they launch into Whoever You Are, an old classic from the '96 album Give It Back and a fan's favourite. This is the end of a long tour for the BJM and the huge two hour set, including tracks from the new album My Bloody Underground, may have been one night too many for their nervous systems. Newcombe asked the Kentish Town crowd why was everyone stabbing each other in London right now. Tempers were becoming frayed (particularly when Newcombe ordered the band to play on while he went off for a pee) and band members had been enjoying the free drinks a bit too much before they had gone onstage.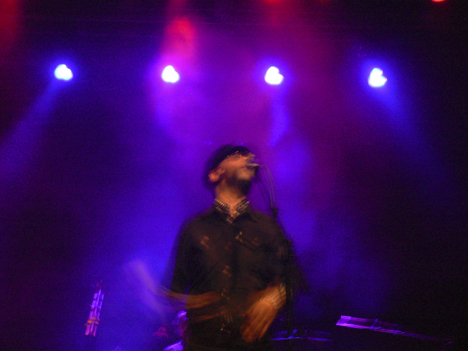 Musically, the BJM were faultless, they are not the band that the movie tried to portray them as, and the crowd certainly got their money's worth. Older tunes like Anemone, Servo, Nevertheless and Who sat well alongside the newer stuff, tracks like Yeah-Yeah and Golden Frost, the latter being sung by Frankie 'Teardrop' Emerson, who would become the central figure of the controversies that would follow.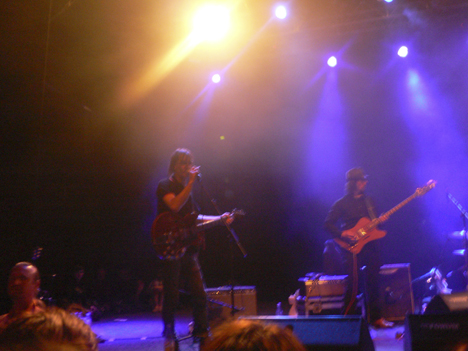 Not long after his vocal on Golden Frost, a visibly inebriated Emerson punched a microphone over, destroying it completely. Newcombe pointed to Emerson and announced, in no uncertain terms, that he would be paying for a replacement. The guitarist paid no attention. The gig came to a close a couple of songs later but the tension on stage was now apparent. Emerson began sarcastically shouting "Testing, one, two" into another microphone, and when asked to calm down by Joel Gion, the BJM tambourine man, told him "Don't shut front of house man, you fucker." All was clearly not well in Jonestown.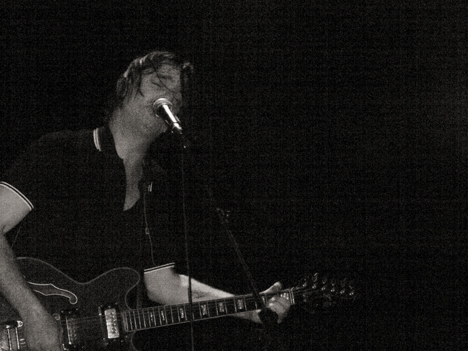 As the crowds went off to booze in Camden Town, it turned out that Frankie Emerson would be taking a trip to the Royal Free Hospital in Hampstead, suffering from cuts (or was it stab wounds?) to his stomach and arms. Newcombe, was questioned by the Police. We don't know what actually happened but the official statement from the Brian Jonestown Massacre states that Emerson was injured backstage during 'Horseplay' and that Newcombe was only helping the Police with their enquiries. It does not matter what really happened either way, it all adds to the legend now and it is clear that after all these years, The Brian Jonestown Massacre are still doing what they do, onstage and off, better than anybody else.
Brian Jonestown Massacre
Date: July 16th, 2008
Place: London Forum
http://www.brianjonestownmassacre.com
Text and Photos: Simon Borkin
[Help wanted]
Inviting volunteer staff / pro bono for contribution and translation. Please
e-mail
to us.