Holocene presents Matthew Dear, Telefon Tel Aviv & Arohan
Okay, I know this write-up is late. My body is totally being over run by the wicked sleeping spell that is the Northwest in the Rainy season, which accounts for 9 months out of the year, or so I'm told. So sleeping in has been the demise of my free time, not that I'm actually tired; more because I have zero energy waking up to overcast skies in the morning. Part of the drawbacks of being from California I guess.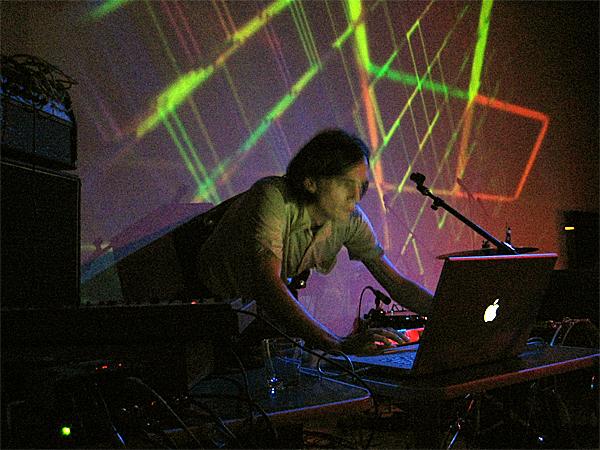 Thank God I was alert enough to catch this show. I found out about it about 5 days before it happened, which is odd to me. I know Matthew Dear & Telefon Tel Aviv as they're well known and respected names, but no one really talked about this show whatsoever. It's almost like they were keeping it a secret from everyone so it wouldn't be tarnished by their dirty, less-than-worthy ears.
I was worried that the night would be crowded with a line of ticket holders at the door – of which I was not – so I made sure to get there as close to 9pm as possible. When I showed up to Holocene I was a bit in shock. No line. And not even "no line," but no one watching the door. Let's put it mathematically, since it's more fun and it makes me feel like an executive coming from a Tony Robbins conference:
No Line + No Doorman = No Cover where No Cover = One Happy Camper
So with the $10 I saved from not paying a cover, I considered donating the funds directly to the bands, or maybe to a local Red Cross mission. Then I got thinking. I should act locally with my money. Then I saw the beer tap and thought- Eureka! I can act locally AND enjoy the fruits of my labor! And that's the story I'm working with.
I got in slightly early, but was amazed to see only about 30 people in the club, excluding wait staff, etc. That changed as the night went on, growing to about 200-250 people. A great turnout for an equally great night. So let's discuss the details of the night now, shall we?
First up was Arohan, a local Portland laptop producer who had a great sound. I got a couple seconds to talk to him before the show, asking him silly questions like, Are you freaking out yet that you're sharing the stage with Matthew Dear & Telefon Tel Aviv? He laughed and agreed he was nervous, but he had a nice demeanor and I knew he was prepped for it. He mentioned that in preparing for the show, he experimented more with vocals in his performance, as a gesture to the latter acts' vocal-friendly music. Arohan's music was really good, though, I have to say. His set was a mixture of tapping keys on his laptop, singing into the mic in a very breathy, ethereal way and tweaking knobs on his synthesizer. The sound of his music is in the minimal/tech house vein, but it's not exactly that either. I have a hard time with labels and genres, so that sounds right to me. All of his beats and tracks were really clean and well mixed, making them fun to listen to as he develops them.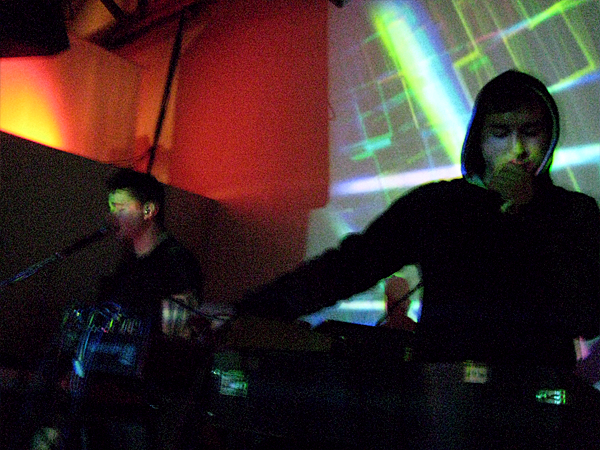 Next up was Telefon Tel Aviv, and I have to say I was really excited for their set. I've always known about them and their older works, but I hadn't heard anything on a religious, fan-based level. Their set-up looked super fun. It was something along the lines of 2 synthesizers, a couple effects boxes, a mixer and a laptop. When they appeared onstage, they had the lights off in the room aside from the projection on the wall behind them. Honestly they looked kind of lame with their black hoodies on, especially with the hoods up. If this was an attempt at an outfit or group costume, then strike 1 for them.
Their music started and I got excited like a lot of others did in the crowd, but I have to say, their set put me to sleep. Everything they played was new to me, which I'm guessing was new material. And it wasn't just me who was trying to process their new songs and incredibly low-volume, indecipherable vocals as I saw only 10 or so people really getting into the music. Their set was boring. There, I said it. Strike 2. And worst of all, they never played a track I knew, or that most people of the people knew collectively recognized or knew. Strike 3. I was sadly let down by their set. Arohan had it off to such a nice start, but, to my sheer amazement, Telefon Tel Aviv ruined it.
So not knowing how to process this information I went to the bar to get another drink. Now I was not only looking forward to Matthew Dear's set, I was looking forward to redemption for the letdown that was 5 minutes ago. And let me tell you, Matthew Dear delivered. God I love this man.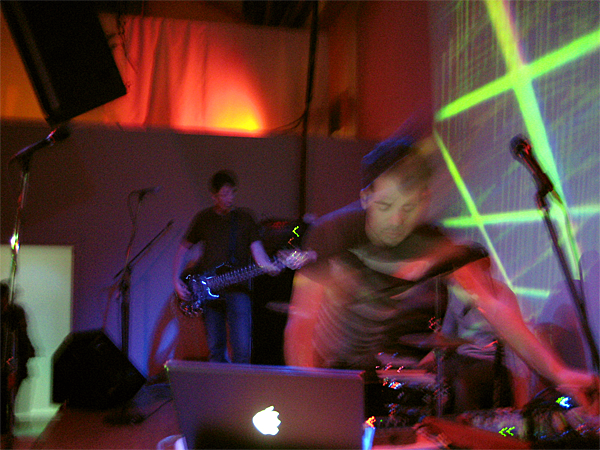 Matthew Dear's set was incredible. So energetic, so rambunctious, so fun!!! I loved every minute of it, not to mention I got the pleasure of taking some fantastic pictures of him going nuts alongside his amazing band mates! Oh, and yes, he had a drummer and bassist playing with him that were perfect. Not only were they great players, but their contributions to the songs and the live sound were all just soooo right, soooo good. The aspect of having live performers playing physical instruments is always entertaining for obvious reasons, being that you can see what/how they're playing what they're playing.
Again, like Telefon Tel Aviv, Matthew Dear's music and I are more acquaintances than Bible buddies, but that's changing more and more each day. I knew from the recordings I had heard of him, there were hints of Morrisey in there, possibly some David Byrne in there too, but all with this amazing presence and intensity that I wish I possessed. And to top things off, Matthew Dear didn't shy away from jamming out, picking up shakers and tambourines throughout his set. The guy even came out for an encore song. How great is that?!
I have to say that Matthew Dear is amazing, hands down. Great performance, great music, great everything. I have high hopes for his music and I know he's going to do well. And Arohan, again, was a great surprise that I'm looking forward to experiencing again here in town. I only hope tonight was an "off" night for Telefon Tel Aviv, especially for those of you yet to see them live. Holocene, I feel like we were friends long before we even knew each other. We have a lot of catching up to do. Until next time.
Matthew Dear, Telefon Tel Aviv & Arohan
Date: Oct 9th, 2008
Place: Holocene
Address: 1001 Se Morrison, Portland, OR 97214, USA
Tel: 503.239.7639
http://www.holocene.org
Text and photos: delilah.loves.you
[Help wanted]
Inviting volunteer staff / pro bono for contribution and translation. Please
e-mail
to us.