Happy and excitement is my keyword when I create something.
MEG is a singer, song writer, model and fashion designer who supported by girls around her age, like teen and 20's. BEAM, her major record debut album, will launch on 15th of December. From independent record label, she has released 8 single CDs and 2 album CDs and 2nd album was in top the pops album at iTune Music Store. Many famous sound creators such as Hiroshi Nakamura from i-dep produced MEG so far. To release this album needs to be happened. The music is produced by Yasutaka Nakata and you must feel hot Beam from MEG.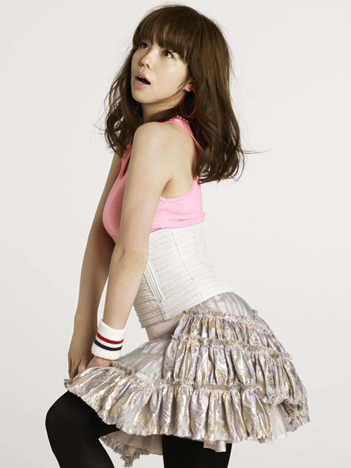 Could you please tell us the theme of the BEAM?
This is a music keeps people happy and cheerful. People can listen at home alone, at club with friends for fun and during driving and go on the way to work. I would like to be listened in a daily life as you like. For instance, you could work efficiently because the music cheers you up when you are working by PC.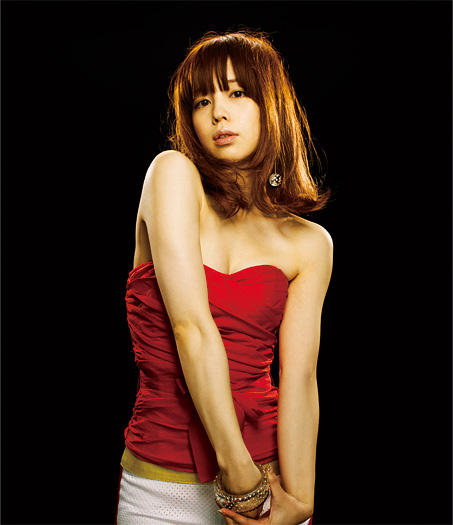 Who do you image when you wrote all lyrics?
A happy and vigour girl came to my mind because I think that positive mind calls happy person and things. I would like to bring such HAPPY. My motto is also enjoying everyday. I am very happy if this album makes a listener positive mind.
How do you like work with Yasutaka Nakata?
Amaizeitaku, 8th singe is the first project we actually worked with. The sound he creates attracts me a lot, and it was easy to work on together as we have similar sensitivity. In this time, I was said about only the number of songs and the recording schedule but we worked quite well. I am very happy with this work. I am very looking forward to playing at the live.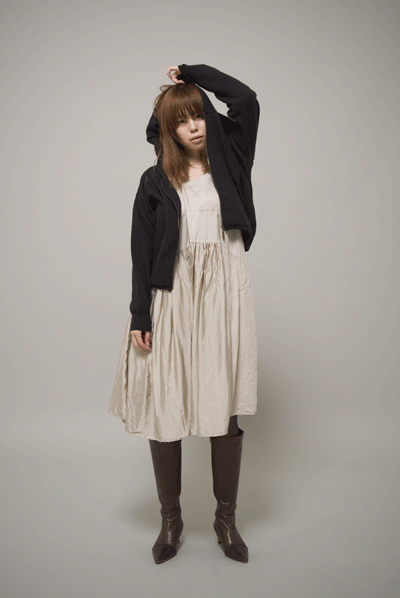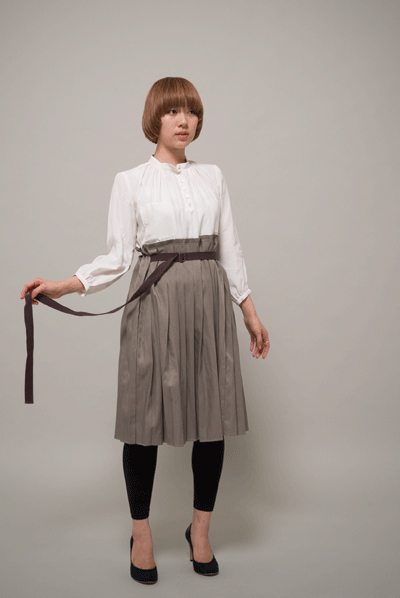 You not only a musician but also model and fashion designer of own brand, Carolina Glaser. How do you think of each job?
Happy and excitement is my keyword when I create something including making music, designing clothes and modeling. Actually, my aim is to communicate with people through what I create. Music or fashion is just one element. Recently, everyone is interested in not only music and fashion but also many other cultural things such as film, interior and art. It is more realistic that my music or fashion is used as one item to enjoy themselves in a life. It is glad if my music could cheer someone up. I design clothes for girls around my age to be worn in a town. This CD album is a surprise present for listeners in a sense. All preparation time is my favorite. I am so excited when I image the people's surprising faces.
Do you have any plan to do other projects?
I would like to challenge dubbing. I am interested in doing something I use voice than visual. I might do some other things in the future.
Please let us know about live performance coming up this month.
I can't wait to have a performance! This album is made in order to have a live show, let's say. Please enjoy new album BEAM and the lives.
Text: Wakana Kawahito
Photos: Courtesy of Universal Music Japan © MEG

[Help wanted]
Inviting volunteer staff / pro bono for contribution and translation. Please
e-mail
to us.