The fluorescent lamp monster.
Yuichi Higashionna is an artist whose works of paintings, objects and installations are inspired by unexplainable odd and uncanny feelings emerged from something strikes him in his everyday life. Something unexplainable in words and something uncanny, complex and ambiguous he feels are turned out to be his creation of art works appealing to us with visual clarity. Recently he received an award of The Bombay Sapphire Prize 2008, the world's biggest award for artists, designers and architects working with glass. We had an interview with him whose solo exhibition "refract!" will soon be held in CALM & PUNK GALLERY from May 16.

"untitled (chandelier-VII)" 2005
125×110×99(h) cm, fluorescent lamps, aluminum frames, wiring cords, banding band, electrical ballast, ed.1/2 © Yuichi Higashionna Courtesy of Yumiko Chiba Associates
Could you introduce yourself?
I am Yuichi Higashionna, an artist. I'm not sure what artist meant to be though. I do paintings and installations, and create objects.
When have you started to work on artistic activities from?
It was around 1994, starting to create works that led to the current work style.
For your works you use objects, which are familiar to us in our everyday life. How did you come up to the idea to use them for your works?
I didn't mean to focus attention to them. I was inevitably surrounded by those objects when I realized it. And they were such objects that provoke unexplainable and complex feelings inside me.

© Yuichi Higashionna Courtesy of Yumiko Chiba Associates
Your fluorescent lamp work has a strong impact on itself among others. Could you tell us the process how you get an idea to create the fluorescent lamp work?
I have been getting an inkling of the fact that Japan is one of heavy fluorescent light user countries in the world. I noticed the fact that the fluorescent lamp in the circular-bulb style has independently spread in its use at Japanese home in general. Since then I consciously start to use the fluorescent lamp as a source for my work. My fluorescent-lamp-made chandelier work is a reflection that I was obsessed by making a gigantic fluorescent lamp inspired by such a Japanese "fluorescent lamp culture".
As I imagine as if I am standing in front of your lamp works, it starts swirling in my head. It is just like strange and weird feelings arise inside me, but at the same time I get a comfort in my head. How do you feel when you are standing in the middle of your installation and looking at your works?
For me it is more important what motivates myself for creation rather than the completed works. Most of my works are derived from the uncanny feeling that I usually feel within my ordinary life. Freud explains "the uncanny" is something remote even it is familiar… or "the uncanny" is the state that something invisible usually is visible. This sounds like a paradox, but it makes sense to me a lot.

"dazzling & doodling" GALLERY at lammfromm (Tokyo) © Yuichi Higashionna Courtesy of Yumiko Chiba Associates
Where do you create your works? What are you inspired by?
Basically I work by myself in the studio. (I recently place orders to the factory though.) Again, the motif of my work is coming from the everyday life. Within that I find something unreasonable and uncanny thing which are unexplainable. This motivates me for my creation.
Is there any materials you are interested in your everyday life?
It doesn't matter so much for my creation. I don't get an idea from materials.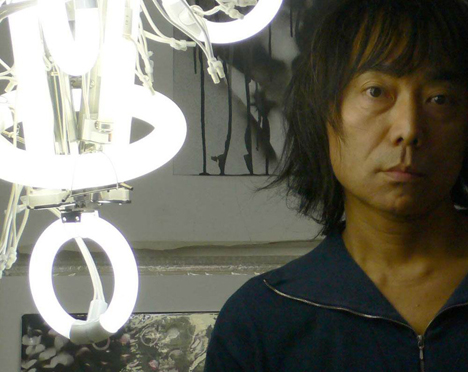 The installation work "refract!" will be exhibited in CALM & PUNK GALLERY soon. Could you tell us why you titled the exhibition 'refract'?
When I exhibit, I try to title to the exhibition and verbalize the concept to make myself clear what I am trying to do and what I am thinking at that time. After a while I have noticed that I recently used the word 'refract' repeatedly in the text I wrote. As a sort of the mirror, art might be a device to reflect people's vision and thoughts. And when it reflects, there occurs diffused reflection, deformation and 'refract'. And of course I have a desire to make works which would refract people's vision and thoughts in some way. Compared to a word 'reflection', which is more familiar word in Japan, I felt something more materiality and roughness to the unfamiliar word 'refract'. I like the word 'refract'.
Could you tell us about the installation works for the exhibition? Could you also talk about the new animation release?
I will exhibit a new gigantic fluorescent-lamp-made chandelier as a main, mirror balls, paintings, installations and so forth. As for the animation I made a simple one, shooting frames of created objects and edited so that it's not a usual animation you would expect.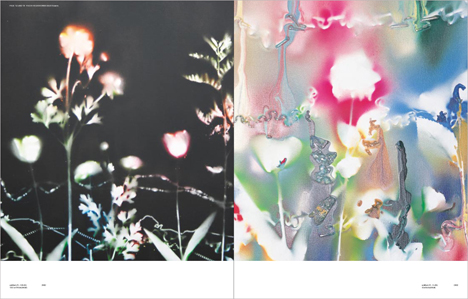 GAS BOOK 25 YUICHI HIGASHIONNA
Could you talk about the artist book "GAS BOOK 25 YUICHI HIGASHIONNA" which will be released soon?
It is a (Japanese/English written) visual book introducing my works with respect to each motif, with my text.
Could you tell us what your plans in the future?
Since I have been exhibiting from the last half of the last year until present, I would like to concentrate in creating my works in this summer. And for the last half of this year will again continue to have exhibitions in New York, Nagoya and Paris.
Yuichi Higashionna Solo Exhibition "refract!"
Date: May 16th to June 5th, 2008
Time: 11:00-19:00
Admission free
Place: CALM & PUNK GALLERY
Address: 1F Asai building, 1-15-15 Nishiazabu, Minato-ku, Tokyo
Tel: +81 (0)3 5775 0825
http://www.calmandpunk.com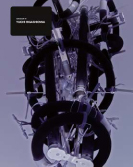 GAS BOOK 25 YUICHI HIGASHIONNA
Specification: 64 pages, 210mm×297mm, hard cover
Price: 3,500 JPY (tax ex)
Release date: May 16th, 2008
Published by Gas As Interface Co.Ltd.
Cooperated by YUMIKO CHIBA ASSOCIATES
Text: Kazumi Oiwa, Mariko Takei
Translation: Mariko Takei
[Help wanted]
Inviting volunteer staff / pro bono for contribution and translation. Please
e-mail
to us.