A leading contemporary art, media and technology institution in Wroclaw, Poland.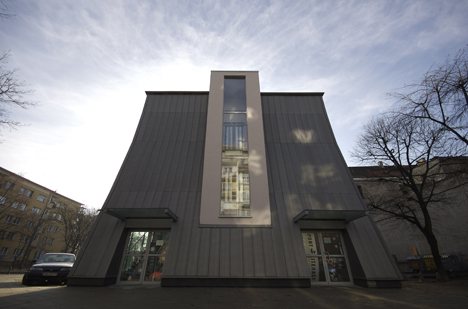 WRO Art Center entrance. Photo by Michal Szota
WRO Art Center is a leading contemporary art, media and technology institution, and a newly-founded permanent exhibition/lab space from the makers of International Media Art Biennale WRO, based in Wroclaw, Poland.
The Center's activities are based on the experience of the WRO Center for Media Art Foundation. Since 1989 the Foundation has established the WRO Biennale as a world-scale event presenting contemporary artistic practices related to the development of communication tools. The WRO Foundation, promoting the creative use of technology has been carrying out significant artistic projects expressing the diffusion of varied genres of art in the form of exhibitions, screenings, multimedia concerts and performances.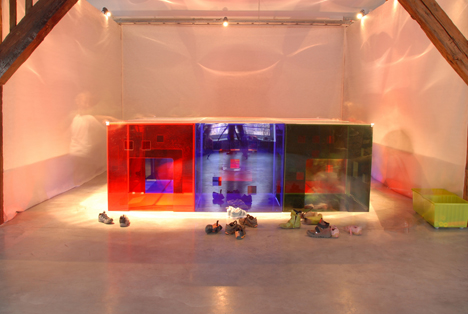 A part of the Media Kindergarten installation by Patrycja Mastej, Dominika Sobolewska and Pawel Janicki (2008)
Within the exhibitions organized by WRO such renowned artists as Stelarc, Robert Cahen, Jaron Lanier, Jeffrey Shaw, Laurent Mignonneau and Christa Sommerer have presented their projects in Wroclaw. Numerous international symposia and conferences, such as Mediation / Medialization (2000) with participation of Yoshiyuki Abe, Machiko Kusahara, Keiji Nakamura and Keisuke Oki contributed to assimilation of such terms as 'virtual reality' or 'medialization' into the Polish vocabulary. Special events carried out so far include among others Digital Japan exhibition (2003) gathering a set of works from the Digista Awards organized by NHK or The Other Book (2005) including among others works by Masaki Fujihata. From the very beginning, the events have been attracting the attention of audiences of several thousand (20 thousand during WRO 07 Biennale).
Located in the attic of an early 20th century Otto Stiebler's coffee roasting plant, WRO Art Center takes up over 700m2 of space fully adapted to the requirements of contemporary art presentations. The architectonic adjustments combine the restored elements of the interiors (including the original rafter framing) with the newly designed glass façade to serve as a large-format screen to present works conceived for the public space.
The multifunctional gallery and laboratory spaces enable the simultaneous implementation of different kinds of events. Together with the lab activities and research, WRO Art Center launches series of educational and dissemination projects, as well as conducts its publishing works.

A part of the Interactive Playground exhibition by Patrycja Mastej, Dominika Sobolewska and Pawel Janicki (2008)
Starting the activities of WRO Art Center with an exhibition addressed to children is a significant idea for gathering new audiences than those already familiar with the new art. 'Interactive Playground' inaugurating the 'Media Kindergarten' series is an exhibition of interactive media installations addressed to the youngest, aiming at developing media literacy and promoting art education among them. During the first two weeks the exhibition drew over 1200 visitors and is to be presented within different venues in Poland and abroad afterwards.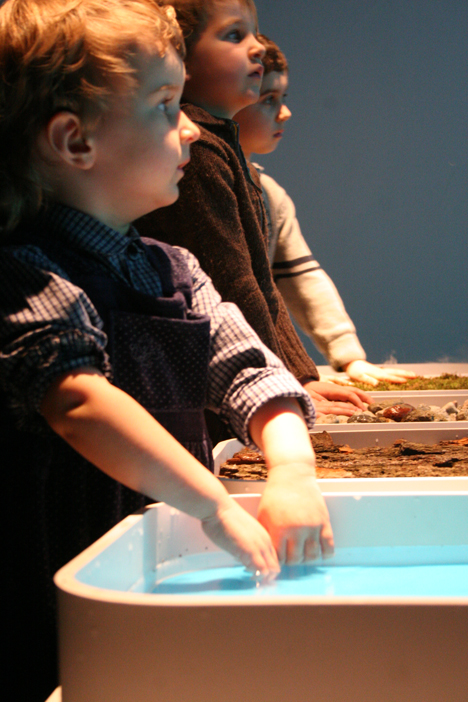 A part of the Interactive Playground exhibition by Patrycja Mastej, Dominika Sobolewska and Pawel Janicki (2008). Photo by Marcelina Halaś
Several events are planned for 2008, such as solo exhibitions of works by the artists previously featured during past editions of the WRO Biennale: Igor Krenz and Piotr Wyrzykowski, individual exhibitions of Nam June Paik, Miroslaw Balka, as well as the series of lectures 'Art is Power' inaugurated by a presentation by Józef Robakowski have been published by WRO in 2007), together with the preparation of publications: 'WRO Reader' and 'Hidden Decade'.

WRO Art Center, Media Reading Room. Photo by Zbigniew Kupisz
A Media Reading Room facility enables access to a collection of Polish and international media art. The collection covers a cross-section of media art from the 1970s to the present day, including video art, recordings and documentation of audiovisual performances, art action projects, multimedia objects, interactive installations and net projects. Developed since 1989, among about 4000 elements it includes an exhaustive collection of Polish video art created between 1970-2007. The database is systematically digitalized, restored and made accessible by means of the system of archiving and presentation of media art works.
The residential program for artists and curators developing in the domain of media art and audiovisuality in a broad sense of this term is co-ordinated as a part of WRO's program activities. In the framework of the cultural co-operation and artistic exchange between Alsace and Lower Silesia regions in 2008 WRO is hosting three residential artists from France, whose works are carried out under the curatorial, workshop and production patronage of WRO.
WRO Art Center opens to the public from Tuesday to Saturday between 10 a.m. and 6 p.m. and on Sunday between 12 a.m. and 4 p.m. The admission to all events at WRO Art Center is free of charge.
Art is Power:
Lecture by Jozef Robakowski: 18:30 on 1st April, 2008
Lecture by Christian Hubler: 18:30 on 25th April, 2008
WRO Art Center
Opening Hours: 10:00-18:00 (Tue-Sat) / 12:00-16:00 (Sun)
Address: ul. Widok 7, 50-550 Wroclaw, Poland
Tel: + 48 71 344 83 69
info@wrocenter.pl
http://wrocenter.pl
Text: Alicja Grabarczyk
[Help wanted]
Inviting volunteer staff / pro bono for contribution and translation. Please
e-mail
to us.