Vienna Forum to Fight Human Trafficking
There's increasing political talk about "sex workers". Front-page articles deal with prostitution, sexual violence and even murder. But while listening to our politicians and reading the stories in our newspapers, can we really imagine the violence, degradation and trafficking that is involved here? Hardly, I think.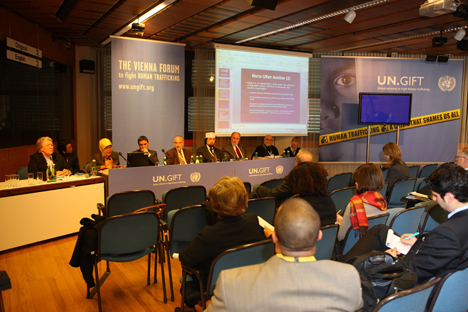 Vienna Forum Day 2 Proceedings © UN.GIFT
However, it's good to raise awareness, as a first step. The"Vienna Forum to Fight Human Trafficking", which took place in Vienna in February and brought together 1,400 delegates from 116 countries to share knowledge and develop a coordinated strategy to combat human trafficking, has called for greater awareness, greater resources and greater co-ordinated action in the fight against human trafficking. The Forum was convened by the United Nations Global Initiative to Fight Human Trafficking (UN.GIFT), which was established in recognition of the fact that human trafficking takes many forms and that a co-ordinated and united approach is required.

Gartenbaukino © UN.GIFT
Can a movie raise awareness?
On the second evening of the conference, a special screening of the feature film "
Trade" took place in the Gartenbaukino, one of Vienna's largest cinemas. The cinema captures about 700 persons and I think it was almost fully booked. "Trade" was introduced and presented by its US producer Roz Heller, who said we should help. But how?

Roz Heller and Cesar Ramos, Director © UN.GIFT
Lead character Cesar Ramos touched me by his sensitivity. He tried to make clear that we simply do not know what happens in our own neighbourhood, in our own city. And I think he's right. We simply do not know. I realised all the more later on, during the film:
When 13-year-old Adriana is kidnapped by sex traffickers in Mexico City, her 17-year-old brother, Jorge, sets off on a desperate mission to save her. Trapped by an underground network of international thugs who earn millions exploiting their human cargo, Adriana's only friend throughout her ordeal is Veronica, a young Polish woman captured by the same criminal gang. As Jorge dodges overwhelming obstacles to track the girl's abductors, he meets Ray, a Texas cop whose own family loss leads him to become an ally. From the barrios of Mexico City and the treacherous Rio Grande border, to a secret internet sex slave auction and a tense confrontation at a stash house in suburban New Jersey, Ray and Jorge forge a close bond as they frantically pursue Adriana's kidnappers before she is sold and disappears into a brutal underworld from which few victims ever return…
About 2.5 million people from 127 countries have been trafficked to 137 countries for purposes such as forced labour, sexual exploitation, the removal of organs and body parts, forced marriages, child adoption and begging, according to UN extimates, reports the Austrian daily "Wiener Zeitung".

From The Journey © UN.GIFT/Mario Romulic
Celebrity activist tries to help
Yet another "highlight" of the three-day conference was an exhibition initiated by British actress Emma Thompson. "Journey" (read Madeleine Bunting's compelling contribution to "Thompson and Journey" in the Guardian Online), which demonstrates the experiences of women sold into the sex trade, is a powerful exposure of the horrors of sex trafficking and had already been on display in London's Trafalgar Square. Like in London, rusty containers were put in front of Vienna's famous Albertina museum of art — cheap and tacky amid all the pomp and ceremony of the city's first district. But that was exactly the point they were making, and there was a steady queue of intrigued visitors waiting to walk through the installation. Each container had been curated by a different artist, from artist Anish Kapoor to Oscar-winning costume designer Sandy Powell. Visitors emerged white faced and shaken.
"I could not get the image out of my head of the empty bedroom of a trafficked woman, trapped in prostitution: the dirty unmade bed, the bowls full of condoms, the used condoms half pushed under the bed, and that horrible smell", my friend who had seen the exhibition told.
Special Screening of "Trade" in the framework of the Vienna Forum to fight Human Trafficking
Date: 13th -15th February 2008
Place: Gartenbaukino
Address: 1010 Vienna, Parkring 12
"Trade"
Directed by Marco Kreuzpaintner
Place: Gartenbaukino
Address: 1010 Vienna, Parkring 12
"Journey", Emma Thompson
Date: 13th – 16th February 2008
Place: Heldenplatz
Address: 1010 Vienna
Text: Christina Merl
[Help wanted]
Inviting volunteer staff / pro bono for contribution and translation. Please
e-mail
to us.