The cafe played a crucial part in city life.
It is not only the love story born in a café. It is also where culture is born. The greatest art, literature, even revolution began in cafes. From the late nineteenth to early twentieth century, cafes were the home fire where people would get together and socialise. The cafe played a crucial part in city life. The Viennese Café Festival shows us the historical, cultural and artistic complexity of the Viennese café as an urban space in order to better understand the culture of cafés.
Exhibition, Music, film screening and conferences are held over two weeks and reveal this spectacular world of cafe. In addition, the traditional Viennese pastry and chocolate company Demel will run a café in the gallery for visitors to sample the delights of a genuine Kaffeehaus.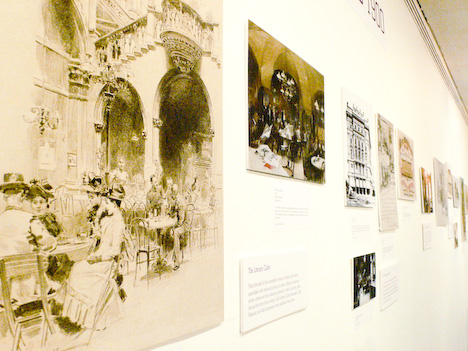 Cafés started in the late nineteenth century throughout European cities. Mainly because of a huge increase in population, especially in cultural capitals like Paris and Vienna. Housing was running chronically short – which made the café become a studio for the poor artists and writers who had to live in attics – and others were attracted to the much more comfortable cafés.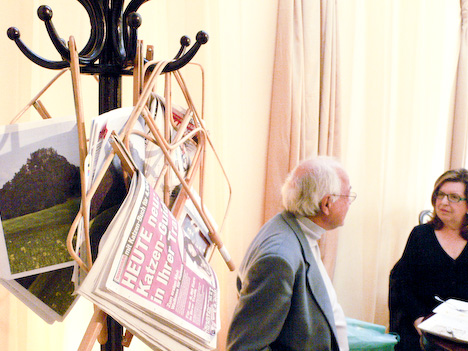 These people practically made the cafes there residences. With only one penny, they could read the newspaper, and enjoy playing chess and billiards for a change. The like minded could have good conversations and discussions with their contemporaries. Through the exhibition, you can see old photographs, drawings, paintings and popular interior designs used to bring this corner of the past to life.
Not many households had newspapers delivered, people came to the café to get information by reading the papers there. They also were used as a place to exchange political opinions. Lots of cafés had various entertainments. Games, plays, opera and so on. The smart looking waiters were well trained and keen to remember regular patron's names, favourite drinks and papers.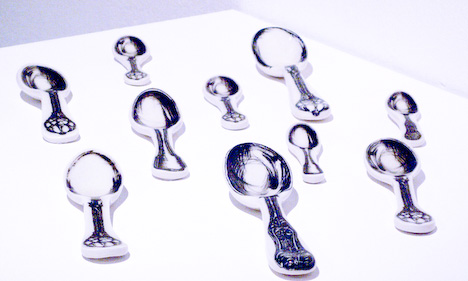 At the end of the exhibition, new designs by RCA designers and practicing artists were showcased. Hitomi Hosono designed a set of spoons. They have prints of silver antique spoons upon the porcelain, giving the impression that they are classic silver, yet being obviously far away from the stuffy British image of antiquated dining. Sharp images of the silver and the softness of the Porcelain, old antique and modern shapes meeting create an interesting harmony. This item must make café time even more fun.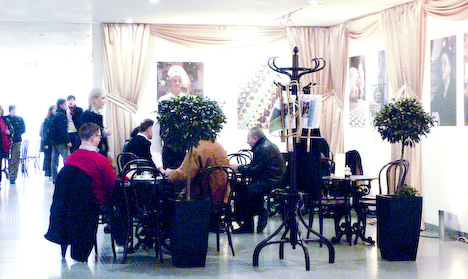 One visits a café to concentrate on their work, away from everything. The other for chatting away with friends. You may find yourself talking to interesting strangers there. The café is always the place, for the writer, where the stories begin. Thinking that, I finished writing this article . At my regular café. As usual.
Vienna Cafe Festival
Date: October 7th – 24th, 2008
Place: RCA and others
Address: Kensington Gore, London SW7 2EU
Tel: 020 7590 4482
Text and photos: Sayaka Hirakawa
[Help wanted]
Inviting volunteer staff / pro bono for contribution and translation. Please
e-mail
to us.