FABRICA: LES YEUX OUVERTS
Nothing but the feeling of "I must tell it."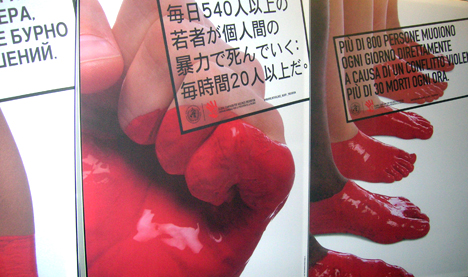 There are posters that reveal strong images of the campaign to stop AIDS and which represent the discrimination through photos that put handcuffs on White and Black.
You must have seen these serious of poster before, created by United Colors of Benetton's "some creative factory".
FABRICA is the laboratory of design established in 1994 by Luciano Benetton and Oliviero Toscani, Art Director of Marketing for United Colors of Benetton.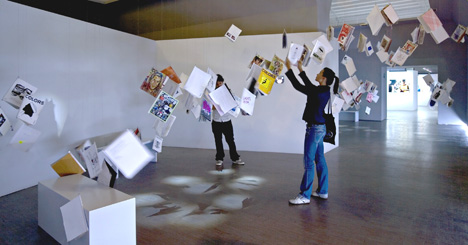 This center has continued to influence several creators all over the world through their works infused with a new and unique philosophy. Young and talented creators from several countries work on projects a year at FABRICA in Venice, Italy. A part of FABRICA's works exhibited at the Centre Pompidou in Paris, in October 2006, and then move to la triennale de Milan in July 2007. In October, the exhibition was invited to the Shanghai Museum in China. Now it appears at the Shiodomeditalia in Japan.
I have never seen what kind of projects are being worked on at FABRICA, so this was a great opportunity to know what was really going on there.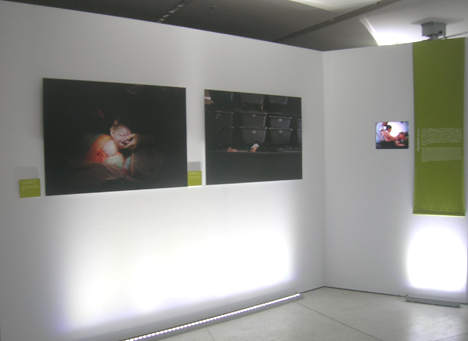 This exhibition consists of mainly two parts, the documentary project (like "I See" and the COLORS NOTEBOOK) and the experimental project (like video, visual communication, interactive installation). For instance, "I See" is the photo journal project in which six photographers feature various social issues on six continents such as ethnic war, life and death, discrimination towards women, extreme weather, the oil problem as well as the food crisis. Through photos of a dead body lying in a coffin and two wive's room next each other in a culture of polygamy, I was impressed once more by how much a photo talks.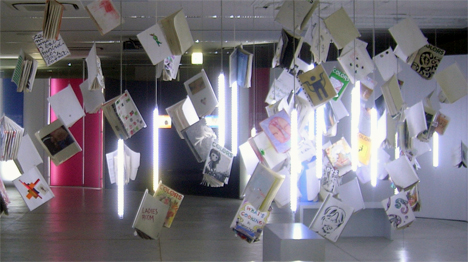 "COLORS NOTEBOOK"(2006-2007) collaboration with Médecins Sans Frontières especially impressed me. This is a project that selected 3000 people all over the world to create an original magazine that uses COLORS as a motif; COLORS is a magazine that the FABRICA has been publishing in four languages since 1991. People made various magazines from a different perspective depending on their countries, cultures and the differences and problems they have. One example was cut in the shape of a heart at the center while others consisted of a collage of photos and featured a used-ticket stuck on the magazine. What was really interesting was seeing the variations in all the designs.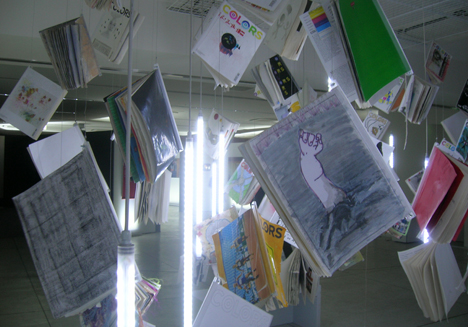 By the way, I could not forget about how shocked I was when I first saw COLORS magazine. I though that COLORS was so much different from other fashion or culture magazines as it came across as very strong visually in addition to the simple and clear words that attracted me so much. The magazine was nothing but a feeling of "I must tell someone about it."
COLORS NOTEBOOK expresses that impulse to tell everyone you know about it, I think. A child in South Africa, a prisoner in China, an astronaut or a student of Art School, each person's life and story appears in their original magazine. Beyond culture, status, age and race, the magazine carefully creates each page so that they could tell "themselves." Each issue of COLORS tells us there are still a lot of things we should know about and work towards in the world.
FABRICA: LES YEUX OUVERTS
Date: 18th January – 2nd March 2008
Opening Hours; 11:00-19:00
Closed on Monday
Place: Shiodomeitalia Creative Center
Address: 2-14-1 Higashishinbashi, Minato-ku, Tokyo
Text and photos: Wakana Kawahito
[Help wanted]
Inviting volunteer staff / pro bono for contribution and translation. Please
e-mail
to us.