Andy Rementer belongs to a new generation of American cartoonists. Although still in the early stages of his career, Andy has a wealthy background already, including illustrations for The New York Times, New Yorker and other collaborations, the likes of MTV or Warner. In fact, he recently awarded as a Young Gun by the Art Directors Club. In addition to his commercial work, Andy has exhibited in America and abroad. He likes to work in different ranges: painting and digital animation, and specially hand drawing. What's more, he also had the opportunity to attend Fabrica, the Benetton's super creative head-quarters in Treviso, north of Italy. `I Wish I Knew´ is his most recent solo exhibition, hosted at Mondo Cane Gallery, an incredible furniture store and gallery in Tribeca, New York. A series of six paintings with a jazz connection in the streets of a timeless New York City.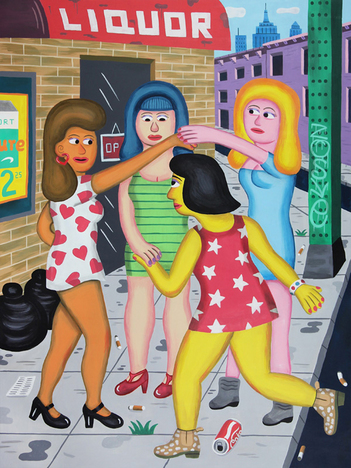 Please tell me about The University of the Arts and a brief description under your point of view about the artistic educational establishment in the U.S.
I studied graphic design at The University of the Arts, where the program focused on a Swiss rational approach to design.
At that time there was a big emphasis on practicing the fundamentals without the aid of the computer. For instance we set type manually and learned how to create letter forms with a brush. This hands-on method has been crucial to the development of my creative process and has also helped me acquire a steady hand for illustration.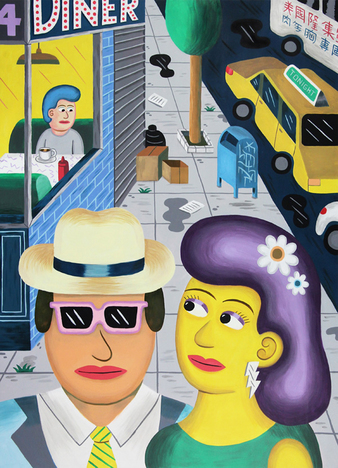 Are you in the need to travel a lot?
I need to travel frequently for my work as well as for my peace of mind: it's crucial to leave my comfort zone and find new stimuli. I spend a lot of time in New York and London, two of my favorite cities, but there are so many places that I'd like to know better. Tokyo and Japan are #1 on the list!
U.S has one of the greatest legacies of cartoonists and illustrators ever: Robert Crumb, Harvey Pekar, Chris Ware, …and the list never ends. Do you find inspiration looking at any of these artists?
Underground comics have always been a huge inspiration for me. My mind exploded when I first discovered the work of Robert Crumb. I quickly sucked up everything I could of his art, so naturally Harvey Pekar came along with that. Chris Ware is another hero of mine. I love storytelling and narrative work, so naturally I'm drawn to cartoonists like him. Daniel Clowes, Charles Burns, Jim Woodring, Tom Gauld and Kaz are some other legends for me, among many others.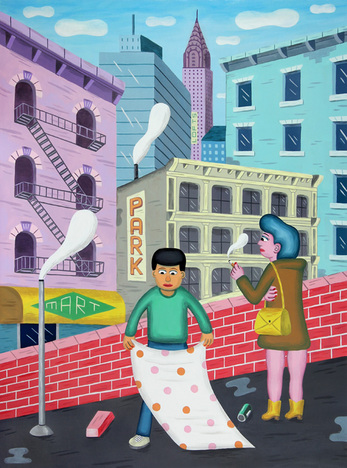 I think you had the experience working for Benetton at Fabrica in Treviso. Could you be so kind to tell me about that experience?
Spending two years at Fabrica, Benetton's creative research center in the Visual Communication department was incredible.
While being a graphic designer for the magazine Fab I also began to develop and define my illustration style.
Techno Tuesday was a personal project that originated during that time. Overall at Fabrica I was exposed to a thriving creative community that left a very strong impression on me.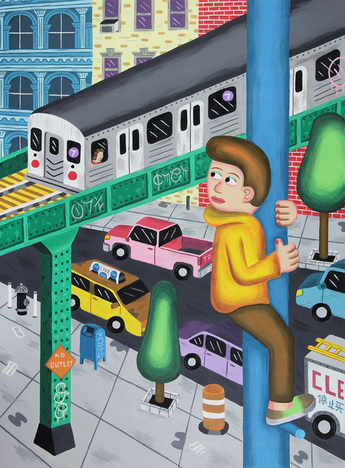 You work for a variety of clients, what projects do you keep with some sort of fondness?
It's hard to pick a specific project. I'm very fortunate that many clients that I admire have approached me for what I do. It's a great feeling to be able to collaborate with so many different people that like my work.
I think you use a wide range of technics, so besides the computer you like hand-made drawing. Could you let me know about this more specifically?
Every assignment starts with a hand drawn sketch. Of course the computer is also involved in the process, but I strive for the artist's hand to come through somehow. My original art pieces instead are entirely hand made.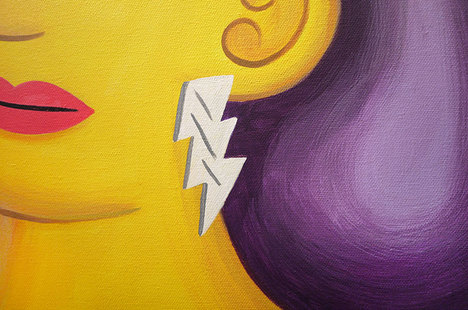 Do you consider yourself a typographer as well or have you created any actual typeface so far?
Type and lettering are very important for me. I have created many typefaces for personal and professional use while working as a designer. I wouldn't consider myself a typographer, but more a devoted lover of typography.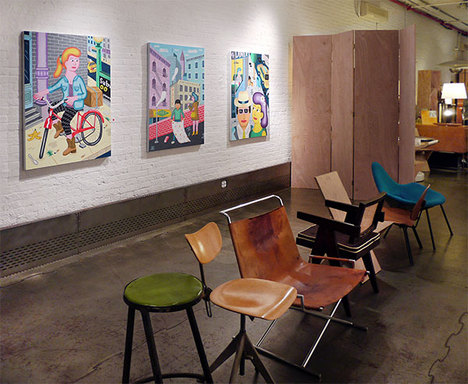 `I Wish I Knew´ is your most recent solo exhibition. How did it go?!
I'm proud of this new series of paintings and so far I had a great response. Mondo Cane has been very supportive and encouraging and it was great to work again with them. The show will be up until November 12.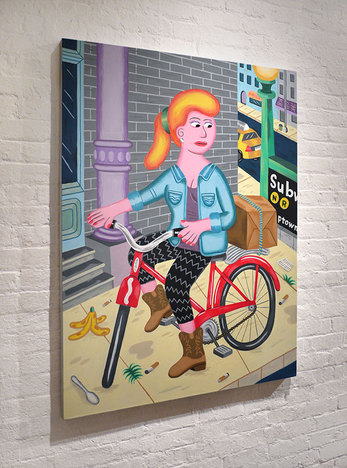 What is the story behind the title?
'I Wish I Knew' comes from a classic American Jazz standard. The paintings are set in a timeless New York City, and a Jazz connection somehow seemed appropriate. There is a sense of ambiguity in each scene that I think this title helped to capture.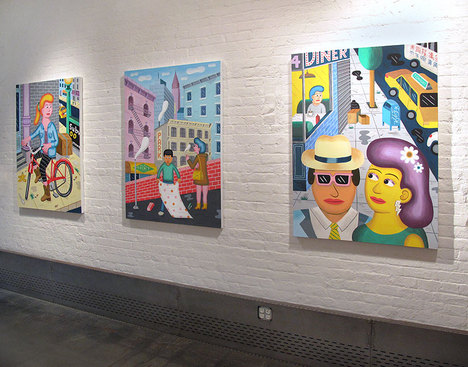 I guess this wasn't your first solo exhibition in New York?
In 2011 I showcased a mix of paintings and drawings at Mondo Cane. The exhibition was up for only a few days but got a huge response. I was thrilled to exhibit my work in a larger scale and duration this year.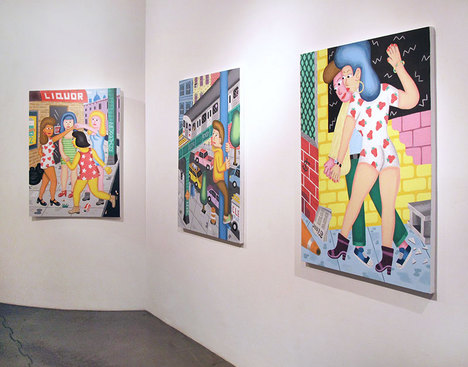 Did you exhibit only paintings?
For this latest show I created a series of six large canvas paintings. A story is told in each piece and I wanted the viewer to be able to concentrate on these small narratives without other distractions.
I think all the pieces are related to some urban scene. Please tell me about it.
I am obsessed with street scenes and urban environments. Cities are the place where so many stories unfold, so it's an endless source of inspiration. The paintings illustrate New York, although the time period is not immediately clear.
Do you plan to exhibit something similar in any other city or abroad U.S?
I don't have another show booked, but anything is possible!
Could you tell me about some projects are you currently working with or further plan for 2013?
I will be giving a talk at Pictoplasma NYC in early 2013, a great way to start the year. I'm focusing on developing my personal art, so I foresee more to come in that area. Also I am represented by Big Active in London and Mr. L'Agent in Paris, so I might pop up in both places soon.
Andy Rementer `I Wish I Knew´
Date: October 25–November 12, 2012
Opening Hours: 11:00–18:00 (Saturday from 12:00)
Closed on Sunday
Place: Monde Cane
Address: 174 Duane St, Tribeca New York, NY 10013
Tel: 212 219 9244
info@mondocane.com
http://mondocane.com
Text: Victor Moreno

[Help wanted]
Inviting volunteer staff / pro bono for contribution and translation. Please
e-mail
to us.