Now that Tokyo Designer's Week has successfully wrapped up, with the legions of designers catching flights out of Narita its time for a little rest and to sum up for those that couldn't make it.
DesignTide is in its 3rd year and for those who don't know, is an event that hosts selected designers from all over the globe and presents networking and retailing opportunities for designers and design aficionados alike.
The result is Tokyo's transformation into one massive design playground with receptions, openings, parties and exhibits that extend to 50 selected boutiques and venues around Aoyama, Harajuku, Roppongi and Maronouchi. DesignTide itself selected the National Stadium in Sendagaya for its main site.
At its best yet, DesignTide was a proper fete of furniture and household design, product, fashion as well as graphic design; in short- DesignTide is all about the necessary things in life- what you really need. Declaring "Play" as this year's theme, the twenty-four featured designers at TideThink inspired us to all be play-ers.
Here's some of the best of:


Ibars and Waldemeyer, courtesy of DesignTide
Roger Ibars' work blends two aspects of technology-based culture. On one hand you have old electronic devices, like alarm clocks, from the 1970s and on the other hand, video game controllers from 90s. The result? Idiosyncratic, working objects that make you think twice about user interface while relapsing that video game addiction you once had. Moritz Waldemeyer's Pong table at TideThink was perhaps the most gravitational piece at DesignTide. Once visitors discovered the thousands of LEDs integrated under the surface and realized they were playing the ever-classic Pong, blissful play continued all week on the sleek, minimal dining surface.


Nash and Ozgen, courtesy of DesignTide and Martin Holtkamp
Heath Nash's beautiful hanging plastics, made from recycled material, were one of the most eye catching this year. The South African designer's love of nature led him to play with synthetic materials and explore their relationship with light.
Koray Ozgen's Asteroid lamp is made of 24 sides, depending on how it is set, it is an individual polygon. As it is impossible to catch light's shape, it remains a free form medium for many to work with; it is as if these lights are accommodating and imitating the free form of light itself.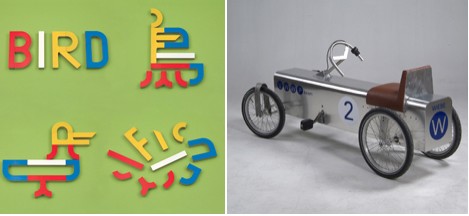 Dainippon and Piet, courtesy of DesignTide
Another two of the most playful and inviting works on display were by Dainippon Type Organization and this memorable Go-Kart by Piet Hein Eek. If you had a set of alphabet letters like this for your refridgerator when you were a kid, then you'll have to have. Experimental typography duo Hidechika and Tetsuya Tsukada manufactured a myriad of letters and characters based on the Roman and Japanese alphabets and invited users to align and combine in order to make new letters and fonts; leading us to believe that typeography = toypography. Another definite attention grabber was this go-kart by Piet Hein Eek. Synonymous with youth and fun, the go-kart's nostalgia allows it to remain playful as its passed on from generation to generation. If you want to take it for a spin you're not alone.
TideExhibit featured other displays by more first class designers…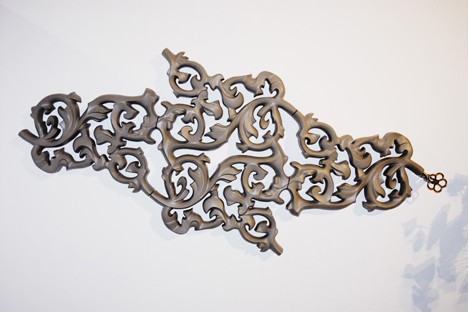 Laarman, courtesy of DesignTide
Dutch designer Joris Laarman brought his rococo radiator- beautiful in detail and of course, it really works!


Sylvain Willenz, courtesy of Sylvain Willenz and DesignTide
Two more remarkably creative and stunningly visual works were presented by Sylvain Willenz and Marti Guixe. Willenz' work is a nice subtle blend of graphics in product design. His wall mirrors are thin and have a 3 dimensional appearance due to the printed graphics. Also on display were his lighting. Guixe's Canvas Chair invited everyone to interact by painting all over it anyway you wanted. Showing us that furniture design is also an art piece. The product is completed when the user has participated, making it a one of a kind. Power to the people.
At the TideMarket, was a great opportunity for meet'n'greet with designers and buyers alike. Lots of well-designed products and crafts from over 20 young and old designers on display…and sale!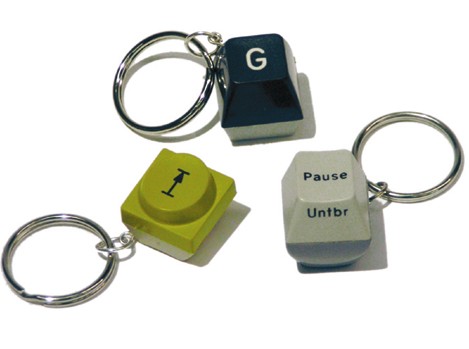 Inviting you into their world of sustainability, the "Treasures of Wasteland," Secco dedicatedly practice their mantra of recycle and reuse by converting obsolete industrial products into high-quality and highly functional, not to mention visually appealing products.


PoeM and Wasabeat- Monika Uchiyama and DesignTide
Not all items were for display of course, some were pocket sized: PoeM is carrying the torch for all the DIY enthusiasts out at Design Week was PoeM with his sturdy yet slick duct tape imbued wallets. Another eco-themed product from reused material, PoeM's product's have been produced for two years now and since their inception, the designer has yet to buy a wallet. Wasabeat is actually an online music store featuring club music which hosts several releases from independent and semi-major labels. Their USB mixtape brings back that analog feeling of a real mixtape in an age where music has gone digital.
If you were feeling the slightest bit lonely or blue at DesignTide, grab one of these cute stuffed bears: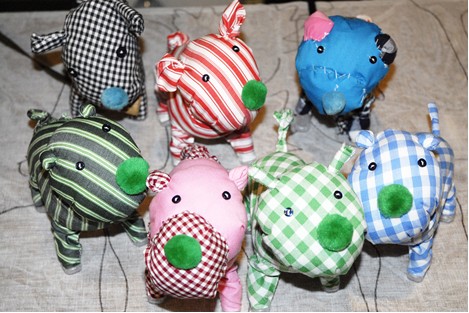 Ossu – Courtesy of Martin Holtkamp
Shoichi Ishizawa was representing this cleverly inventive group of craft artists – Ossu Syugeibu with an even more clever sense of humor. These 'Robogurumi' were an overall favorite- made from a dismantled toy puppies and reincarnated as a cute, granny-sheik moving and barking puppy monster.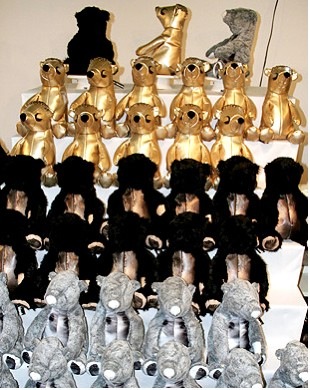 Blank Bears, Courtesy of Monika Uchiyama
The Blank fashion brand work to make our everyday lives more pleasant with clothing items as well as the Golden Buddha Bear made with their original technique of photo transferring. The army of 100 of these bears made for a bright corner at DesignTide.
Overall, an inspiration-full week which once again proved that DesignTide was one of the best shindigs of Tokyo Designer's Week, and this was just a snippet of it all.
DesignTide 2007
Date : 31th October – 4th November, 2007
Area : Aoyama, Harajuku, Shibuya, Roppongi, Marunouchi, Tokyo
Tel: +81(0)3-5770-4127
http://www.designtide.jp
Text: Vicente Gutierrez
[Help wanted]
Inviting volunteer staff / pro bono for contribution and translation. Please
e-mail
to us.