Mifrel... has an incredibly mysterious sound.
The first art exhibition "GRANDMA'S LOVE" in Tokyo occurred last March from the 21st to the 25th. It was launched in last year by Japanese artist Tomoaki Ryu and Taiwanese artist Wei-Wei. Ryu and Wei-Wei met in The London Institute Central Saint Martins College of Art and Design where they studied graphic design. Wei-Wei also studied textile design at the same school. Ryu has been featured in SHIFT often since his piece was selected in the SHIFT 2005 Calendars competition.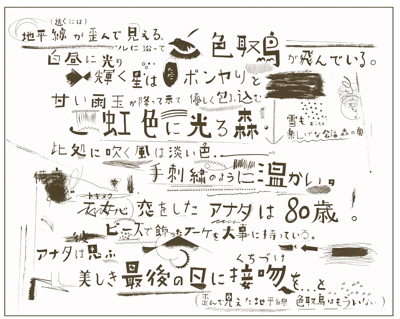 The exhibition was held on the 4th floor of the building. It was full of sunlight and a feeling of hospitality. After I looked at a lot of clothing, accessories and sundry goods I interviewed them with handmade sweets and tea.
First, I have to correct 2 misunderstandings. One of them is in regard to this exhibits name. I heard its name is " GRANDMA'S LOVE". I guess that meaning is "LOVE FOR GRANDCHILD" or something?
"My grandma is over 80 and fell in love. Her story surprised me. Because I didn't think 80 year old people could have such feelings. Not only me. Tomoaki and Wei-Wei were surprised at her story as well."
The 2nd misunderstanding is about the content of the exhibition. I thought there were some T-shirts and sundry goods; In fact there were so many full-dress clothes. They are delicate, warmly-colored, and provide us with a sense of warmth. Their sewing is tight.
The sentence in the left bottom of the top of the picture is "IRORIDORI GA TONNDEIRU", "NIJIIRO NI HIKRU MORI". They are like fragmentary-poems, and correspond to this exhibition. It is a trap to stir a visitor's imagination up. They are going to try new communication methods that we cannot typically see in a fashion exhibition. The members of mifrel did not graduate from fashion school. It took so long time to launch a new brand because there was a lot to learn. It took 2 years to get information about clothing, production, structure of dress and so on. We don't like to be see "lukewarm" jobs by graphic designers. We studied very hard.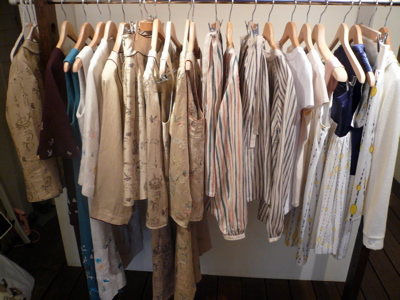 They have different source of inspiration. For Wei-Wei it is "old things like an a Antique, grandma's goods or the feeling inside them as well as, anything. Things from my life, friends, movies, music, everything around my life affects me."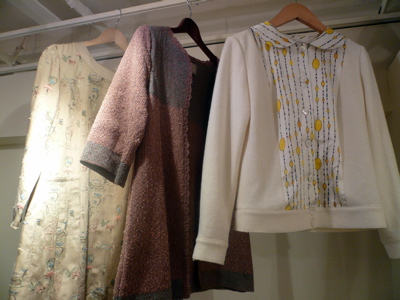 And Ryu said that the people that inspires him the most are his parents. As a partner, they affect each other including bad meanings. They talk and laugh, thinking that each other is "crazy". They studied different fields and therefore seem to have different viewpoints. But there are few case where they disagree. They work better together, helping each other evolve. They want to create something not just for consumption, but to be treated preciously, changeless and have a distinct message. In the future, as they develop mifrel and try to go abroad often and they want to know how compare their skills with others.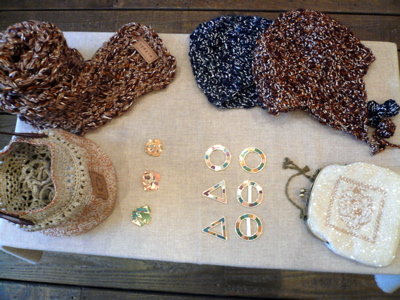 Finally, I will present a message from them to you.
Wei-Wei "You should not have a busy life. You should be relaxed and pay more attention to feelings. It may make you more closer to your neighborhood."
Tomoaki Ryu "You should enjoy your own life and challenge what you want. Don't forget to challenge to something."
GRANDMA'S LOVE
Date: March 21st – 25th, 2007
Place: Aoyama 401
Address: 2-5-9 Shibuya, Shibuya-ku, Tokyo
http://www.mifrel.co.jp
Text: Yuhei Kikuchi
Translation: Haruka Kibata
Photos: Yuhei Kikuchi

[Help wanted]
Inviting volunteer staff / pro bono for contribution and translation. Please
e-mail
to us.