This month's SHIFT cover was designed by a Sapporo based design unit "harmonica bldg." Their works are not only cute or only pop, but are filled with playful spirits. One of their works was selected as a winning work of SHIFT 2007 Calendar. They will have their first exhibition at SOSO from March 3rd.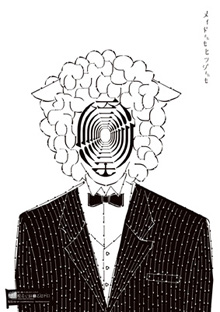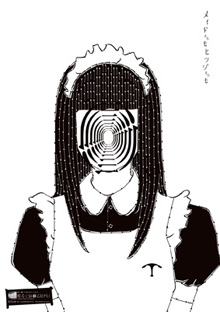 Could you tell us about "harmonica bldg." and its background?
"harmonica bldg." is a design unit consisting of a man and a woman, Naoki Fujita and Kaori Kojima. Formed in 2004 and based in Sapporo. We both are working for different design productions, and doing "harmonica bldg." as another creative place, where we suggest what we cannot usually express at works. But the private and the work are not completely separated, and we hope to link those more, eventually.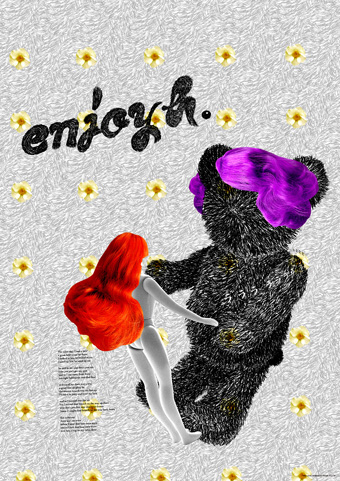 How did you meet each other and form the "harmonica bldg."?
When we had only known a short time, we had an opportunity to show each other's works. We found it interesting both similarities in tastes and differences in methods in our works. After a while, Kojima was asked to draw Fujita's illustration, and that's how we decided to create something together seriously.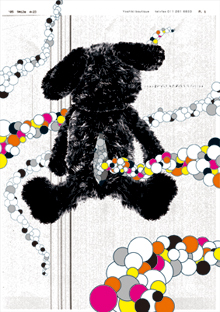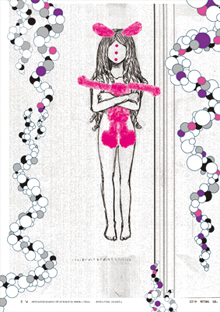 What is the main project you've been working for?
During initial phases, we were working mainly for our friends, such as advertisement, posters and tools for friends' fashion shop, name cards, exhibition's flyers, etc. Then, we started receiving offers from someone who liked those works, and last year, we did the book design of "Hannya Shingyo – Zero".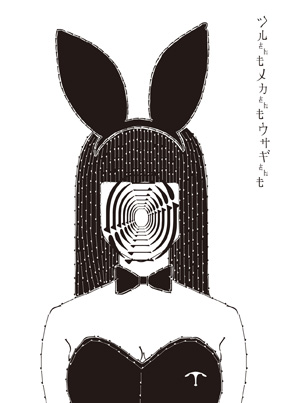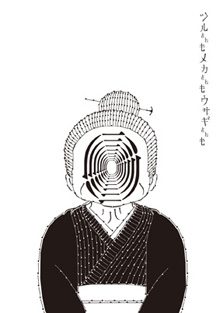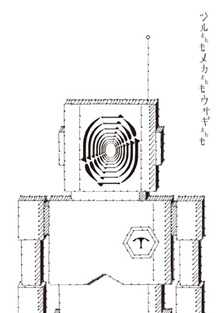 Could you tell us about the "Hannya Shingyo Zero" and your work from the book which was also selected for SHIFT 2007 Calendar?
"Hannya Shingyo – Zero" is an art book of Hannya Shingyo (a kind of Buddhist scriptures) by Mr. Yugan, a resident priest and also a friend of us. This project was planned to make "Hannya Shingyo" closer to young people who have not touched on it, who have been not interested in, and who have been back away from it. About 30 groups of artists participated.
The work of "Maid and Sheep" was posters we made for the release party. One is "Made" selected for SHIFT calendar, and the other is Steward Sheep. We had these characters as inhabitants far away from "Hannya Shingyo" in keeping with the book concept.
Are there any characters except the Made and Sheep?
Yes, there are also Crane, Mecha, and Rabit we used for flyers. The Crane is not a bird but an old lady (as "Tsuru" in Japanese has both meanings as crane and common name of old ladies). The Mecha should be Kame (tortoise), but somehow became Mecha. And Kame should remind of Rabit next, but it also became a bunny…We know it's getting out of alignment of the original target.
The teddy bear as a new year greeting card we received from you was really impressive. Could you tell us about the teddy bear character also?
Well, it's actually a dog… Everyone often gets it wrong… The character originally came from a poster for a fashion shop. The poster had a theme of a girl whose interest is shifting from plushie to clothing, and the visual became to be with colorful balls coming from inside the belly. We made it a work, exploring the reason why the belly split off.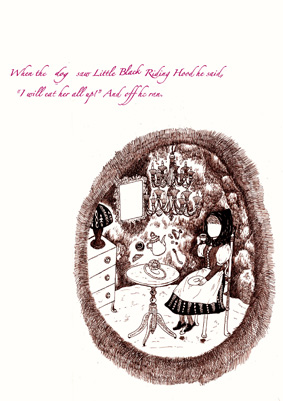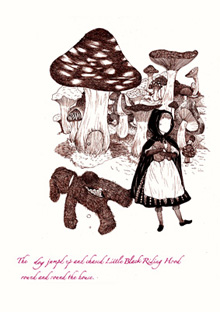 You'll have your first exhibition from March 3rd at SOSO. How do you feel about it?
We of course feel uplifted as this is our first exhibition, but at the same time, we think it's also a culmination of a series of our works started with "Hannya Shingyo – Zero". After the exhibition, we hope to feel "this method was completed".
How the exhibits or the opening party will be like?
It's a secret. Having an opening party will be also the first experience to us as well as the exhibition itself. There is a little bit pressure on us, but would like to do it without being too eager. It would be great if it will be something visitors can really enjoy.
Could you tell us the concept of SHIFT cover?
We "SHIFT" one of our works from the exhibition on March. Many things are changing even during a time of blink. We simply expressed the message that it's important to notice and focus on such things.
What is your next plan?
We have lots of details to do including finishing our website, etc.. But for the meantime, we would like to make many works which are enjoyable for both ourselves and other people.
Please leave a message to readers.
Thank you for reading this till the end. It was a honor to work for SHIFT cover. It would be great if we could have some new "connection" after this opportunity.
harmonica bldg.
Naoki Fujita | Kaori Kojima
http://www.h-bldg.com
info@h-bldg.com
Translation: Yurie Hatano
[Help wanted]
Inviting volunteer staff / pro bono for contribution and translation. Please
e-mail
to us.