This month's SHIFT cover was designed by JUN OSON, an illustrator whose work was featured in "SHIFT 2007 CALENDAR". His works show impressive and unique touch with a sense of humor. The cover has a story. Please check it again after reading his interview.

Please tell us a bit about yourself.
Hello, I'm an illustrator, JUN OSON. I was born in 1979 and raised in Japan. After graduating from the university where I learned design, I worked at a design company for about a year. After leaving the company, I started working as an illustrator.
What was the trigger for working as an illustrator?
Although I have liked drawing since I was a kid, it was not that "I cannot live without drawing". So I chose commercial design which I liked as well as drawing because I thought it's more practical. Then, I entered the university to learn design. My desire to be a designer continued still after graduating, and I started working at a small design company in Nagoya. However, there I found the reality that was far away from the design operation I was expecting before. With such reasons, I went back to my first objective, and my thought "how about making a living with drawing I like?" became strong, then I decided to aim at becoming an illustrator.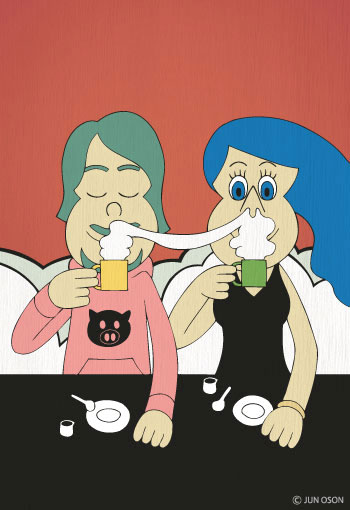 Please introduce some of your main works.
The works on my home page JUNOSON.COM are my main works.The first I'd like to mention is Flash animation. It's titled "ALLWAYS Manner Mode Mana Chan". In fact, it's the first Flash animation I ever made.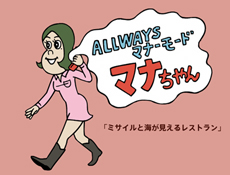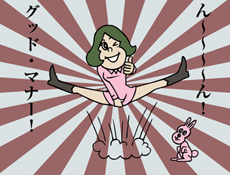 II really feel uneasy when I go to the city and see someone not following the public rules. Though I also think "is it only because I am too nervous?" at the same time. "ALLWAYS Manner Mode Mana Chan" shows various interpretations about the manner with a sense of humor and the cute animation.
Next, the series of Mini Manga is called "FREEMAN".As the title shows, it's a surreal comedy pulled out by a main character Alex who doesn't have a job and other characters around him.As I said before, I am the person who really care about rules, but I let them do the opposite.
Please tell us about your recent activities.
Working for illustration of some websites and also for T-shirts graphics, I am trying to let everyone know about me these days, by holding a solo exhibition and applying for several competitions.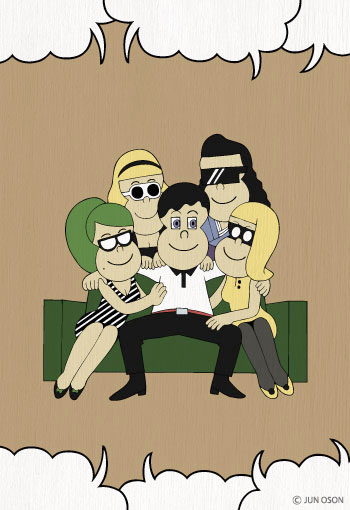 Your works have impressive titles or promo words, and also show a background story. Could you tell us your policy about such words or message?
I am very happy if everyone feels that way. I like pop art, and am very fascinated with the "sardonic" part of pop art. For example, Andy Warhol printed exactly as Campbell Soup, Marcel Duchamp put his signature on a toilet bowl, and they stated flatly that "it's an art". I strongly remember the great shock when I saw them. At the moment, I know a lot of artists who have the "sardonic" sense in a good balance, and the works they create are really cool to me. My works are not that completed, but I am always very conscious of the "sardonic" sense.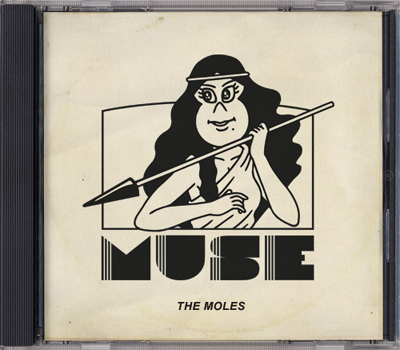 As for the story, you might think that way because I often draw getting ideas from imaginary stories. As an extension of such imaginary stories, I made a series named "Delusion CD Jacket". In this series, I create CD jackets of inexistent bands even though nobody ask me to do that.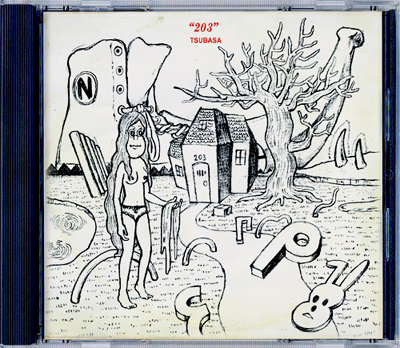 What made you to enter the "SHIFT 2007 Calendar Competition"?
I have known SHIFT itself since my school days. In due course, I have known about the calendar competition and felt a longing toward it, but was thinking "I can never be selected". However, taking a cue from when moving up to Tokyo, I started hotly challenging in several competitions, and decided to enter the calendar competition as part of such activities.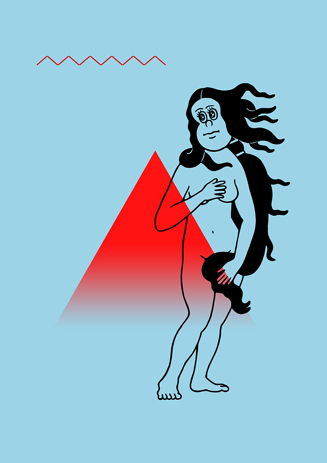 Please describe about your selected work in the calendar.
It's a venus with peanuts head, mountain, wave, and light blue background. As I don't really like something messy, I scraped unnecessary details off as possible. As you know, it's the peanuts head version of "The Birth of Venus". I took the original drawing on campus into Mac, turned it in vector data, and mixed with other elements.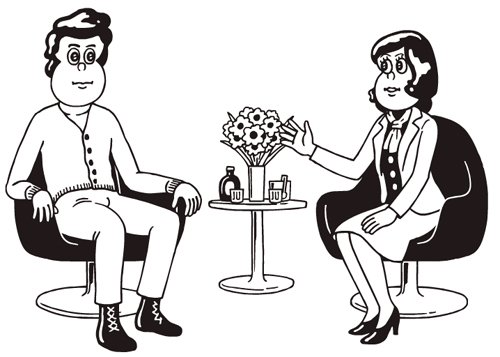 Please tell us the concept of this month's SHIFT cover.
The man on the left being interviewed breaks off the interview saying "wait a second". He thrusts his hand into his pocket, positions something between his legs, and signed "OK" to restart the interview. "Shift the position" could be the proper title of this work. I guess no one can understand this meaning of Shift just by watching the animation, so please go back to the cover again after reading this description. You will find some new interest factors in it. Especially, you should not miss the facial expression of the man. I'd be very happy as a creator if you could imagine their conversation and think "it's somehow funny".
What is your next plan?
Making this cover, I reaffirmed that animation production was surely hard, but at the same time, it gave me great feeling when I could move characters as I wanted to. Therefore, I would like to willingly get into the animation from now. Also, I would like to go abroad as I've never been outside of Japan!
Please leave a message to readers.
I will steadily do my best, and am happy if you can slightly keep about me in your mind. It would be also great to receive your comment for my cover work or anything else. Thank you for reading till the end.
JUN OSON
Address: 203 Amuse Nerima, 3-13-2 Nerima, Nerima-ku, Tokyo
Tel: +81-3-3993-1741
info@junoson.com
http://www.junoson.com
Text and translation: Yurie Hatano
[Help wanted]
Inviting volunteer staff / pro bono for contribution and translation. Please
e-mail
to us.