On a summery Saturday in June, the stark gallery space of Para/Site will be filled for eight hours with music that breaks boundaries, eleven acts from all over Asia, and plenty of music-lovers. As Hong Kong's first festival showcasing experimental music, what's noteworthy about the SAND Festival is that its beginnings rest with a story of four friends, and a place called White Noise Records.
To a select few in Hong Kong, White Noise Records is as much an idea as it is a place. This refuge of a record shop on the second floor of an unassuming building in Causeway Bay is, to some, a plain necessity, fuel for the soul. Wilson Lee, one of the SAND organizers, visits White Noise about once a week. He explains that "if one doesn't have the heart to seek other music out, Cantopop is everywhere."
The other festival organizers agree, because they share the same experience. Like millions of Hong Kongers, Wilson, George Chuk, Enoch Kwan, and Gary Ieong grew up besieged by constant waves of Cantopop. Fortunately, the age of the radio evolved into fansites and fax-in mail orders. When godsends like The Wire Magazine and MP3 filesharing became available, they were able to traverse a multitude of pathways that led from Cantopop to Pearl Jam to Radiohead to postrock to metal to drone to free jazz. Enoch describes it as "downloading a thousand songs until the hard disk explodes!" Despite the almost infinite nature of downloading, even that is no longer the only option for those in search of new music. "So many styles are accessible at White Noise," Wilson says. "I play guitar, and here, I can find so many ways that people have used the guitar. It makes you realize the possibilities."
This momentum doesn't end with records and MP3s. Inevitably, the drive for new music leads to live music. "Back then, there were no live shows really, just bootleg videos," George recalls. But now, that's changing. In two years, White Noise Records has already hosted in-store shows that range from drone, chanting, and organic sounds to performance art. Gary also notes that the last five years in Hong Kong have seen the growth of the indie music scene. "People are increasingly putting out homemade cd's," Gary notes. "In the past, people here didn't really pay attention to music, but now the general public and the media are becoming more conscious of music." He adds that many who make music tend to be steeped in the music of the past, and that musicians could benefit from listening to everything, underground and current.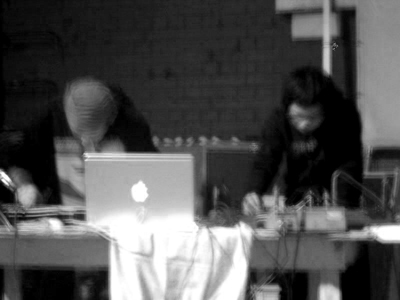 This is one of the goals of the SAND organizers. It goes without saying that they are challenging the dominion of Cantopop, but they are also – ambitiously and admirably – aiming to go beyond the alternative stronghold of indie rock. The idea for the festival came together because they wanted to provide that space for local, experimental music. Making a deliberate choice to include more than one style, George jokes, "Eleven acts of laptop music might be a bit boring for the audience!" Wilson adds, "We want to give people more of an experience. Even if eleven laptop sets were exciting, we want to break boundaries." George says that they also want to show that electronic music isn't only made by people with laptops.
The artists participating in SAND come from all over Asia. Their approaches to music are also vast. Ang Song Ming from Singapore has set up multiple guitars for the audience to play by hitting plastic balls at the instruments. Cedric Maridet from Hong Kong explores the relationship between image and sound. New Fairfield Parks & Recreation (NFPNR) from Hong Kong transform urban sounds into something "sublime and dissonant," writes one reviewer. ZenLu has invented an abstract electronic sound which has pioneered a new kind of creativity in mainland China. Some of the artists are also involved in promoting boundary-pushing music in their hometown. In Malaysia, Yeoh Yin Pin, one of the SAND participants, runs a number of labels dedicated to experimental, creative works.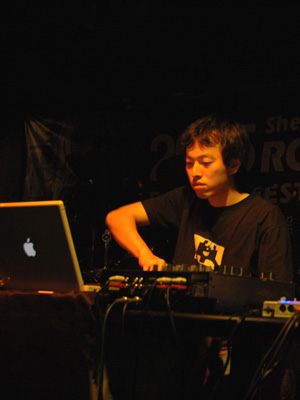 This evening of new music will be accompanied by a prior weeklong exhibition of gig poster art by the Montreal duo Seripop. George asked Seripop to participate in SAND because of their role in Montreal's silk-screening DIY scene. Seripop's love of music is embodied in their posters and album covers, the same way SAND embodies sound, art, noise, drone, as well as the Chinese word for sound (sang).
For these four friends, SAND is not an end in itself. George explains that their intention is to use minimal resources to provide a platform on which like-minded musicians can collaborate. "We want to do more festivals in the future. We want to inspire collaboration, not have people just attend the show and leave."
At one point, someone in the room says, "We in Hong Kong don't have this DIY spirit yet." Given that these four friends mostly got to know each other through White Noise over the last few years, and that they put together Hong Kong's first experimental music festival, financed it purely out of pocket and out of a love for music, we may be able to refute this. SAND is coming, and it definitely has spirit.
SAND Festival 2006 (Hong Kong)
Date: 24th June, 2006 (starts at 4.00 pm)
Place: Para/Site Art Space
Address: G/F, 4 Po Yan Street, Sheung Wan, Hong Kong
Price (At Door): HKD$120 (incl. one drink)
Contact: sandfesthk@gmail.com (+852) 9689-1299
Tickets: whitenoise@netvigator.com (+852) 2591-0499
Organizers: Enoch Kwan, George Chuk, Wilson Lee, Gary Ieong, White Noise Records
List of Artists: Cedric Maridet (Hong Kong), Dickson Dee (Hong Kong), Fathmoun t (Hong Kong), Pei (Taiwan), Nanahara Shuya(Hong Kong), New Fairfield Parks and Recreation (Hong Kong), Peter Scherr (Hong Kong), Sylvain Holtermann (Hong Kong), Ang Song Ming (Singapore), Yeoh Yin Pin (Malaysia), Zen Lu (Shenzhen,China)
Text: Kat Lo
[Help wanted]
Inviting volunteer staff / pro bono for contribution and translation. Please
e-mail
to us.