"In October 2003, while I was having a cup of coffee in a bar and reading Hecho en Buenos Aires, I found a small article about the last championship. I immediately circled it and wrote Documentary. I wanted to tell the story", Damian says. "That's how it all started".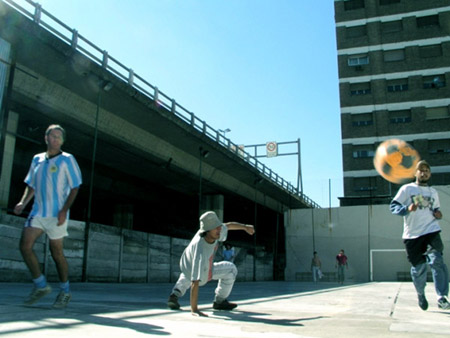 Damian Cukierkorn is the writer, producer and director of "The Other Cup", a documentary about the training and participation of the argentine team in the 2004 Homeless Football World Cup at Gothemburg, Sweden.
The boys in the team were coordinated and reunited by homeless BA magazine "Hecho en Buenos Aires" (Made in Buenos Aires) and they traveled to Sweden in July 2004.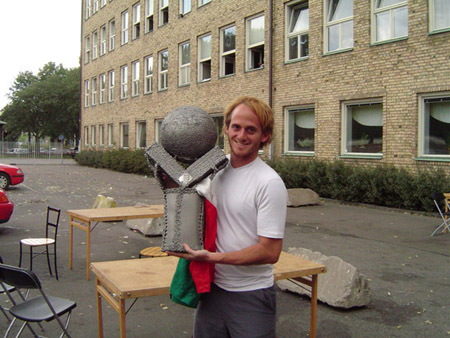 This is not a movie about homeless people. This is a movie about a team.
It's not a dream team but it's a group of people playing for a dream: to be heroes, even for one day.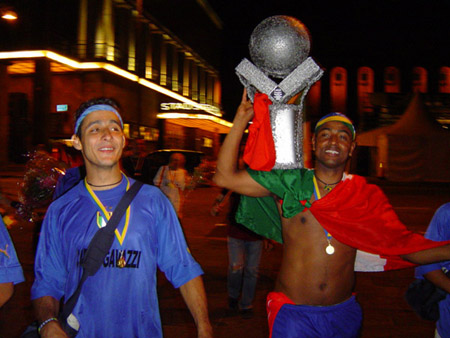 "Tell me one thing, wouldn't it had been better if they gave you the money to live in BA instead of paying for this trip?", asked one latinamerican journalist. "No, all of us play football and love it, so this is a unique experience. Money isn't everything. Football is". This is Omar's answer. Omar is our hero. The homeless Maradona.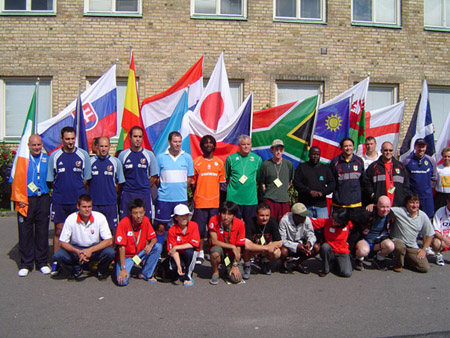 Cukierkorn is an argentine journalist and filmmaker who's been working as a reporter for many years. He also did research on politics and social issues for TV and broadcast shows. He worked in local movies as well.
He's extremely professional but he's also the boy next door. Unpretentious and witty at the same time, he's got a local sense of humor which he uses to relate to the players. He can merge with them so we can see life through their eyes.
In the movie, Cukierkorn is like one of the boys and he's more than that: a tutor, a translator, a guide. He becomes a silent member of the group and a witness of their lives. He even feels responsible, in a way, for them and their trip.
When it was time to take off, Damian decided to be alone with the players, without any other member of the film crew who would interfere with the everyday building of their relationship. And he succeded. They let him in, so we can get in as well.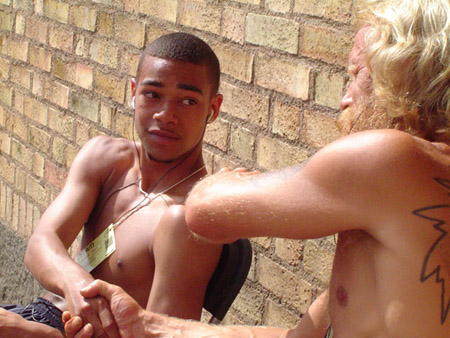 The argentine team is not the winner of the tournament, but in a way it is. For us, they are all Maradonas. We feel their happiness and expectations, their fear of flying, their childish need of guidance, their pick up lines to get the girl. We want them to win in every step of the way. We know these men. In the movie, we travel with them to a place in their fantasy. And for a moment, that place is real.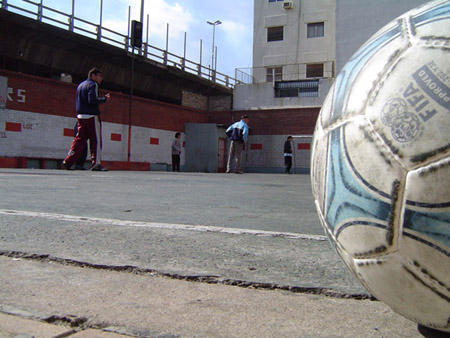 "The Other Cup" was shown at Buenos Aires Independent Film Festival (BAFICI) as a work in progress, and it also participated in International Film Festival at Gothemburg, Sweden in "It's all true" section. At this very moment, Damian is in Cuba, where the film is competing in Festival de Cine Pobre de Gibara (Gibara's Poor Film Festival).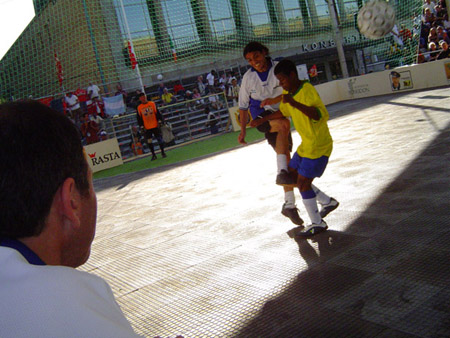 Damian recalls that "when the movie was screened in Sweden, I was very nervous until I noticed that people actually liked it, they were all laughing, they understood what was going on (which I fear they wouldn't) so then I could relax a little bit. There were many moments where people laughed out loud and it was truly unbelievable".
"When it was all over, he continues, a boy came and asked for my autograph, I was very intruigued about that but he insisted! Then a girl asked for the soundtrack of the movie. And the next morning, it was such a big surprise when a lady from the Guest Department asked me if I had seen the cover of the official Festival magazine where there was a picture of me kicking a ball. Now I can say I was the cover guy once!".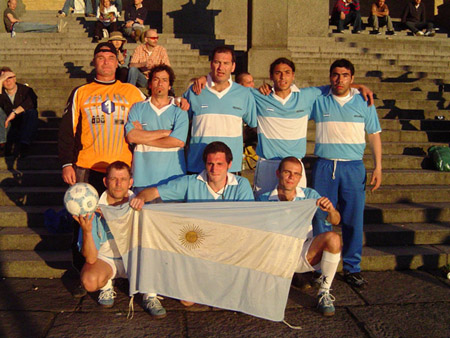 I watch "The Other Cup" many times. I'm so moved by it I cry. There are both sadness and joy wthin this crying. I feel transported to a world that surrounds me. A world I can barely look at without blaming myself for being human.
But then I experience the lively and hopeful spirit of "The Other Cup" and I understand life is way more simple than what we think. I can feel the boy's happiness and I can also sense the spontaneous brotherhood among all teams that goes beyond this competition.
And Damian, so far away from cliche, lets me be a part of this colorful dream world where these guys live, most of the time.
Text: Gisella Lifchitz

[Help wanted]
Inviting volunteer staff / pro bono for contribution and translation. Please
e-mail
to us.