THE 9TH JAPAN MEDIA ARTS FESTIVAL
Have you heard about the "Japan Media Arts Festival"? Shift has featured it in the past several times. As the name tells you, it is a media art festival the Japan Media Art Plaza holds every year. This year is the 9th festival. Most of the works are submitted by candidates not only from Japan but also from all over the world. During the period of 25th February – 5th March, selected works from those candidates are exhibited at Tokyo Metropolitan Museum of Photography and displayed by each category- Art, Entertainment, Animation, Comics. Besides these categories, works received a performance award are displayed and the Student CG Competition is held. This festival also looks toward talented young artists who will come to the front in the future not only artists currently earning a great achievement.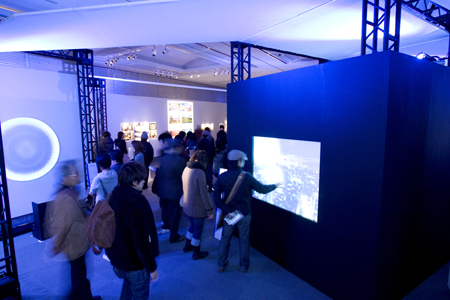 Here in this issue of SHFT, I'm only introducing you several impressive works regardless winning the awards. Detail information about the Grand Prize, outstanding performance awards and other great awards in each category is available on the web site of the "Japan Media Arts Festival".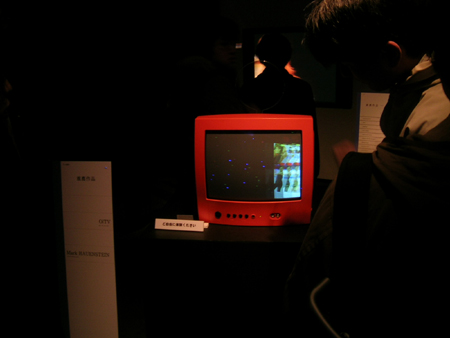 "OiTV" by Mark Hauenstein from the Art Category is a general tube TV, but as you touch, hit, or groan toward it, an image on the screen will change along with these outside effects. When I was playing with this TV, just a regular gossip show was going on which you can usually see on a TV. The show was nothing special, not like it was created only for his work. That, it was a real time TV show and changed with the effects was so astonishing. His trick is worth enough breaking our concept of TV. In the common thought, we cannot interrupt the content of a TV show unless we record it on videotape. It is just broadcasted endless as scheduled no matter what audiences think about it. However, with "OiTV", we can put some effects on the TV show from the outside based on how we want to play with it—by hitting the side or top of "OiTV" or tilting it. There is no special manipulation. Probably he put some special trick inside of the TV. His idea itself has humor and very favorable.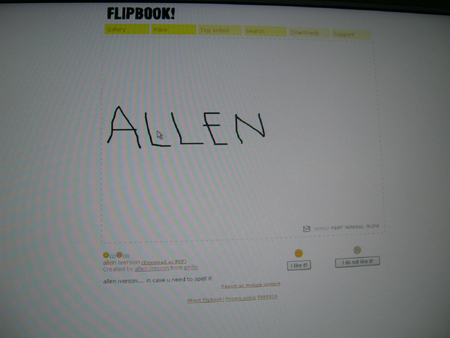 "Flipbook!" by Fan Carlos Gonzales from the Entertainment Category is very interesting by far. It is a computer program for frame animation that moves online. Anyone can enjoy this program easily. "Flipbook!" is actually available online. If interested, go online and try it. You will have so much fun.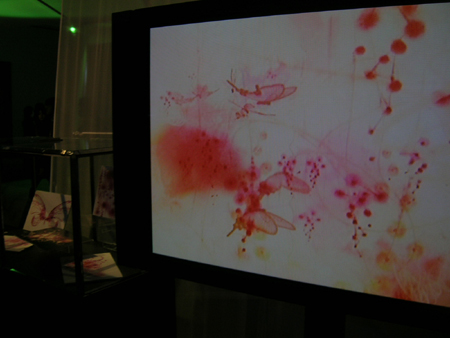 Although the Grand Prize "Flow" by Sumito Sakakibara which is a short animation film is a very brilliant work, "Flowery" by Daisuke Hashimoto is also impressive. It is a simple idea but has power to attract audiences.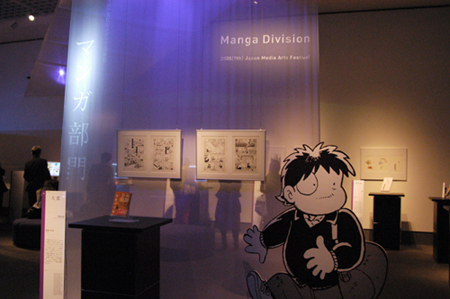 For the last, I want to go over with my favorite category of all at this festival, the Comics Category. I have looked over any comic books known as good ones, but it is hard to find only good ones from comics published almost everyday in such a comics power, Japan. Of the works selected for this kind of festivals, there still exists unknown comics and this opportunity to discover them is a very pleasure experience. At the exhibition of the Japan Media Arts Festival, it selected ones of the few comic books. This is one uniqueness of this festival.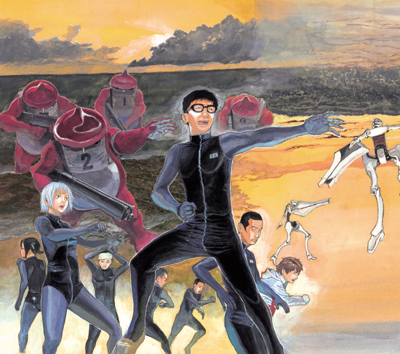 "8 Fortune Gods Manuever Brigade" by Satoshi Fukushim © Satoshi Fukushima/Enterbrain
"8 Fortune Gods Manuever Brigade" by Satoshi Fukushima particularly stood out in my mind. The story is about neo-futuristic SF, girls, and wars (battles), containing such a stereotype-story-set (It reminds me of a Japanese animation "PATLABOR"). Despite that, its outcome is eccentric. The story revolves in the neo-futuristic Japan which is disclosed to agendas between powers and threats from them. It is not new that the story reflects the current picture of Japan, but its tongue seems to be a mix of the old and new and it gives a weird quality with pictures to the comics.
I introduced just some of the works here, the total more than 180 exhibited works are at the festival. I saw so many great works. You don't have to worry about an artistic abstrusity likely seen at a general media art exhibition. Exhibits at the Japan Media Arts Festival are relatively more acceptable and favorable to many people. In the next year, the Japan Media Arts Festival will come to its 10th holding. I will greatly look forward to the outcome of the next festival, as it will be a momentous year. Likewise, it will be a good opportunity to rethink about what the media art is, that has become much more familiar to us than 10 years ago.
The 9th Japan Media Art Festival
Date : 24th February – 5th March, 2006
Place : Tokyo Photograph Art Museum (Inside of Ebisu Garden Place)
Address : 1-13-3 Mita Meguro-ku Tokyo, Japan
Entrance: Free
Organaizer: Japan Media Art Festival Executive Committee
(Agency for Cultural Affairs, Computer Graphic Arts Society)
Contact: Computer Graphic Arts Society, Office of Japan Media Art Festival
Tel: +81-3-3535-3501
contest@plaza.bunka.co.jp
http://plaza.bunka.go.jp/festival/
Text and Photos: Yasuharu Motomiya
Photos: Photoperformer Pas
Translation: Fumika Sugimoto
[Help wanted]
Inviting volunteer staff / pro bono for contribution and translation. Please
e-mail
to us.