Prize winning works of Media Arts Festival for Cultural Affairs were announced on the 19th of November. This festival had many Japanese top media arts in 2002. It hits its 6th round and has been building as one of the cores in world's media arts like Ars Electronica. It is not too much to say that this year's prize-winning works showed us the state that surrounds the current media arts.
In the computer graphic and animation section, I could see quality content with impact, which can compete with large-scaled-theatre films and TV programmes on even terms. Even motion graphics made by an individual is getting to be quite normal.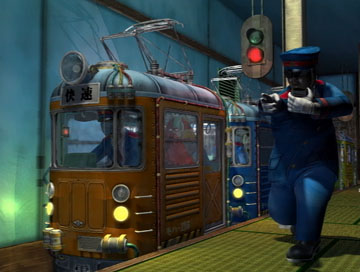 Satoshi Tominaga "Justice Runners"
The entries in the digital art and non-interactive section were evaluated with the computer graphics point of view. Satoshi Tominaga's work "Justice Runners" received high marks in terms of its humorous story and unique colour sense. He received the excellence prize in this section. His work is used as a mascot motion at TV Asahi in Tokyo.
The encouragement for rising creators was prepared in this section. The winner for this prize is Saku Sakamoto. In her work "Fisherman", a tribe that hunt a giant fish in a desert sea was dynamically expressed. She presented this large-scale work mixed with drawings and CGs.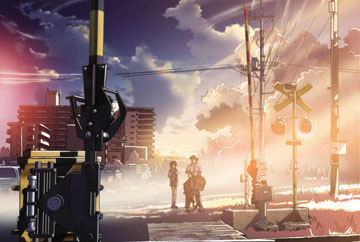 Makoto Shinkai "The voices of a distant star"
The animation appears to be done by a large group of people. It is possible to do everything from drawing to putting colours and shooting in the project today. Makoto Shinkai made the long animation "The voices of a distant star", producing a release and selling the DVD by himself. The work, which was chosen for the encouragement prize, was Akino Kondo's short animation "The Evening Traveling". This is a solo work of an art university student. Making animation has become a natural creative activity and this way of expression is getting clearer.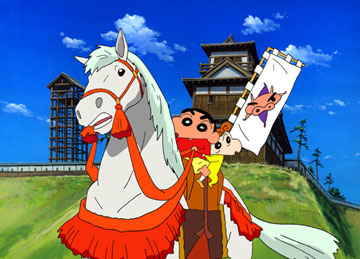 "Crayon Shin-chan Arashi o yobu Appare! Sengoku Daigassen"
The grand prize in the animation section went to "Crayon Shin-chan Arashi o yobu Appare! Sengoku Daigassen". This is a theatre film version of comics, which satirizes children's unique actions and adults' modeup lives. The creators want to make this film to be accepted by adults and kids. It has been creating animations that are loved by many generations as an entertainment culture. These were the superior points to be chosen rather than artistic works from productions that have a famous science fighter animation or Mr Hayao Miyazaki's animations.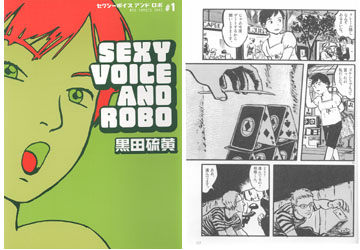 Iou Kuoroda "Sexy Voice and Robo"
Manga is also an essential media art in Japanese culture. There was the Manga section in this festival and "Sexy Voice and Robo" was chosen as the grand prize winner. This is an urban adventure story that a 14-year-old junior high school girl enjoys observing people in a telephone club. The special prize went to "Recollections of Boyhood – Repatriate from China" by a Manga artist who actually came back from the ex-Japanese army occupied area or ex-Manchuria in China.
Read more ...

1
2
[Help wanted]
Inviting volunteer staff / pro bono for contribution and translation. Please
e-mail
to us.