DIGITAL ART FESTIVAL TOKYO 2005
Inviting young international artists through the NHK television program "Digital Stadium" (Digista), "Digital Art Festival Tokyo 2005" (DAF) took place in the "Panasonic Center Tokyo" and "National Museum of Emerging Science and Innovation (Miraikan)" from Dec. 9th to 13th, 2005.
Starting in 2003, this year's third festival directed a spotlight on young sensitivity and art connected to the progress of technological advance.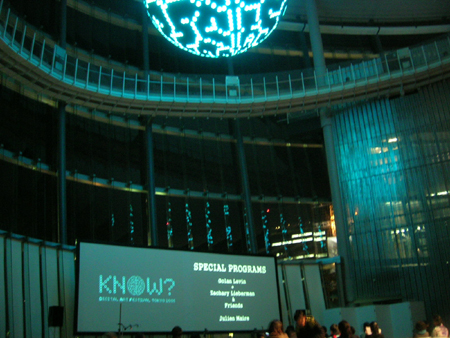 One of the venues, Panasonic Center Tokyo is built on an artificial island in Tokyo Bay, which has the scenery of a futuristic city including an unmanned train. It was therefore a very fitting place for exhibiting the technological creations called digital art. Before entering the venue, the excitement already emanating from the scenery led my heart to be filled with expectation for the festival.
Stepping into the venue, many of the selected works were immediately exhibited and it felt appropriate for the event to be called "festival". Showing another concept of the festival that visitors can participate and experience, there were lots of people touching and operating works everywhere.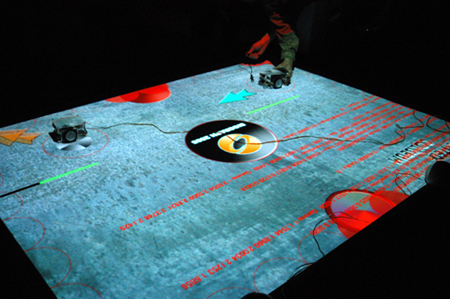 Yuki Hashimoto + Junichiro Otaki + Minoru Kojima + Naohisa Nagaya + Masahiro Furukawa + Akio Yamamoto + Tomoharu Mitani + Satoru Miyajima + Masahiko Inami / Augmented Coliseum
"Augmented Coliseum" by a team from Inami Laboratory in the University of Electro-Communications was a work like a shooting game that used a robot and computer graphics; a real tank robot moves around on the visuals projected, which is also connected and transformed by the tank's movement. Both playfulness and technology are well mixed and attracted people.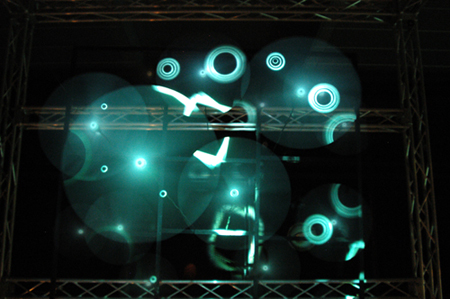 Akinori Goto / view rise
Akinori Goto's "view rise" is a work that projects visuals to numberless propellers hung from the ceiling. The visuals were controlled by visitors manipulating the terminal. People really focused on this work because the visuals projected on the propellers had marvelous depth and movements, and also because they had to lie on their back to look up at the ceiling.
Moreover, during the exhibit, there was an opportunity to be hear explainations by the producers themselves about their work and future views.

Yusuke Wada + Jun Usui + Daisuke Uriu / moo-pong
There were more humorous and playful works at the "Tokyo Gadget Exhibition". A collaboration work by Yusuke Wada, Jun Usui and Daisuke Uriu "moo-pong" was one of them. Peeking into the case which has a capsule, there the visuals of various scenes were changing like a kaleidoscope. The capsule could memorize the new scene at the place, and it is possible to peek into a new improvised visual kaleidoscope. It seemed possible that this work would be manufactured as a toy very soon.
The above three groups are called "Digista Artists" who had never experienced to be awarded at "Digista". There were more "Digista Artists" exhibiting as well.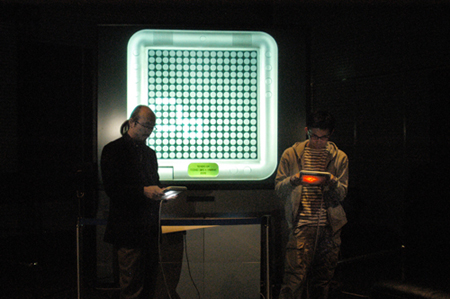 Toshio Iwai / TENORI-ON (2005)
As an invited artist, there were works by Toshio Iwai, including "TENORI-ON" which was introduced in many articles. I was hoping to touch this work once, so this opportunity made me excited.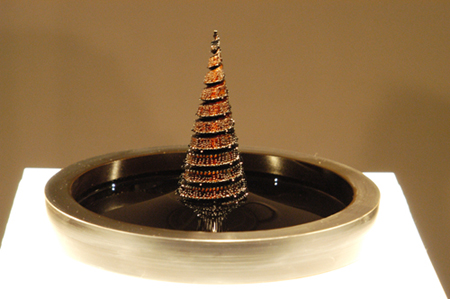 Sachiko Kodama / MorphoTower (2005)
Exhibited also at ARS ELECTRONICA, "MorphoTower" by Sachiko Kodama was a installation having both mystery, bewitchment and beauty. It was a liquid sculpture that used Magnetic Fluid, which is rarely seen but used in HD. The sculpture changed its shape every moment by magnetic force from computer controls. It was an unbelievable experience of seeing liquid going against gravity, even after being explained the mechanism by the artist herself who I happened to meet at the place.
DAF had many excellent works and visitors could experience the various relationships between technology and art. Not only about the works, but there were also performances by artists.
Especially, live performances at the "National Museum of Emerging Science and Innovation (Miraikan)" which cannot be ignored.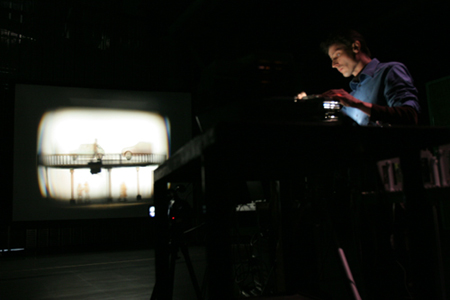 Julien Maire / Demi-pas (2002)
Beginning with a speech by Mamoru Mori, a director of the "National Museum of Emerging Science and Innovation (Miraikan)" and also an astronaut, the live performances in a special program kicked off. The first one was "Demi-Pas" by Julian Maire who I wrote about 2 years ago in an article of Transmediale, followed by "Scribble" byGolan Levin and Gregory Shakar, a live performance of their work having a concept of "Audiovisual Material", which was produced for ARS ELECTRONICA in 2000. Conceptual images were drawn by light lines on two screens, and also conceptual sounds were produced that connected with the lines. It showed the information for visual and audio sensations, they were perfectly linked up.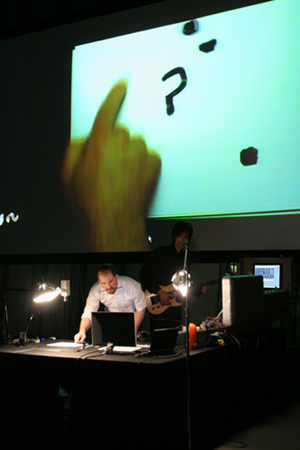 Zachary Lieberman + Pardon Kimura / Drawn (2005)
I was excited with the sound experience and the completely new visuals of "DRAWN" by Zachary Lieberman and Pardon Kimura. It was an unbelievable work that live drawing was projected on the screen and it suddenly moved and played music at the same time. The quality was also amazing, and I felt really lucky to be there at that moment. The audience must have had a big shock to the huge potential of this in a time when various software is being pursued to merge sounds and visuals.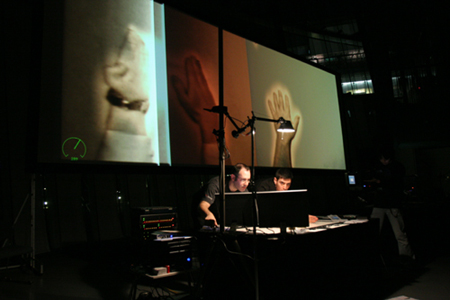 Golan Levin + Gregory Shakar / Scrapple (2005)
Another work by Golan Levin and Gregory Shakar "Scrapple" had a different approach from "DRAWN" but the same pursuit of simultaneity between sounds and visuals. That a camera projected a table on the screen, and the screen had scanning lines moving in a regular cycle direction from one side to the other side. If an object touched the scanning lines, then sounds came out. If grasping the meaning of the screen as a measure, the object could be a note. I would like to see a collaboration with this technology and a great minimal music player.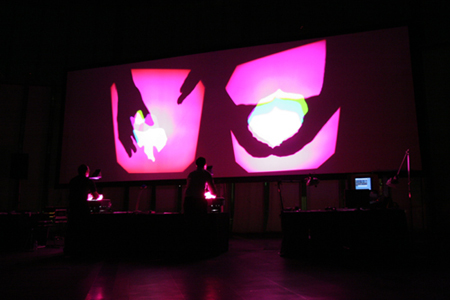 Golan Levin + Zachary Lieberman / The Manual Input Sessions (2004)
At the last of the program, there was also a beautiful performance of color and shade called "The Manual Input Sessions" by Golan Levin and Zachary Lieberman.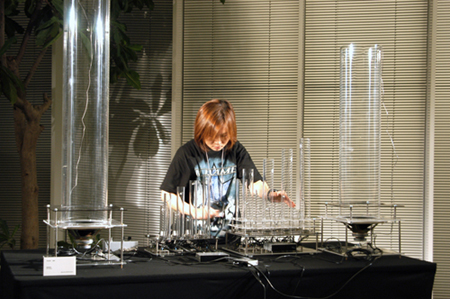 Marina Yanagisawa / Howlin
Another favorite work was "Howlin" by "Digista Artist" Marina Yanagisawa, which was taking place in Panasonic Center Tokyo. She approached Howling, a phenomenon typically hated in the music world, with a different direction.
It is impossible to feature all the works at DAF. The field had variety akin to the diversity that Digital Art has. Artists and creators in the next generation will no doubt appear from the young creators introduced here, and also from visitors that experienced this opportunity. It was filled with stimulation, ideas and energy.
Digital Art Festival Tokyo 2005
Date: 9th – 13th December, 2005
Place: Panasonic Center Tokyo / National Museum of Emerging Science and Innovation (Miraikan)
Sponsored by: Digital Art Festival Tokyo 2005 Organizing Committee (NHK, NHK Enterprise Co.)
Produced by: Digital Art Festival Tokyo Office, NHK Enterprise Co.
http://www.daf-tokyo.jp
Text and Photos: Yasuharu Motomiya
Translation: Yurie Hatano
Photos: Photoperformer Pas
[Help wanted]
Inviting volunteer staff / pro bono for contribution and translation. Please
e-mail
to us.