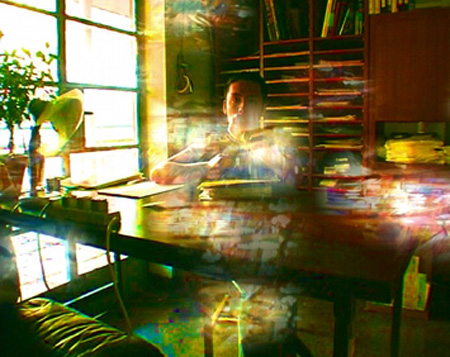 It is only natural that video has emerged as a dominant medium for artists in Hong Kong. In a city where most young artists still live with their parents in tiny flats, and can't afford studio space or physical materials, it makes sense that the relatively "small" scale of video (requiring only a vision, a camera, and perhaps a computer for editing) should be so appealing. Starting in the late 1980s, many of HK's leading artists have worked in video, but few have attained the success or widespread recognition of Jamsen Law.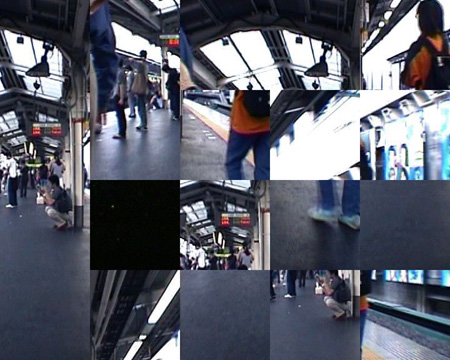 In August and September, the Hong Kong Art Center presents a retrospective of the video work of Jamsen Law, ranging from his early work documenting performances of the arts/drama collective "20 Beans + a Box," to his more recent pieces exploring questions of identity and time in the midst of travel and chaos. A graduate of the Fine Arts program at the Chinese University of Hong Kong, Law went on to act as the Chairperson of Videotage (Hong Kong's premiere video/media-arts collective and gallery), and served to represent Hong Kong in many international festivals and residencies. He is one of the best-known Hong Kong video artists, alongside pioneers like Ellen Pau and Yau Ching, and is currently pursuing a Master's Degree at IAMAS in Japan.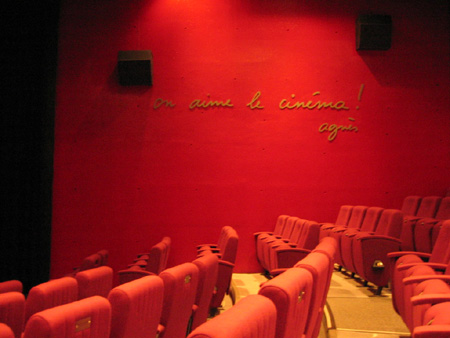 Programme 1 of his retrospective debuted on August 27th in the Agnes B. Cinema, kicking off with one of his first videos ("Every Time We Say Goodbye") made of a "20 Beans + a Box" performance in the early nineties. Layers of scenes and angles overlap and fade into one another as the performers move around the stage, enacting childhood tantrums and animal-like twitches and spasms. A single character may be on stage in two places at once, with the gentle blurring of performance-time that intensifies until it is almost a double-exposure, and then clears up again to a single moment in time, distinctly documented. The next piece was "Mapping Four with Twelve," often discussed in criticisms of Law's work and of Hong Kong art in general.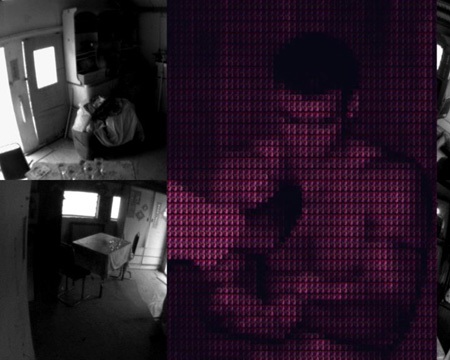 The video feels a bit dated today, with its obvious early-90s excitement at using bright distortions and pastel effects, as well as the constant super-imposition of small video or still-image boxes floating around on the frame. The theme of "patience" becomes very real to the audience as we are challenged to sit through long, boring shots of Law or other collaborators in home settings, sitting in front of the camera eating slowly as they turn different shades of pink or overexposed purple. We finally become grateful for the little video boxes of video sailing over the screen, as they offer some seemingly-unconnected but far more interesting content: ocean swells; city streets; shirtless Chinese men smiling into the camera, speaking to some unseen interviewer. The later sections of this video opus seem at first to have more unity, such as the one that turns a Hong Kong subway platform into a puzzle game, but then dissolve into a general random-ness that perhaps fits with a mid-90s post-structuralism, but is never very satisfying.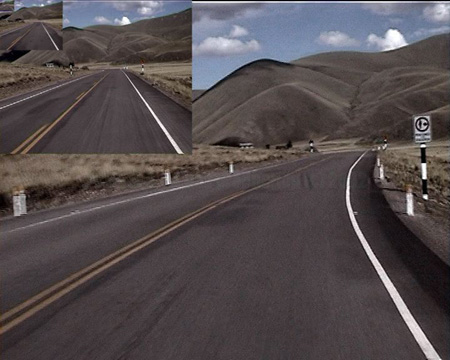 A later piece, "Mapping Vapour," takes a different direction and explores a simple formal idea with powerful effect. There is a long shot of an ocean harbor and a far set of hills, motionless, sustained, with only a subtle soundtrack burbling along, until about 5 minutes later, a single speedboat crosses the frame from left to right, leaving an enormous disturbance in the water behind it. We are left to watch the boat's wake as it slowly fades away. This piece was a true, complete exercise in patience, and made the whole screening worthwhile.
The Lab: HK Film and Video Artists Series #3: Jamsen Law
Programme 1: 27th August, 2005, 7:30pm / 15th September, 2005, 7:30pm
Programme 2: 30th August, 2005, 7:30pm / 16th September, 2005, 7:30pm
Place: All screenings at Agnes B. Cinema, Hong Kong Arts Center
Address: 2 Harbour Road, Wanchai, Hong Kong
Tel: 852 2582 0200
Text Samantha Culp
[Help wanted]
Inviting volunteer staff / pro bono for contribution and translation. Please
e-mail
to us.