This month's cover is designed by TAKORA Kimiyoshi Futori, who is a visual creator and well-known to SHIFT for his collaboration with Chisato Shinya. He has offered his visuals to a picture book Andersen (Die Gerstalten Verlag, Germany). He has expanded his activity worldwide, joining ChilliChilly Artist Collection(Hong Kong)−Glass Series.
We had an interview with TAKORA Kimiyoshi Futori and he talked about his wok and recent activities.

Can you please introduce youself?
Hi! My name is TAKORA Kimiyoshi Futori and I'm a visual creator.
I was born and grew up in a seaport, Kobe city. I went to graduate school at Kyoto City University of Art and graduated from the school. Growing up in such a mass-consumption society I've always wanted to put new breath into products that are a part of daily life. Since I came to Tokyo after my graduation, I've created pop visuals as a freelance artist. At the same time, I've tried to hold and join as many exhibitions as possible, no matter where, in Japan or abroad. Being a visual creator has given me opportunities to work not only in Japan, but also in other Asian areas and Europe. With SHIFT, I have presented some works in Soso Cafe n Sapporo.
I usually work in a wide range of fields from Comme des Garcons Homme to Chinese high culture magazine VISION. People like my work because a motif is repeated in each work with unique, organic and cartoony elements, which are generated from Asiatic cultural background. My motto is, "catchy is everything."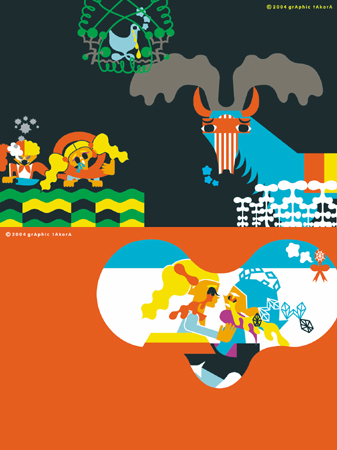 ANDERSEN (Die Gerstalten Verlag, GERMANY) 2004
Can you tell us about your recent activities?
My recent work is visual offerings to a picture book named Andersen (Die Gerstalten Verlag/Germany), to IFVA (Hong Kong Art Center/Hong Kong) for a T-shirt, to a campaign poster for 2005 mother's day and father's day at PARCO, and the participation in ChilliChilly Artist Collection (Hong Kong)−Glass Series.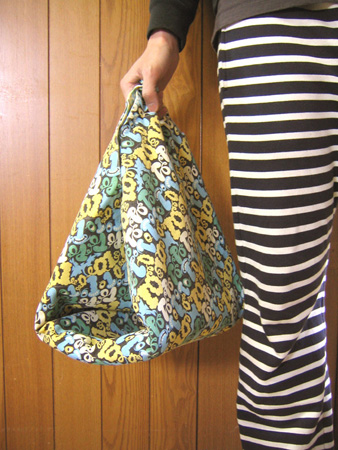 Sony VAIO 5 Anniversary Book (Allrightsreseved, Hong Kong) 2005
You have an eclectic range of activities from working with clients to holding exhibitions. Is there any difference among each activity?
I don't think there is a difference. I always have the same level of motivation and enthusiasm every time I create visuals. In client works, money is brought in between clients and me so I also have to satisfy the client's requirements.
But I don't care about that because most of the situations of my work are like that. There is never 100% freedom in my work. I think, if 100% freedom was given to me, I wouldn't want to create anything in such a situation. In my current situation, I still have many things I have to work on, but even in this situation I want to do my best to create things that have as much value as possible and are meaningful to somebody. In order for this to be realized, I want to talk about it.

Don'tMind Exhibition (SOSO Cafe, Sapporo) 2003
Do you think something changed in your work and activity after Don'tMind Exhibition which was held for a month and also held in Soso Cafe in the summer of 2003?
I became to live desperately. Meanwhile, I just let my life in Tokyo go as time past, but now life seems to be more real and my motivation and passion are stimulated by friends and people I meet. The biggest factor of this change is that I've been connected with my current life and the people throughout the world. I think it's very exciting to have a chance to talk with creators who can share a great passion with me such as SK and Man Chung Lee in Hong Kong, Kam in England, and Saiman in America. Since I got into my thirties, I have bigger passion toward creating visuals. I sort of became to feel like doing whatever is for the world around us with as much honesty as I can put on it.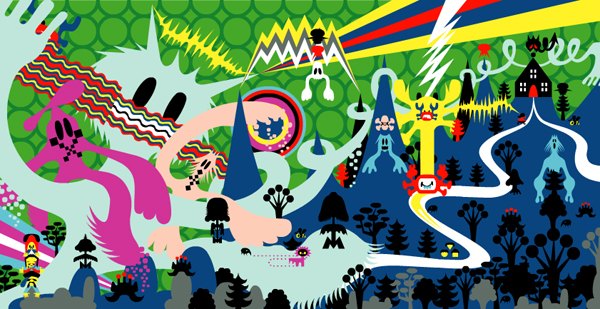 SHIFT Cover (grAphic tAkorA + Chisato Shinya) 2004
Can you tell us about Peeping Navi of DOTMOV in 2004 and the collaboration with Chisato Shinya?
It happened in this way: Chisato thought I was very interesting and liked me a lot, then he invited me to his event. I don't know why he thought of me like that. Anyways, he really liked me.
Can you tell us about your own labels, "grAphic tAkorA" and "CHEAP POP"?
"grAphic tAkorA" is the label that I use in creating pop visuals. It means that 3As are the final goal to reach my masterpieces.
"CHEAP POP" is the label that I use in designing. I believe designs must be a great outcome at least that they are catchy and pop. "CHEAP POP" is the label that can turn my belief into reality. I actually chose "CHEAP POP" for this label with some irony because I want to keep creating these designs with a respectable visual and view point, but these pop designs are a part of mass-consumption and they are likely to be valued as cheap and easy.
I usually put the label name as my copyright unless I have an opportunity to put on my own name. I want to give people the impression that nobody never knows where I'm from.
I strongly believe visuals are a common language in the world and I don't want to limit the places that I can show my visuals to only in Japan. In that sense, I'm very glad that even from abroad I can get feedback from the same view point as in Japan. Also I sort of yearn for DJs to present their works with a false name. I like that changing a name depending on TPO, like changing clothing depending on situations.
What is "CHEAP POP" for you?
It is a positive image. I want people to think "it's happy." I feel myself to be helped by the power from pop colors, tastes, and shapes, so I want to create things like that. I think this will be food for my life and everyday I just push hard.

What is the concept under cover design this month?
"Hello to the world!"
I think a strong thing we have in Japan to connect Japan to the world is the 2005 World Exposition, Aichi, Japan, which focuses on the environment. So, I expressed my passion for the environment as an animation in this cover design. Its content is metempsychosis. The rival horses are Morizo and Kiccoro. The sound was done by Hamasato from Nipponia Electronica and Kawasaki from "in this world" provided technical support. Each feeling created a great mix. Such feelings were also a part of metempsychosis.
What do you plan to do in future? What do you want to challenge?
I have three things I want to do.
The first thing is, I want to use my pop images in things that can be found everywhere in our lives because such things can influence people for the longest time. Fabrics and furniture are good examples.
The second thing is, I want to create something for kids because I think education is really very important. Toys and visuals of TV programs are good examples.
The third thing is, I want to get an opportunity to have collaborations with other creators/artists abroad as a part of my activity or by joining expositions because I like to meet people having different thoughts and life styles. Recently, I'm very interested in working with people from neighboring countries in Asia, so if any companies are interested in what I'm doing, I really want them to try to contact me.
In these days, for political reasons, Asia has drastically received attention and I want to understand what I can do with my view point for mutual understanding. In that sense, I think that because of my way of life, the best way is to create something together to share our ways of thinking. It's fuzzy though, I enjoy creating networks with others in different places and I hope I can be a start to spread interaction.
For the end, give some message to readers.
Thank you for reading this interview with me.
The more fields you are interested in, the more places we can expand our activities.
No matter what country, race, and generation you are in, I do expect every possibility of all of you to have a great imagination. Really enjoy imaging.
This may be very personal, but if you feel good when you see my work, please tell me.
It makes me feel good, too. And finally, I will create a thing that makes you guys feel much better.
TAKORA Kimiyoshi Futori
futori@mx6.nisiq.net
http://www4.famille.ne.jp/~takora/
Text: Yurie Hatano
Translation: Fumika Sugimoto
[Help wanted]
Inviting volunteer staff / pro bono for contribution and translation. Please
e-mail
to us.