The SHIFT Calendar Competition started in 2003 with an aim to discover fresh creators. The number of entries have increased year by year and have received 860 entries from 47 countries this year. 12 carefully selected works will decorate each month of the Shift calendar, creating the feeling of a little art book.
These selected works will also be exhibited and sold at PRINT'EM for a year with support by PRINT'EM, a graphic print center operated by Mitsubishi Paper MIlls Limited.
There also will be held an exhibition of each works printed on A0 size poster at the gallery cafe SOSO.
The 12 works below are the pieces which will be used in the Calendar. Please have a look and enjoy the comments from each creator.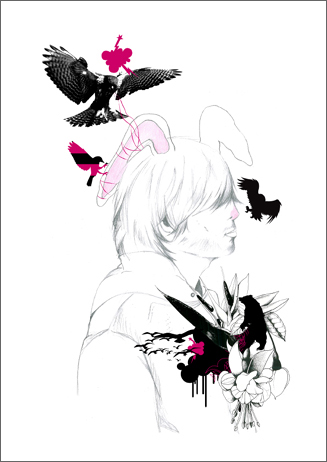 Nadia Hunt (New Zealand)
Nadia is a freelance Illustrator, Textile and Graphic Designer, full time idealist and part time traveller with itchy feet. She currently works within the fashion industry and magazines for various clients around the world. Her aim in life is to illustrate the world with her drawings which act as small peep shows immersed in a dreamy like wonderment.
Work description:
Die bunny boy die! Quite simple don't mess with a boy in bunny ears, their not as cute as they look!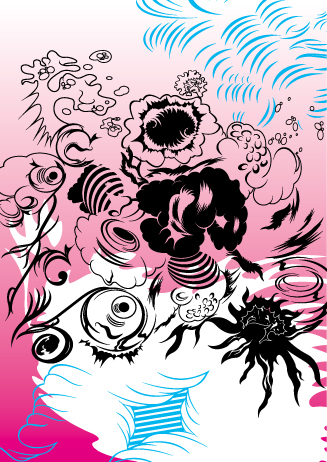 Tomoaki Ryuh (Japan)
Born in 1980. He is based in London and works as a freelance illustrator and graphic designer. Graduated from BA Graphic Design at Central Saint Martins College of Art and Design. Organized Headz-magazine and producing the clothing label NEUTONE.
Work description:
This project aim is about challenging, understanding and expressing of illustration design by asking myself to take both a conceptual and experimental approach as well as to show aesthetic of artwork that inspired by sound, nature and comics (cartoon).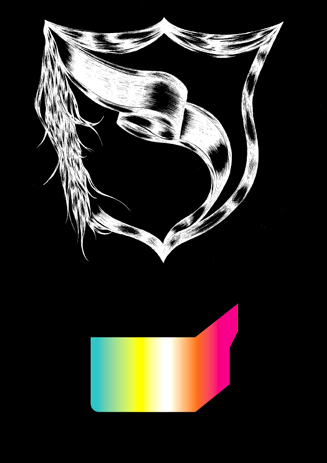 Norichika Yokota/Under the Maidenhair (Japan)
24 years old and born in Kyoto. He now lives in Nagoya, mainly working on graphics and illustration. He studied graphic design at the university and had already worked on some design projects for a company when he was a student. He respects a great idea and intention that comes from a concept and is interested in creating universally recognised works related in any aspects of design field.
Work description:
I used an illustration drawn with a fine point pen, to express my personality better. I'm very happy that my work was selected by such an unique design archive, Shift. Anyone who felt something about my work, please contact me.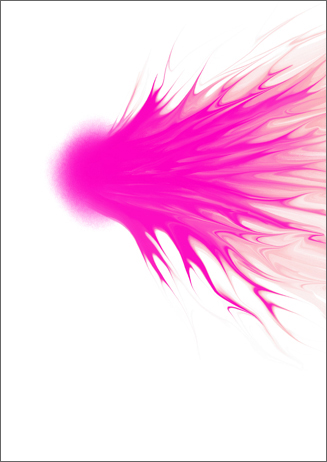 Yusuke Ohba (Japan)
A 24 years old man, who loves Sapporo. Studied graphic design at the Sapporo Designer College and is working as a designer in Sapporo.
Work description:
Irregular direction generating from one shape.
You are the one but the answers are unlimited.
This work is for those who are groping for their course in life.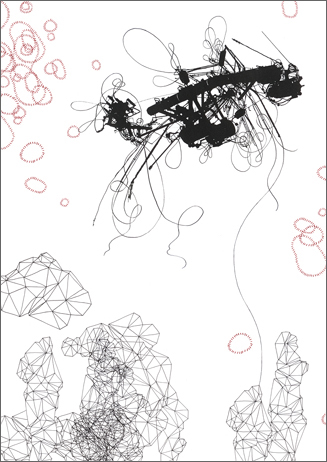 Till Rickert (Germany)
I am 28 years old, studying design at the Bauhaus-University Weimar. I am interested in all aspects of design and art, so I try to be open to all topics and media to express my ideas and create what I like. Illustration, video, animation, paperworks or Textiles are some of the fields I enjoy to work in.
Work description:
This illustration contains a collage of fotos from japanese electricity wires. I was fascinated by their beautiful chaos and developped their dense texture further by drawing into it. The other structures are free drawings that follow this esthetic of condensed fine lines.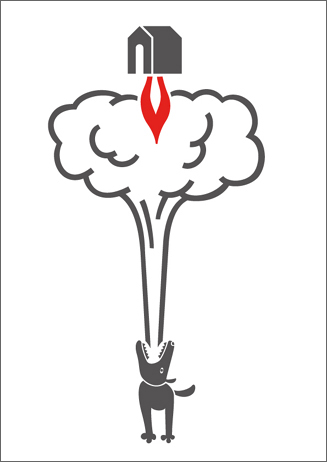 Shigeru Okada (Japan)
Born in Imari in 1973. He had been working on sculpture project until 2000. In 2004, he formed "Okadan Graphic" with his wife and working on advertising design in Fukuoka.
Work description:
Simplifying the shape of flame and smoke and using them like a mark of "+" or "=", I made the work which links two objects. This work is a part of the series. It depends on you which object you define as the subject. I hope this graphic could be a bridge to make a good relationship between you and me.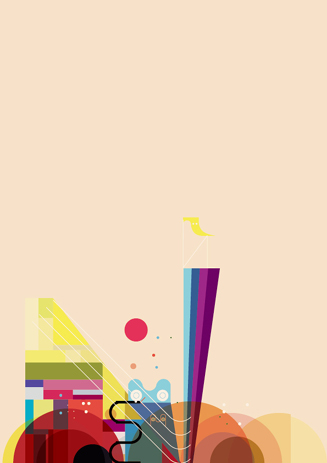 Daniel Cambil (Canada)
Daniel Cambil lives in Montreal, Canada where he studies literature at the University of Concordia.
I like to paint and draw. I would like to work with other artists around the world, especially in France and Japan.
Work description:
This picture is about an owl and a snake visiting the dam.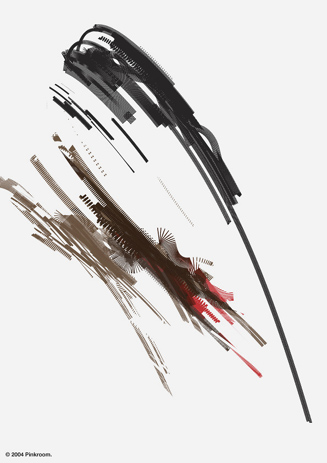 Sunjin (USA)
Born in South Korea, US educated, Sunjin freelances under the name of Pinkroom (named after the whimsical pink attic of her childhood home), and can be found wearing a myriad of hats, including designer, illustrator, and photographer, for clients such as Wired Magazine, Readymade Magazine, Travel & Leisure, New York Magazine, Dubtitled/Tommy Boy, Starbucks, etc.
Work description:
A Series of work titled "Mesh"; a study of lines, fragments, space, and movement.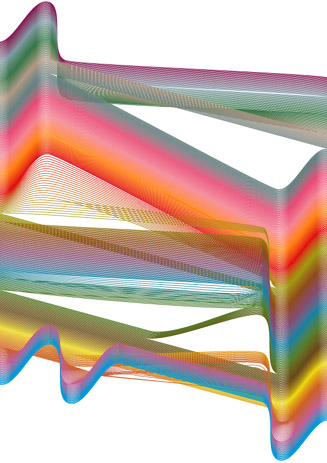 KAPITZA (UK)
KAPITZA is a design partnership formed in London between sisters Petra Kapitza and Nicole Kapitza. Originally from southern Germany, the sisters have been living and working in London for over a decade. The new partnership, formed in 2004, focuses on book design and illustration with a particular focus on artist and exhibition work.
Work description:
This illustration is part of a period of work. It represents a snapshot of a larger process of experimentation. Often, a period of work will produce a number of variations, each with its own unique character.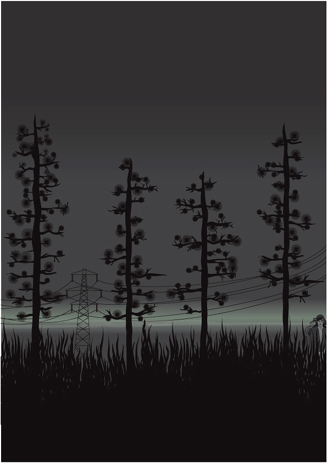 Birgit Amadori (Germany)
I'm a 27 year old illustrator and originally from Germany, where I graduated from the HFG OFFENBACH. This year I came to the sunny shores of California and I'm now catching waves in Redondo Beach.
I have a great interest in japanese design and culture since many years, and I'm a big fan of Shift Magazine which brings me monthly news from the other end of the world. That's why I want to thank you so much for letting me be in this publication!
Work description:
Lately I've been watching many japanese ghost movies when it's dark and goosebumps have somewhat become my addiction.
I wanted to create a spooky picture, nothing that is obviously scary or disgusting. But I found to my surprise that some people see the scenery not as spooky, but also melancholic or even peaceful. In whatever way you perceive it, enjoy !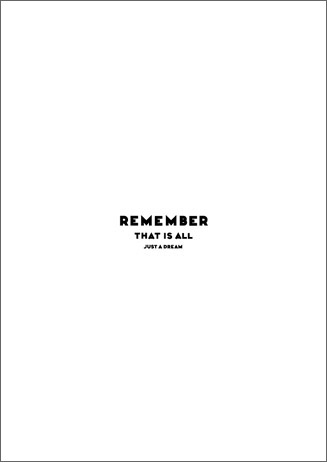 Pedro Inoue (Brazil)
Pedro Inoue is a quarter Japanese, a quarter French Swiss, a quarter Mozzarella, 5 times world champion in football and 27 years old. He currently lives + works in London where he is trying to move things around. He is addicted to utopias, Cortazar and to the idea of making human beings humans again. He likes to blink his eyes for a long time and the smell of new books and java-java coffee. He leaves little notes in bus stops, trains and cafes. He believes that in the end, poetry wins.
Work description:
A little phrase to start out the day. To remember people to not take life seriously.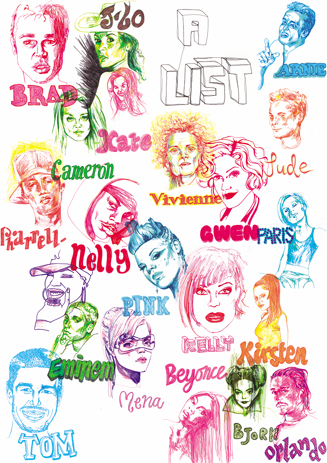 Sarah Doyle (UK)
I am an artist in London and exhibit my work internationally. My work was shown this year along with a live drawing performance in Japan for my show at And A.
I also have work published in international magazines including Elle, Arty, Fake and Baby Baby Baby.
I use mixed media and drawing as the main processes as well as creating work in video and multi media.
The subjects I deal with typically concern popular culture and growing up. I explore the sense of being an outsider experienced by most teenagers, a feeling of alienation and looking for a place where you fit in the world. Looking for something you have in common with other people. The themes of my work involve fantasy and reality, disguise and self-discovery.
Work Description:
A List stars created in Felt Tip.
To be part of an A List is the ideal in the mind of most people, these iconic figures live a seemingly fairytale existence. They are the desired and we project our own need to feel desired on to them.
Here the A List stars from Hollywood and music are listed and drawn in the same way teenagers draw pictures of their idols in their bedrooms, using teenage drawing materials.
SHIFT 2005 CALENDAR
Release: November 20th, 2004
Spec: All colour / 28p / 210×297 mm
Price: 1,360 yen (tax included)
Produced by: SHIFT FACTORY
It can be purchased on SHIFT FACTORY as well as select shops around the world.
SHIFT 2005 CALENDAR EXHIBITION
Date: January 5th – 31st, 2005
Place: Soso Cafe
Address: Sansei Bld., 1F, Minami 1 Nishi 13, Chuo-ku, Sapporo
Tel: +81-11-280-2240
http://www.shift.jp.org/soso/
PRINT'EM
Poster Sales: January 5th – December 26th, 2005
Price: A0/10,500yen, A2/8,150yen, A3/3,675yen (tax-in)
[Help wanted]
Inviting volunteer staff / pro bono for contribution and translation. Please
e-mail
to us.