Tate Britain's new initiative is a biennial series of concise exhibitions featuring the work of important British artists. The first artist to be featured is Paula Rego, originally from Portugal. Apart from Tate Britain, Rego's work can be seen in the Saatchi collection and also hung on the walls at the National Gallery restaurant.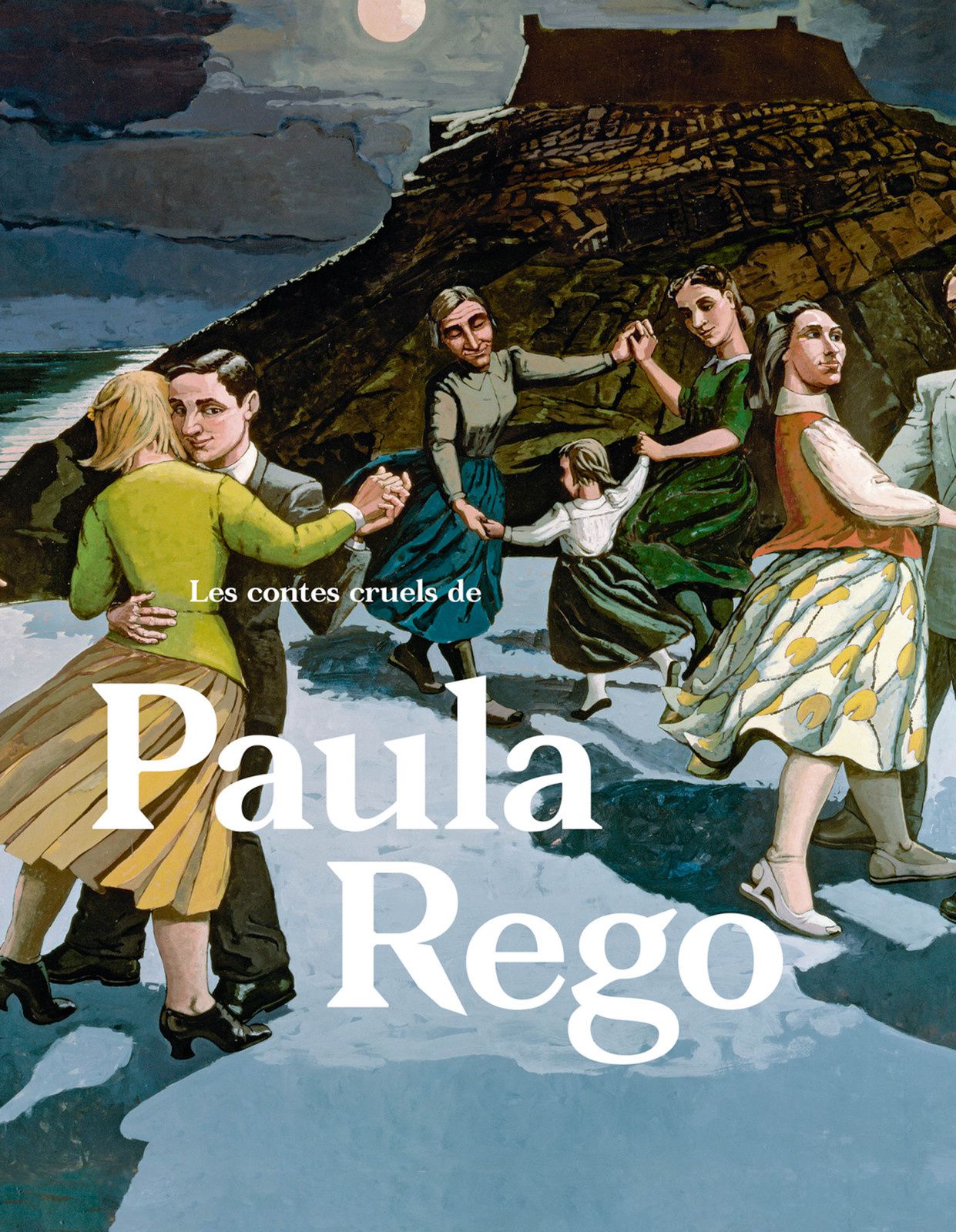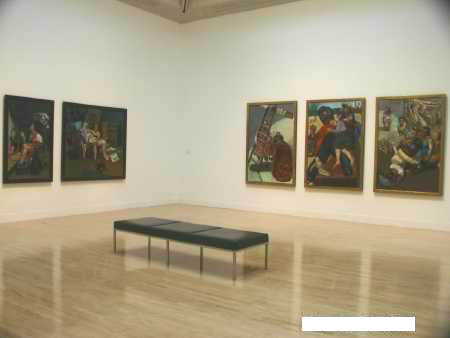 Born in Portugal in 1935, Rego's artistic gift was obvious from an early age. From 1952-56, she studied at the Slade School of Art, London. After graduation she married and moved to Portugal, but continued to visit London to carry on working in her studio. She is currently living in London and is actively producing new work.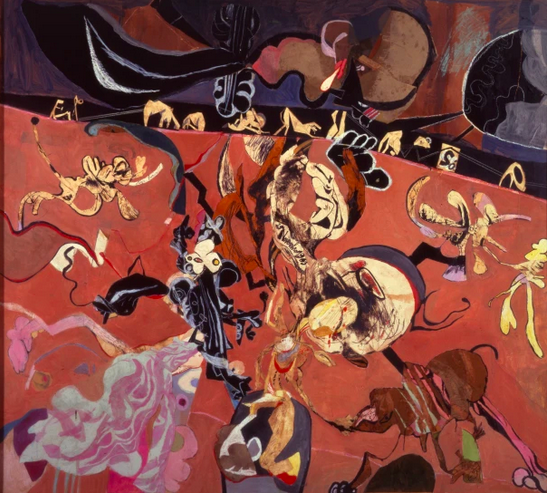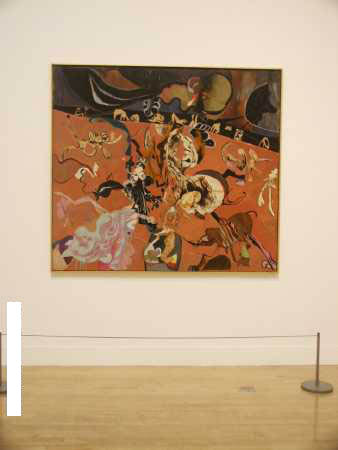 Paula Rego, Stray Dogs (The Dogs of Barcelona), 1965, Collage and oil on canvas, 60 x 85 cm, Courtesy of Marlborough Fine Art, London
From her early work she has used narrative as the starting point for her work. 'Stray Dogs (The Dogs of Barcelona)' (1965) shows how Spanish authorities decided to solve the problem of stray dogs by using poisoned meat. 'When We Had a House in the Country' (1961) is a collage depicting the attitude of the Portuguese in the colonial African countries.
After this period, Rego started to paint on canvas using acrylics and her style changed dramatically to figurative painting. She used members of her family as models and many of the work centers on a female figure. However, her women are not the dainty, fragile sort; rather, they are well built with fierce expressions, the kind of woman you'd want to make way for if you came across her in the street.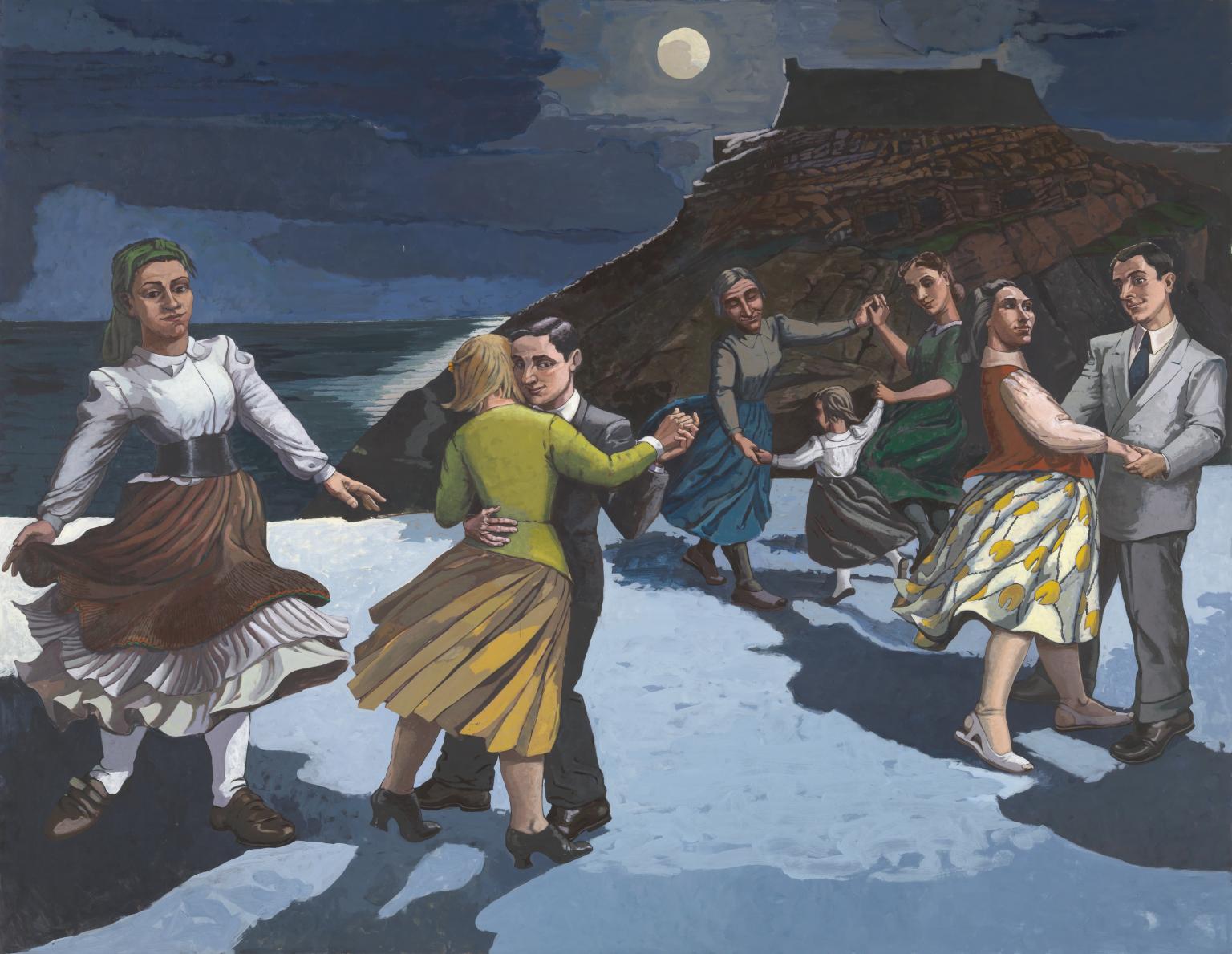 Paula Rego, The Dance, 1988, Acrylic paint on paper on canvas, 212.6 × 274 cm, Collection of Tate Britain
'The Dance' (1988) shows couples dancing under the moonlight on a Portuguese beach. It is said to depict the stages that a woman goes through in life (young woman – marriage – childbirth). To the left of the screen stands a woman who is considerably larger than the rest of the characters. She faces out to the onlooker as if to suggest that she is aware of herself within the traditional role of a woman and yet somehow against the whole idea. In this way, Rego continued to portray non-stereotypical women during the eighties.
Her current work is worked in triptych form, on canvas in pastel. The material may change but her work are still based on narratives, real or imagined. She incorporates a lot of her personal experience during the process and making it difficult to define the original story from the finished work.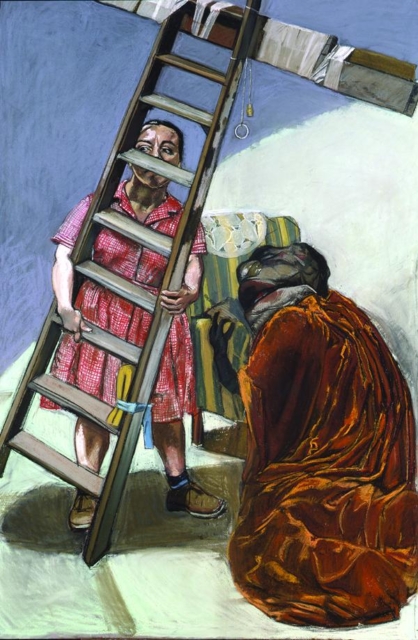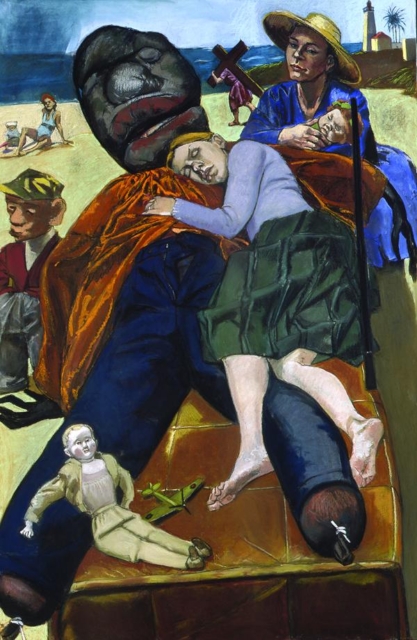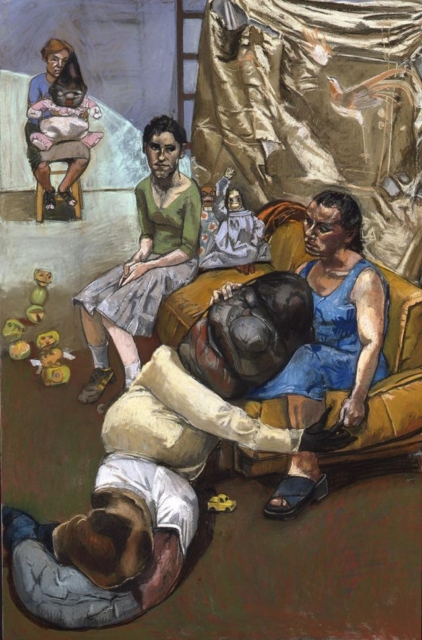 Paula Rego, The Pillowman, 2004, Oil and mixed media on paper, collage and canvas, three panels: Each 180 x 120 cm, Courtesy of The Artist and Marlborough, New York and London Private Collection.
Her latest triptych 'The Pillowman' (2004) was inspired by a play of the same name shown at the National Theatre earlier this year. The centre panel features the main character (a man-like figure made from pillows). The right hand panel features Rego's granddaughter (in the green top) and the backdrop behind her is a duvet actually used by Rego and her late husband.
The exhibition area is an oblong space with walls dividing it into three spaces, presenting the work in chronological order, and each work is powerful and impressive. However, it seemed that there were not enough work on display to fully immerse myself into the world of Paula Rego. Having said that, this exhibition is a good point to start an individual Rego tour, to see more of her work in other museums around London.
Paula Rego
Date: October 27th, 2004 – January 2nd, 2005
Open: 10:00 – 17:00
Place: Tate Britain
Address: Millbank, London SW1P 4RG
Admission free
Tel: +44 (0)20 7887 8888
http://www.tate.org.uk/britain/
Text: Sari Uchida
Photos: Courtesy of Tate Britain © Paula Rego

[Help wanted]
Inviting volunteer staff / pro bono for contribution and translation. Please
e-mail
to us.