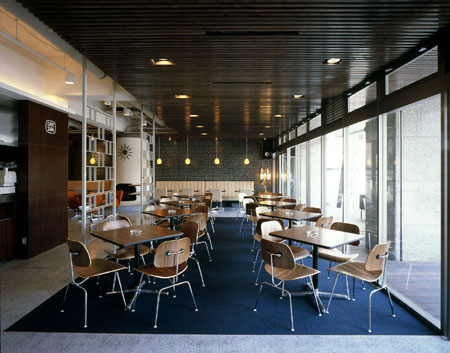 Recently, two shops dealing with books have opened in the Aoyama area of Tokyo. One is a book shop and the other is a select shop with has a book floor. What they have in common is that their emphasis lies in book selection, and that they cater for the same kind of people. The atmosphere and the concept of these two shops are completely different but I feel this kind of shop, which adds value on their own selection and sell not only books (or clothes) but also various other items, is increasing now. So I decided to speak with Hiroshi Eguchi, who is a buyer for these two shops and also is an owner of Utrecht.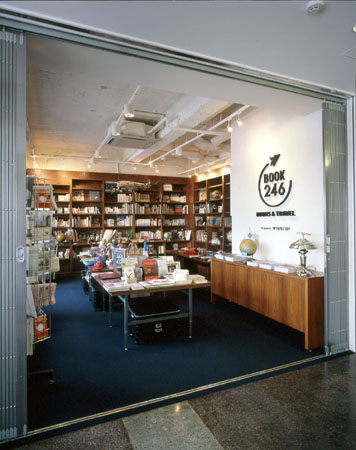 First, I'd like to introduce "BOOK246", which opened in May. It is produced by the renowned travel magazine "Paper Sky". "The theme may simply be 'travel', but I try selecting books which make people feel that 'traveling is good' by reading them. It could be a book with the straightforward theme, 'travel', or one that stirs the imagination." With the existence of "Paper Sky" magazine, Eguchi says, it was easier to decide on the concept.
Their goal is to provide customers with new discoveries, from new or old books, while still covering the usual guide books . He says old books are effective in bringing depth to the shop. People can find new books in a large book shop even if it takes a lot of time, but by displaying the new books with selected old books or other items, customers feel the depth of time and broaden their interest. "Even with a general new book, you would probably have a different outlook on it if you find various connections to the book."
'Something unique in old books' is the top priority; there is no point if it's just cheaper than a new one. What is required of old books is not practical information but imagination. Good old books are not just simple antiques but make people feel like going out. However, nothing can happen without first encountering the good books.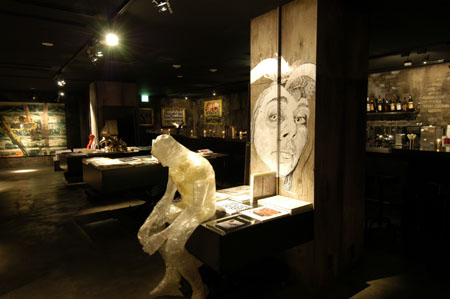 LOVELESS
Another shop is "LOVELESS", a select shop showcasing rising designers, artists and brands from around the world with the theme of 'high end' and 'cutting edge'. "We wanted to express our philosophy, so we thought we would select the things that can stimulate people's imagination more than a book covering the clothes sold in this shop." This select shop thinks it's important to backup the director's philosophy with books. With the first glance, you see many picture books on the theme of the "Body". This is based of the concept of 'rock and glamorous'. The concept is reflected not only in its contents but by the book itself (ex. excessive binding), and only then is the present selection is finalised. They are planning to increase the selection of books related to 'rock' and 'fashion', and create a space filled with this theme. Old books set off new books and vice versa. Here too, no distinction is made between old and new books. Due to the good location of Eguchi is discussing with another director whether to make this space more general or more specialised in "fashion", where people can drop in to browse fashion magazines.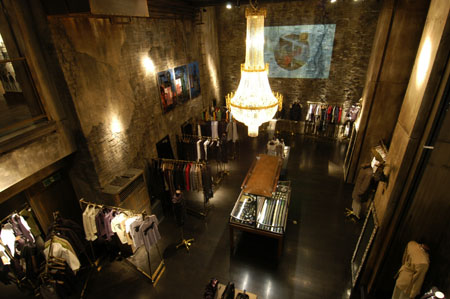 LOVELESS
Afterwards, I asked myself what lies in the meaning of a selected "book". If it's a book shop, where the same books are sold at the same price as other shops, the point would be 'how to display them'. If it's a select shop of clothes, the selection should backup the shop concept, for example, who the target isor how the shop wants to express their philosophy. What is common in both shops is simply the thought that 'having your own selection is an easier way to express the idea of the shop to customers'. "Several years ago, a select book shop was regarded as a place that dealt with only 'fashionable Western books', but nowadays such shops select books based on their concept. I think this is the reason that these shops, which are completely different from a general book shop, are growing.
Finally, I asked Eguchi about the difference between his own shop "utrecht" and these two shops. "The select shops have their own unique philosophy so I can only add my sense to them. Utrecht, in contrast, is like a exhibition of 'shame' and I display only what I like. It's a bit embarrassing but there is no stress." By working for other shops, he is able to put more emphasis on what he likes rather than profitability for Utrecht. He hopes to make Utrecht a place where can stock his ever changing interest.
BOOK246
Address: Lattice Aoyama 1F, 1-2-6, Minami Aoyama, Minato-ku, Tokyo
Tel: 03-5771-6899
Open: 11:00-23:00
"BOOK 246" has opened in a cafe located in a renovated 38 year old building. They sell books and other items which propose a life style, taking "travel" as its theme.
CAFE246
Tel: 03-5771-6886
Open: 10:00 – 26:00 (weekday), 11:30 – 26:00 (Saturday), 11:30 – 23:30 (Sunday/Holiday)
LOVELESS
Address: 3-17-11, Minami Aoyama, Minato-ku, Tokyo
Tel: 03-3401-2301
Open: 12:00 – 22:00, 12:00 – 20:00 (Sunday/Holiday)
LOVELESS is a select shop that opened in July. Their theme is "high-end" and "cutting edge". They are also interested in great works of the past and are always trying to display items that synchronise the past, present and future talent in the shop. There are also sections for daily goods, accessories, CDs and books.
Text: Yuki Ishida from Web Designing
Translation: Naoko Fukushi
[Help wanted]
Inviting volunteer staff / pro bono for contribution and translation. Please
e-mail
to us.