IMAITOONZ EXHIBITION "DL−DAY"
Soso Cafe in July hosted the solo exhibition of Imaitoonz, whose career as an illustrator reaches 10 years this year. He recently opened the door to a new direction by producing the film "DEADLEAVES" (distributed by Shochiku). He has held exhibitions at Soso Cafe twice before. This time, on the opening day, he entertained us with his energetic and speedy live drawing.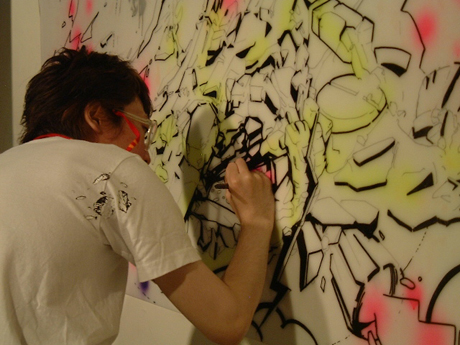 At the entrance of Soso, an impressive illustration on a pure white wall by Imaitoonz welcomed us. It was drawn the day before of the opening without any preliminary sketches by him. It might not be unusual, but I was surprised that he was able to draw such high quality work in one go.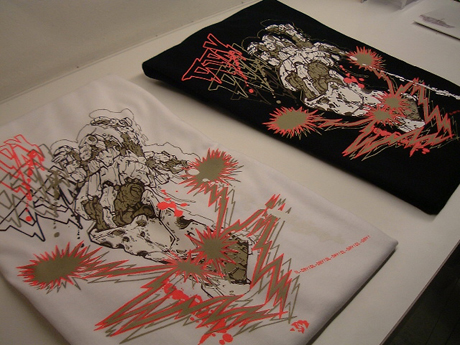 Since this exhibition is also a kind of celebratory exhibition for the release of the "DEADLEAVES" DVD (released on July 24th), a film screening was scheduled in addition to his live drawing performance for the opening event. Also in the showcase, exclusive T-shirts designed by Imaitoonz were displayed and sold.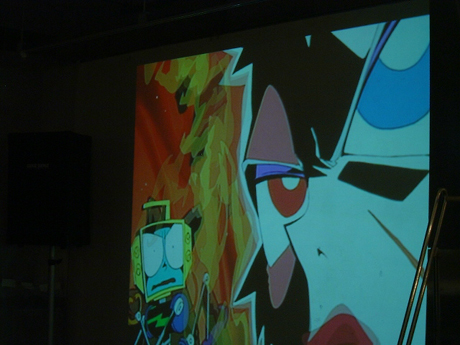 © 2003 Imaitoonz / Production I.G. Manga Entertainment
"DEADLEAVES" is a feature film produced in collaboration with internationally renowned animation production, Production I.G. and Imaitoonz who has been invited to several international film festivals and started showing his existence in motion works field. Pop and powerful characters, in which his originality is strongly reflected, develop the story at a breakneck speed. If you look away from the screen a moment, you would feel as if you are thrown off from the rushing story like a roller coaster. The duration is about 55 minutes but I felt that it was much shorter after being overwhelmed with its non-stop action.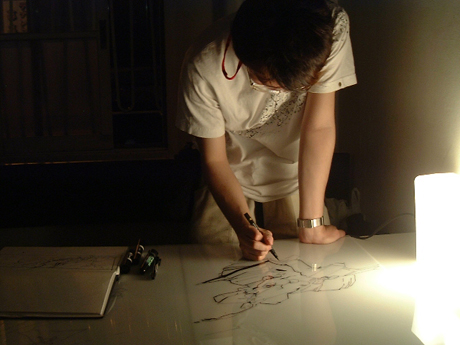 During the screening, Imaitoonz was preparing for the live drawing in the innermost part of the venue. He was very concentrated on his work with a small light aside to light his working space. His powers of concentration are always super. It seems a matter of course but he really loves drawing. In the opening of the exhibition in 2002 at Soso, he kept drawing even on the unscheduled space and it lasted till two in the morning.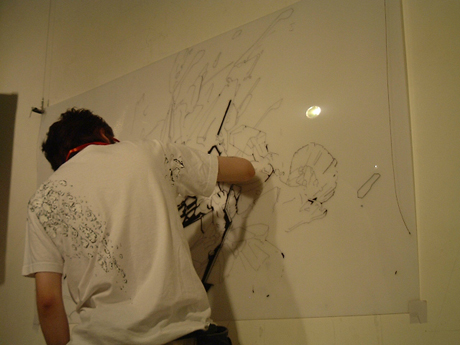 Just after the film was finished, an acrylic panel on which he was drawing a preliminary sketch was hung on the centre wall. His powers of concentration was never interrupted. He kept drawing elaborately on a minute line drawing made by black poster colour, checking the entire balance by taking a step back from the panel sometimes. I couldn't recognize what he was drawing concretely but the picture which was gradually visualized on the panel and had a great power. At the finishing phase, he put some fluorescent colours of spray paint on the picture woven with many fine lines, checking the whole balance carefully again. After three hours from the start, the powerful and graceful masterpiece was completed.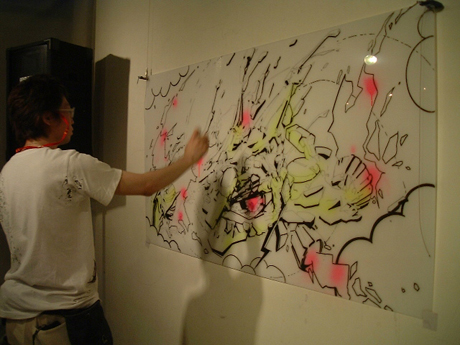 From character design, animation, collaboration with apparel brands to this time film making, Imaitoonz has been broadening his activity field greatly. Now he has reached his 10 year anniversary as an illustrator and he now working on his first book. He commented that he would like to hold the exhibition in Sapporo again (probably the next showing will be solid works). What great activity will he have accomplished by the time of his next visit to Sapporo? We can't miss his future activity.
Imai Toonz Exhibition/ DL-DAY Sapporo Landing Operations
Date : July 3rd (Sat) – 30th (Fri), 2004
Place : Soso Cafe
Address : Sansei Bld., 1F, Minami 1 Nishi 13, Chuo-ku, Sapporo
Tel: +81-11-280-2240
Open: 11:00 – 21:00
Admission Free
Cooperated with Phil co.,Ltd., Shochiku co., Ltd, Prism co., Ltd.
Opening Party
Date : July 3rd (Sat), 2004 20:00-23:00
Place : Soso Cafe
Address : Sansei Bld., 1F, Minami 1 Nishi 13, Chuo-ku, Sapporo
Admission: Adv. 1,500 yen Day 2,000 yen (with 1 drink)
http://www.shift.jp.org/soso/
Text and Photos: Naoko Fukushi
[Help wanted]
Inviting volunteer staff / pro bono for contribution and translation. Please
e-mail
to us.