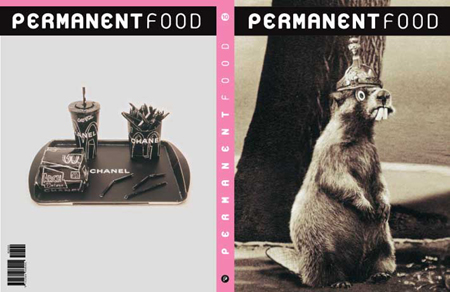 Permanent Food is a six-monthly magazine edited by the italian artist Maurizio Cattelan and Paola Manfrin, art director at McCann Erickson Milan. Every issue is an amusing, sometimes shocking and ironic selection of images, literally ripped out of other periodicals from around the world. The instant before an airplane crashes on a pic-nic field, a stolen frame of a skinhead rally, a girl throwing up with a finger stuck in her throat or a Raymond Pettibon drawing are just a small selection of the images you could probably stumble into while skimming one of the latest issues.
The visual strengh of the images and the sharp juxtaposition of many different contexts creates an ironic language, often capable of startling the reader: sometimes through the raw nature of the images, sometimes with the dramatic or ironic tension within a sequence.
The magazine has no editorial board and no offices and easily remains one of the most interesting produced in Milan, besides being an excellent instrument to sound the visual trends within the editiorial world. I had lunch with Paola and asked her a few questions about the past and the future of the magazine.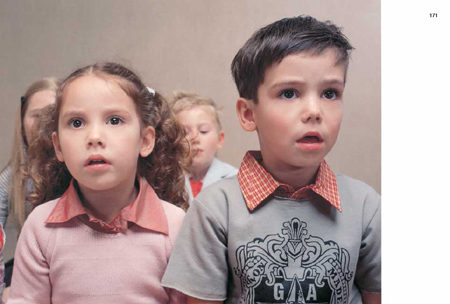 Nobody earns a penny with Permenent Food. It's a sort of editorial virus, distributed in many different countries except for Italy, God know's why…
Yes, I saw it on Amazon.com and .co.uk, at Magma in London, in a bookstore in Santa Monica LA and in various different museum bookstores…
Yes, you can find it in Tokyo, New York, London… in many different countries…
That's amazing for a magazine without a real production budget, as if it was almost home made. So could you please explain how PF was first conceived?
Well, first of all PF started off because of Maurizio's desire to work at his own magazine, something he could personally edit. Initially it was a different magazine, with different ideas behind the whole project and it was conceived with Dominique Gonzalez-Foerster… They invited many friends, many other artists to modify and send them an image they felt related to, like those images that one hangs up behind his desk, scraps ripped out of magazines.
I was already helping Maurizio with some of his art projects from the early nineties and I eventually started co-editing Permanent. With the third issue my intervention became more present and a more art-directed dimension emerged, closer to the use and the impact of images within advertising. This lead us to invite people to simply send images, without modifying them… but the magazine grew bigger and we realized that we didn't have enought images for a whole issue (it currently counts 192 four colour pages but started off in black and white, almost with a fanzine format) so from the third to the fourth issue we decided to personally collect the images.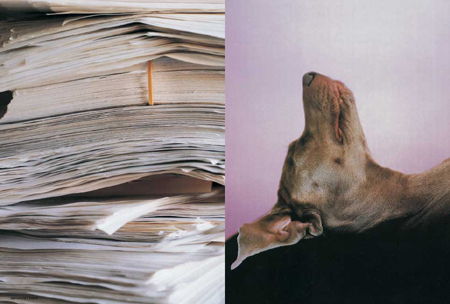 As with the special edition based on images torn from Vogue…
The idea of editing a special edition of Permanent based on Vogue came from Mariuccia Casadio (Art Editor for Vogue Italia).
Permanent Food is a project that has evolved within it's life span, when you spend more than five months selecting images for one issue you realize that you've finished up with a sequence that in some ways describes the historical moment you're living.
The problem we have today is that there are many other magazines with long sequences of more or less strong images… for this reason we've started skimming books, because it's easier to find unpublished images, at least on other magazines.
Have you ever thought of a PF based on pages of text?
We've had many different ideas… We found this project with Vogue an extremely interesting one and we had a similar experience in the past with Dazed & Confused. It's not you that's tearing pages from their magazines but them asking you to do it. This has pushed us to start editing a series of special issues. Now we're working at one with Jakob Bolotin, a collector that has put together more than twenty years of articles from italian and french popular illustrated magazines (like Novella 2000 or Gente), gossip articles et cetera… I think that if we ever will work on a Permanent made of texts they would have to be visual texts.
You mean a la Isgro (Emilio, the italian artist) ?
No, I mean they would have to be evocative, Permanent's soul has to remain intact, otherwise we would finish up with a selection of articles. You know, it's a magazine made of images, a sort of illustrated magazine so if we'd have to select texts they would have to be visual texts, with a particular page layout or with an visually evocative content.
How do you choose the direction from one issue to another?
I think we're a bit naif, when we finish an issue we're so charged and full of adrenalin that we'd love to put another one together, immediately. So we start tearing other images, almost randomly, with my sensibility for images with a strong visual impact and with Maurizio's preference for more learned and ironic, sharp pictures. When we have enough images we decide or try to understand the direction where we want to go with the issue. If, in the meantime, something like the Twin Towers attack happens then we start another issue and leave the one we were working on in order to develop an issue based on the latest events.
Besides the 11th of September, how does Permanent relate to the tragedies that have become everyday reality, at least from the media's point of view, the war and all the other news related to the american occupation of Iraq?
The Twin Towers attack has been a clamorous event, with a very stong and tragic visual impact. The war has sadly become everyday reality, so the perception we have of it doesen't have the impact of the towers falling to the ground.
A few years ago there was a moment were sex became particulary evident, it played a big role within the pages of many big fashion magazines and that's when we decided to edit an issue of Permanent with lots of sexual imagery. Sometimes I consider similar issues too monothematic. It's the reflection of a perception you can literally feel in the air.
I've been thinking about making an issue about happiness and joy, a radiant and bright issue… but Maurizio and I have two different ways of working and as far as I'm concerned he's the project leader. And his way of selecting images is different than mine so we would finish up with two different points of view of the same topic.
Permanent tries to be understated and sharp. We don't want to simply make a portrait of the world we live in because that's more than evident already with the media.
Where is Permanent Food going?
Where the editorial reality is going. Or simply where reality is going. Nothing more, nothing less.
I'd like to thank Paola Manfrin for this interview. Please check out Permanent Food in your local art bookstore.
Text: Roberto Bagatti from Bacteria
[Help wanted]
Inviting volunteer staff / pro bono for contribution and translation. Please
e-mail
to us.