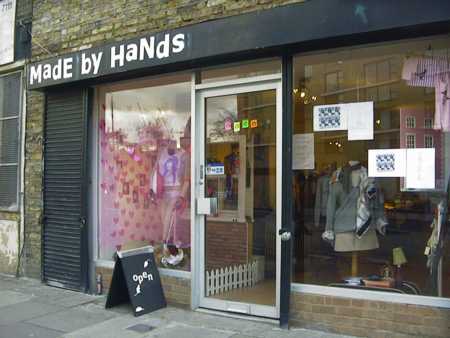 As you walk up to the very end of Brick Lane in East London, Redchurch street cuts diagonally into it. It has its share of shady stores and galleries just as any other part of this area, but one which is definitely passers-by friendly is 'Made by Hands.' Unusual and eye-catching, the window displays (a Hello Kitty soft doll was used as an accessory when I visited,) it has a feel of a place you have never quite seen before.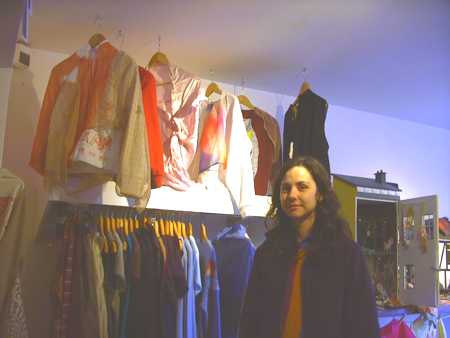 Made by Hands currently handle : Bena, Rachel Cattle, Prouvost and Father, Finger Pig and Old Skirt.
The theme of the store is that the products are made by hand; it is all about the making, designer and the identity.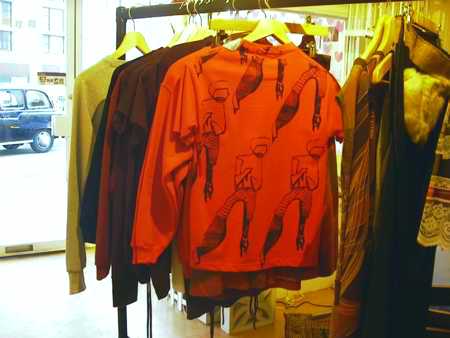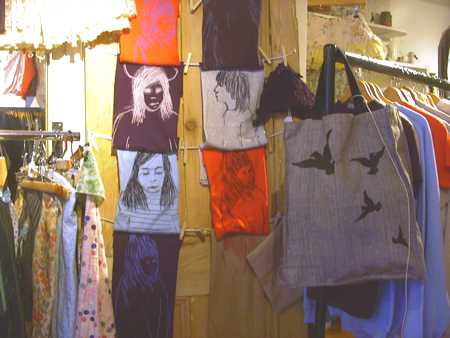 Claudia who runs the shop, says: Old Skirt may use the same pattern but they use different fabric because the materials are 'found.' They have never been the same. They use materials such as old curtains and bed linens…their source is somewhere they can buy by the bagful, but they won't divulge this (the exact location) to me!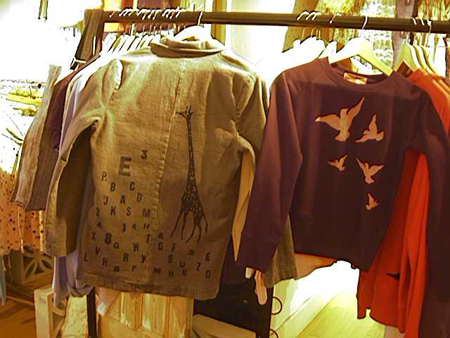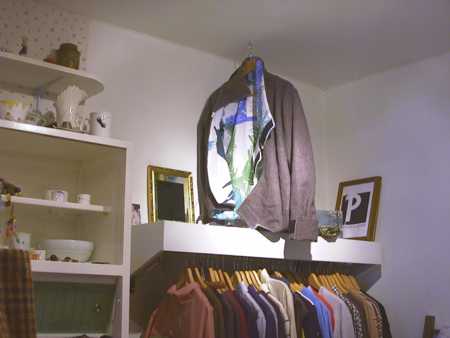 Prouvost and Father make one-off jackets. Here in the photo is a reversible one created using blankets and old sheets.
Rachel Cattle is a popular designer from a fine art background, creating T-shirts featuring illustrations of people's faces. She has been in the shop since it opened and also creates printed wallpaper. Cattle will hold an exhibition of her works in the shop in June this year.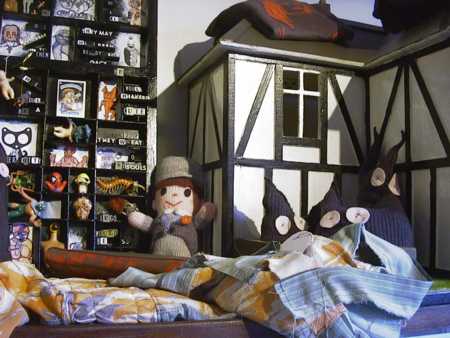 Until Sep 2003, the shop was known as Animalalien. Why change the name? Claudia says: 'Animalalien was originally a name of the band I was in. I studied womenswear but when I left college I rebelled against fashion for a while and went hanging out with musicians and things. I carried Animalalien with my own label, which once having been for about a year, wasn't actually the identity of what I was developing as concept of the shop. and now (as Made by Hands) it's all coming together, more relevant to us. I am also very anti- G*P, N**T, they are all short names and Made by Hands is the opposite.'
Claudia chooses her designers from various sources – from colleagues (Rachel Cattle used to teach with her at Camberwell College of Art) to friends to those she met at a trade fair. But now a lot of people bring in their work straight to the shop and she no longer visits markets to recruit.
The shop is still developing – it is being created to represent areas inside the home, such as kitchen area (with the fridge) and the living room area (with the wallpaper.) With the development of each of the designers and the shop itself, more original and innovative ideas are bound to be in store for the future!
Made by Hands
Address: 117 Redchurch Street, London E2 7DL
Tel/Fax: +44 (0) 20 7613 0934
Contact: Claudia
Text and Photos: Sari Uchida
[Help wanted]
Inviting volunteer staff / pro bono for contribution and translation. Please
e-mail
to us.