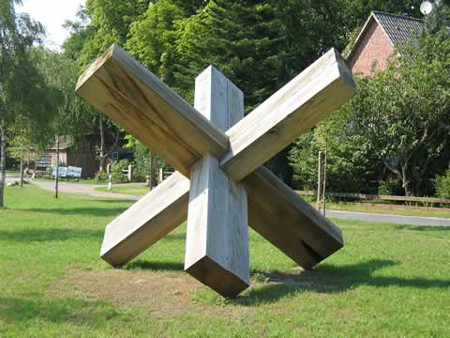 This summer Wibke, a good friend of mine, was working at the art-association "Springhornhof" in Neuenkirchen, a small village out in the country.
As I visited her, I had my first contact with landscape-art. I think it was in the seventies, when the association was founded and artists were invited to create pieces of art in and around Neuenkirchen. Until now there are about thirty pieces and you can easily spend two days visiting them, surrounded by quiet and pieceful humans, animals and plants. I started at the old farmhouse "Springhornhof" where I was equipped with a map of the area and a bike…
This wooden cross is placed in the middle of a neighbour-village of Neuenkirchen. Wibke told me, that the inhabitants of the villages really care about the pieces. They are a part of thier life, and when they're broken they discuss how to repair them.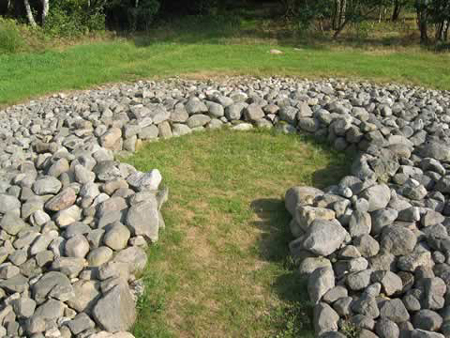 The elder pieces are often made of materials like wood and stone. This one has a funny story: it's from the seventies. In an act of self-discipline the artist threw every single stone from the centre to form this ring of stones with a diameter of at least 6 meters.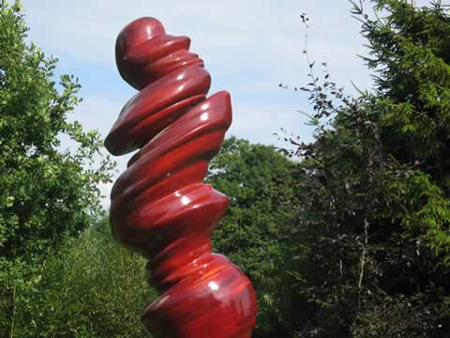 Pig-dick, that's how the village-people call this pole that is made out of wooden discs and finished with red varnish.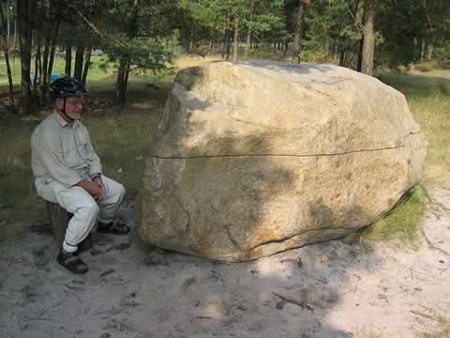 A slick cut divides this stone in two halves. The space between the halves is about two millimeters and through it you can look to the other side. From the cut you can hear a noise that sounds like a groaning from the stone. I couldn't find out how the sound was played back or where the stone is supplied with energy but I read that the sound was recorded while the stone was cut and transported.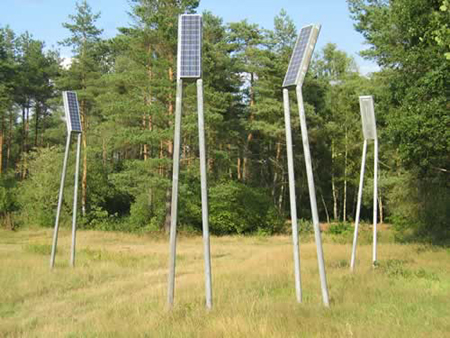 These guys also make sound. They are triggerd and supplied by sunlight and thier sounds form a nice orchestra together with the chirping of the crickets.

Finally the attraction of the course: a large mirror lying on the ground. It appears very suddenly as you come close, because of it's flatness. A notch from the side to the centre makes it possible to step into the middle of the mirror. I got totally dazzle from the sunlight coming out of every direction.
Shorty after I was there new pieces were invited, that seem to be very different from what I saw: an artificial tree-implant to the landscape, an elephants house and more.
Stiftung & Kunstverein Springhornhof
Opening time: Tue.-Sun. 2-6 pm (The landscape-art can be visited anytime)
Address: Tiefe Strasse 4, 29643 Neuenkirchen, Germany
Tel: +49 (0) 5195 933 963
info@springhornhof.de
http://www.springhornhof.de
Text and Photos: Andrew Sinn from Deco-Vision
[Help wanted]
Inviting volunteer staff / pro bono for contribution and translation. Please
e-mail
to us.