KEIKO MIYATA + THE ANALOG GIRL
This exhibition is by Keiko Miyata, an artist who creates wonderful and strange stuffed animals. Following last year's exhibition "IN&OUT, Soso Cafe was filled with cute and scary stuffed animals. The exhibit's opening featured Keiko's live painting and a live performance by The Analog Girl, a musician from Singapore, performing in Japan for the first time.
Before the event started, pure white teddy bears and pink bambis sat in the middle of Soso Cafe as if they expected something would happen.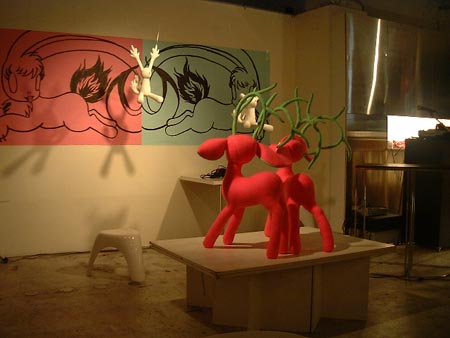 When the venue opened, excited attendees enjoyed the atmosphere, eating and drinking. Around the time that they wondered when the performance would start, Keiko appeared. She stuck vivid green felt parts to the pink creature's body, establishing patterns and checking the balance from several angles very carefully. It was as if she was giving life to them. When they were completed, she held two of them under her arms and showed them to audience.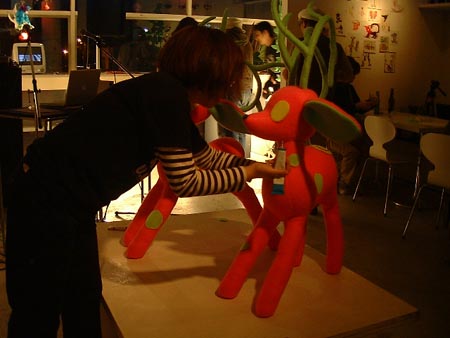 After that, The Analog Girl from Singapore gave a live performance. When she took the stage, her fashion, hair style and makeup were very stylish and took everyone's attention the result of make up artist, Miwa Yokoyama and stylist, Rumi Kojima. The two are going to hold "Thanksgiving Makeup 2" – a collaboration with make up and motion graphics- on November 30th as one of a related events of DOTMOV festivalheld at Soso in November.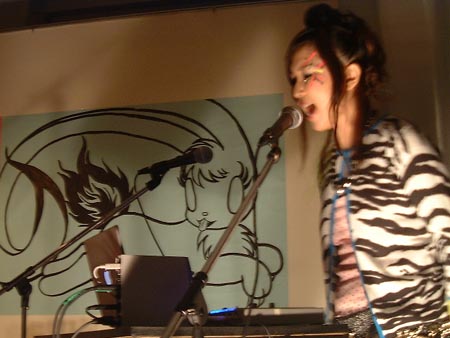 Around The Analog Girl's left eye, solid and colourful beads were placed giving her a mysterious atmosphere. Her sound was impressive with the noise and heavy beats controlled in real time. Using an effect called a Kaoss Pad she altered her sound by sliding her finger across the pad's surface. The audience was captivated by her sound which was described as Bjork-meets-Yoko Ono.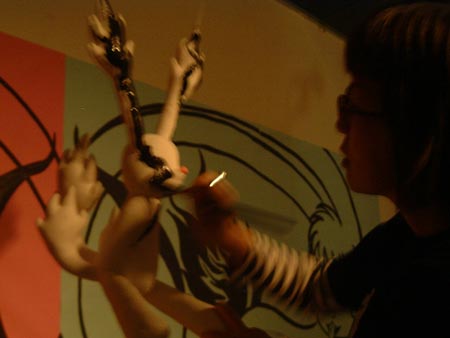 While the audience's excitement was still hot, Keiko's second performance started. She poured colours quickly into plastic cups and started painting the pure white stuffed animals. Dynamically, powerfully and speedily, several colours were layered on them. It seemed that she was trying to realise her complete image in her mind, keeping the brushes and drier moving with an intense amount of concentration. It looked like she was giving life to them just like she had with the bambis. The audience's eyes were glued to her.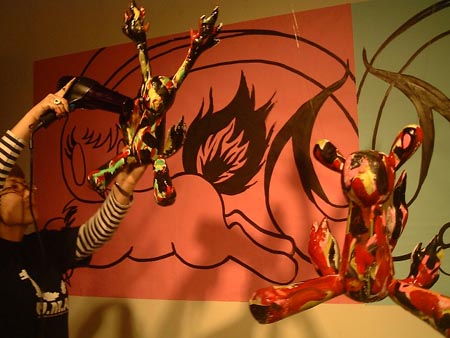 Gradually, the pure white animals turned into layered vividly coloured creatures. Just when most of the people thought that it was finished, she took an ice pick in her hand and pierced animals fearlessly.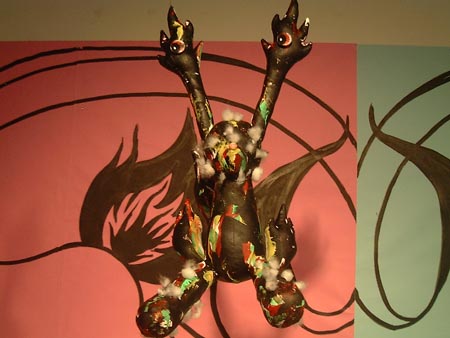 Nobody expected that. Most of the audiences stared in astonishment. Then, she pulled cotton up from animal's body with scissors and her hand. Finally, she attached eyes to their ears and feet. The placement was also unexpected. At this point we figured her performance was over at which point there was a big applause from the audience. Her face changed from being strained due to concentrating on her work to a smile.
"dangerous pop" by Keiko Miyata
Date: September 29th (Mon) – October 29th (Wed), 2003
Place: Soso Cafe
Address: Sansei Bld.1F, Minami 1 Nishi 13, Chuo-ku, Sapporo
TEL: +81-11-280-2240
Open: 11:00 – 21:00
http://www.shift.jp.org/soso/
Text and Photos: Naoko Fukushi
[Help wanted]
Inviting volunteer staff / pro bono for contribution and translation. Please
e-mail
to us.